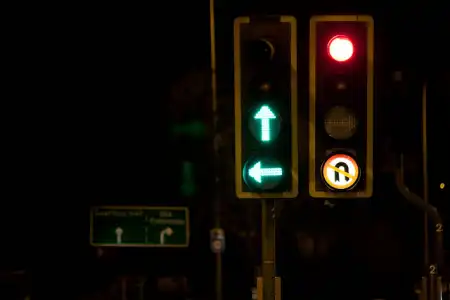 Guest Article by Expert Motoring Lawyer, Alison Ashworth
There seems to be a common misconception among the Nation's drivers that a person is only required to stop at a traffic light when it is on red, and that it is perfectly fine to drive through when the light is on amber. This is simply not true. I regularly find myself outlining a person's legal obligations regarding traffic lights to concerned motorists who are convinced they are the victim of injustice when the reality is that they are simply confused.
The legal position is as follows:
All drivers are required to stop at a traffic light unless the light is green.
The only time when it is acceptable to drive through an amber light is if you have already crossed the white stop line when the light changed to amber, or if you are so close to the stop line that bringing your vehicle to a standstill would cause an accident.
Although many enforcement cameras are designed only to flash when a person crosses a stop line when the light is on red, the offence is committed when a person crosses the line when the lights show anything other than green.
There are no circumstances in which it would be acceptable to drive through a red light.
Although a person will be guilty if they drove through a red light to let an emergency vehicle pass, the person would be unlikely to be convicted as there are "special reasons" why the motorist should not be punished.
The effects of weather conditions (eg stopping at a red light and skidding through due to ice) would not amount to a defence: Motorists are expected to drive in accordance with weather conditions and must ensure that they can safely stop ahead of the line no matter what conditions they are presented with.
Even if the stop line is not clearly visible, the motorist should still stop ahead of the lights unless the lights are on green.
A person would still be prosecuted even if the front half of the vehicle crossed the line before the lights changed and only the back wheels crossed the line after the lights changed.
A person might have a defence if the lights had malfunctioned, since it may be argued that the lights did not conform to the appropriate regulations.
Failing to comply with a traffic light could result in (at best) a fixed penalty of 3 points and a £100 fine. If however the case went to Court the maximum fine is £1000.
3 points might not sound much, but accumulating too many of these points could result in a 6 months ban under the totting up rules unless a convincing argument for the contrary can be made out in Court.
If you, like many others, have been accused of committing a motoring offence and would like advice or representation, don't forget that you can contact Forster Dean Solicitors on 0333 323 1830 for specialist advice and representation.
Article written by Expert Motoring Lawyer and Head of Motoring Law at Forster Dean Solicitors, Alison Ashworth