Pavements Were Not Built for Cars
We as drivers do pay road tax, but that doesn't mean we own the roads or have some money-given right to leave our cars where we want...
I've just bought a house for my wife and myself. The number one priority for me was not location, a south facing garden, energy efficiency, distance to work, it was quite simply; I must have space to park my cars. So I have a garage, a small drive and the driveway in front of the garage - happy days. I do not inconvenience anybody, no matter where I park my cars. I am extremely lucky to have been able to find myself in this situation. I realise that, for many people, some on my street, they do not have the luxury of a private space for their car, so they end up pavement parking.
Parking half on, half off a pavement, and let's be honest with each other here, is a drivers way of letting others know he or she is trying to think of other road users. 'I don't want other drivers to be unable to get by', they will be thinking. Or more likely 'I don't want my wing mirrors taken off by a bus'.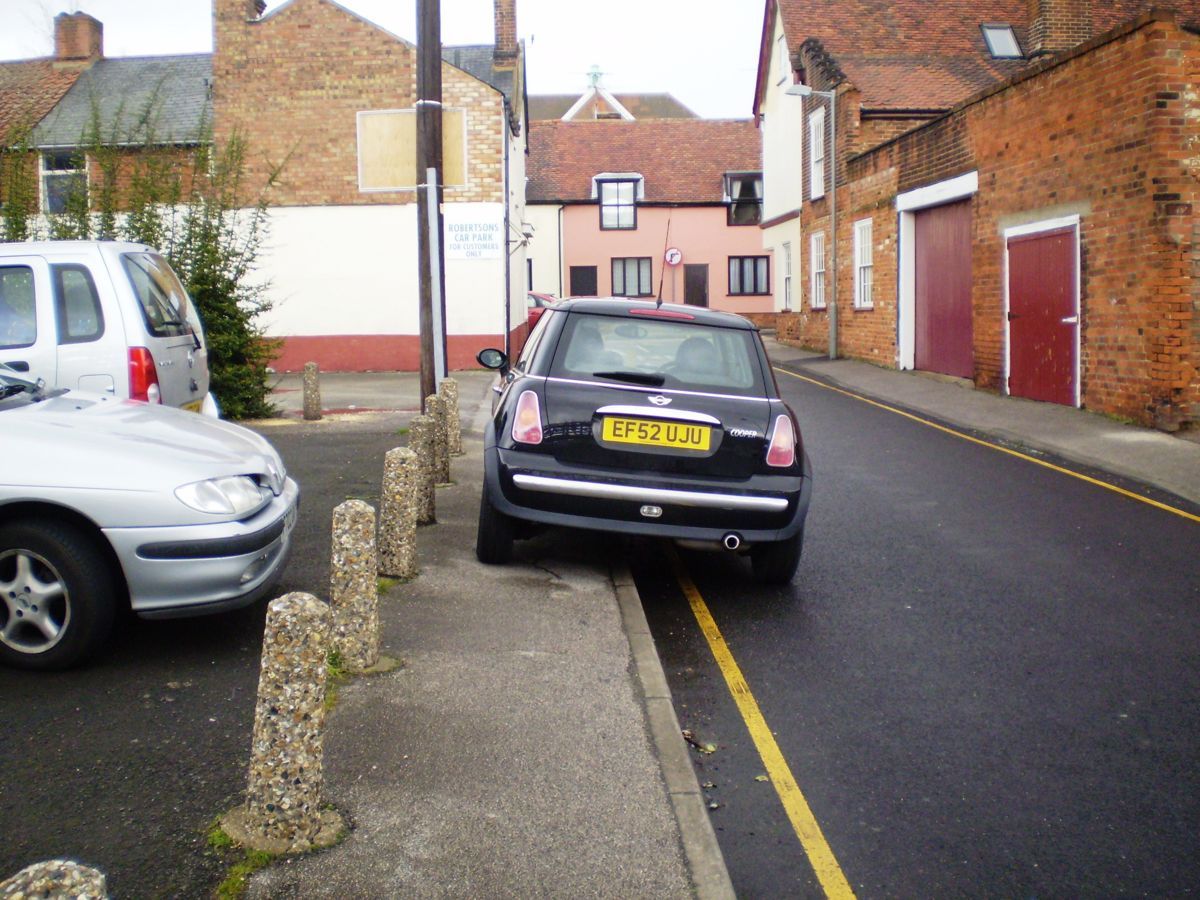 However, these drivers neglect thinking about the many more people who do not drive. I'm talking about the human beings known as pedestrians, those without wheels.
Think about the elderly people making their way to the shops or the garden centre, strolling carefully down the pavement. A car, ignorantly perched on the pavement will force the poor pedestrian to walk around, and onto the road. How about the visually impaired? Who relies on their guide dog for their safety? If a pavement parked car means the route becomes too narrow, the dog will stop and then proceed to make their way around the vehicle and again, onto the road. Or what about the parent of carer pushing the pram? Do we really want these sorts of individuals to take their chance on a place designed for our fast moving lumps of metal with wheels?
Yes, we as drivers do pay road tax, but that doesn't mean we own the roads or have some money-given right to leave our cars where we want with no thought for others. Roads are for cars but pavements are for people.
In our capital city, London, it has been illegal to 'Pavement Park' since 1974 when the Greater London Council (General Powers) Act came into force. The act forbids motorists to park on urban roads in the capital with their car's wheels resting on footways, grass verges or land between carriageways. That's why it's probably a little safer being a pedestrian in London than anywhere else in the UK. Outside London, there are no laws preventing pavement parking whatsoever. Of course, there are many groups and organisations that have campaigned against pavement parkers for years, including the Local Government Association and the charity Living Streets.
There are hundreds of drivers tutting and shaking their heads reading this right now, thinking that I'm not going to address the main issue. Well, they're wrong, I am.
If we all desisted in pavement parking we would block the roads, there is a parking problem.
Ultimately the responsibility for solving this problem lies with local authorities/councils who could look to building wider roads. Perhaps even thinking more creatively about parking solutions. In the city of Hull, in an area known as 'The Dukeries', the council dealt with this by creating huge one-way systems, allowing people to park on both sides of the road legally, without the need to creep up onto the pavement. Liverpool council have recently created a new cabinet position for Councillor Pam Thomas to tackle the problems with pavement parking around the city.
Two things are certain, one; there will only ever be an increasing amount of cars on the road, and less space to park them. Two; pavement parking is a dangerous and although a well-intentioned act, can lead to inconveniencing others.