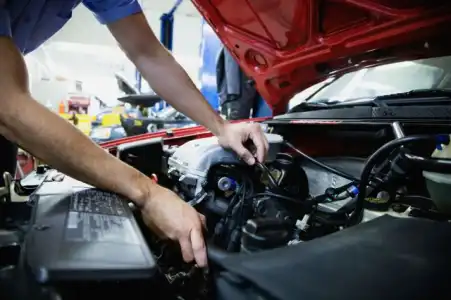 Servicing your car is a fundamental part of ownership. A service will not only help a car run at its best, it will make it safer to drive and save you money. Car's with a full service history are more attractive to potential buyers. These car's tend to hold their value better and achieve higher prices at sale.
It's easy to forget when your car service is due, that's why we have created a unique hub where you can manage your car's lifecycle in one place.
There are three different types of service available, dependent on the age of the car, condition of the car and the amount of mileage it has on the clock.
Inspection Service
The most basic car service is known as an inspection service or oil and filter change service. This should be carried out between other services or around every 10,000 miles.
Many people forget to check their oil levels or book their car in for this basic service but it is fundamental to a car's health.
Here's what an inspection service includes:
| | |
| --- | --- |
| 1. | Oil and filter change |
| 2. | Tyre, battery, wiper and lights check |
| 3. | Essential fluid top up such as windscreen fluid, brake fluid & antifreeze fluid |
Interim Service
An interim service should be carried out every months or around every 6,000 miles. This service normally includes around 25-35 safety checks on your car.
When you book an interim service the service centre will perform the same work as in an inspection service and provide additional checks such as; a full brake check, a steering system check, an air conditioning check and a suspension system check.
Full Car Service
A full car service should be carried out every 12 months or around every 12,000 miles to keep your car fully maintained. This service includes over 50 checks including those carried out in the Inspection and interim service.
During a full car service you should expect a wheel alignment test, a wheel bearing check, a safety belt check and a fuel filter check amongst others.
A full car service is an important part of managing a cars health. Trained mechanics will be able to spot potential problems and take preventative action before they become costly.
The information above and types of service may vary dependent on the make and model of your vehicle and service centre. If your vehicle needs replacement parts ensure they conform to manufacturer standards in line with the vehicles warranty. Failure to comply may invalidate the warranty.