Sell Your Car
Sell to a verified dealer - all online and completely free
3,000+ Verified Dealers Ready To Buy Your Car
Sell Your Car Fast

Same Day Payment

Free Collection
1. Enter Reg
You only need a registration number to start selling your car and get a free valuation.
2. Profile Your Car
It's easy to find the deal your used car deserves. Just fill in a few quick details to receive the highest offer.
3. Sell Online
Fast payment & collection. Most dealers offer home collection with same day payment.
You could receive up to £1000* higher car quotes with Motorway
Completely free
You never get charged, or get pressured to sell.
Skip the private sale
Save time, and sell your car online.
Outstanding finance?
Any remaining finance can be settled today!
Get your highest offer
Verified dealers will compete to offer you the best price.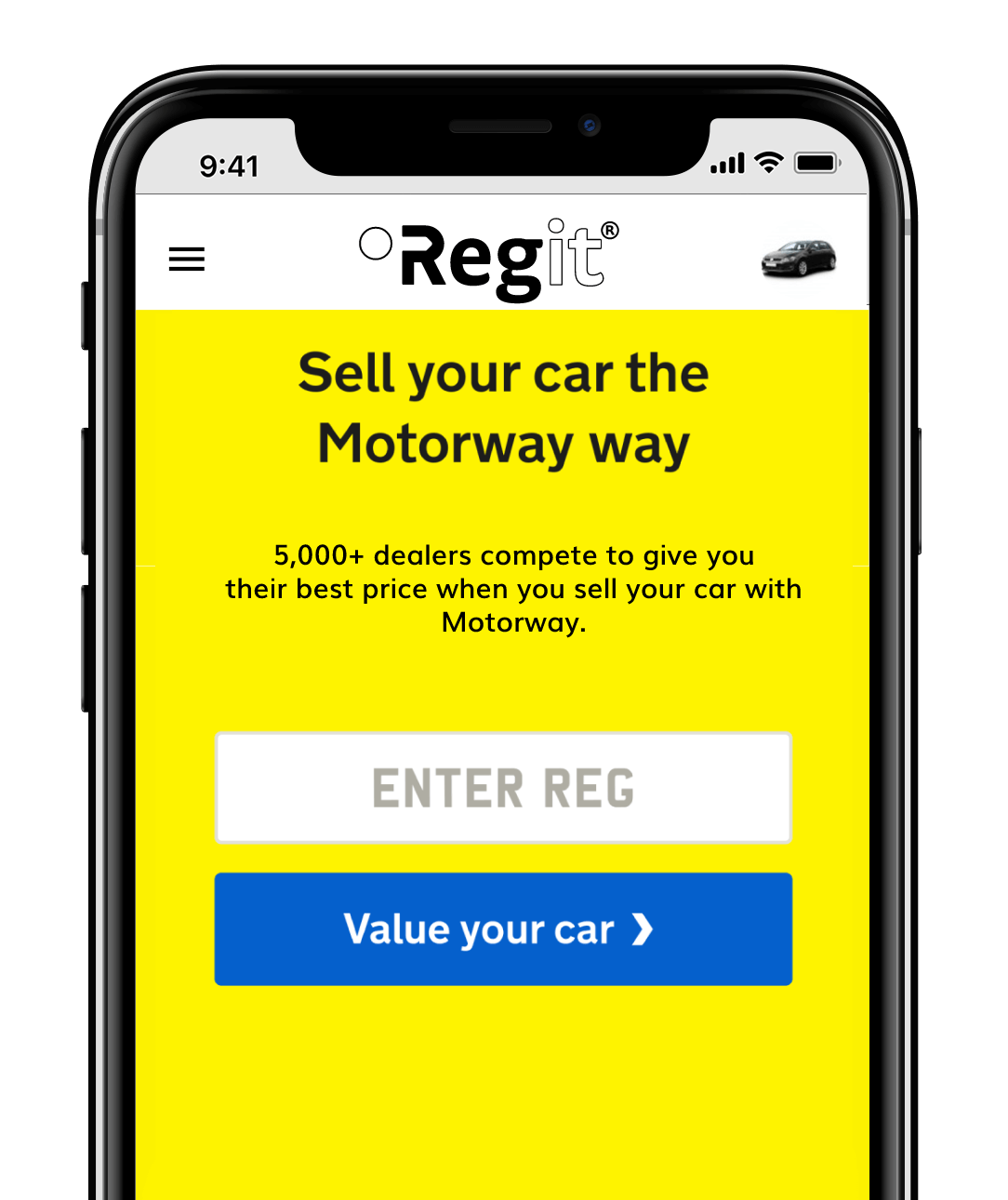 *Based on the highest vs. lowest offer of 64,022 Motorway sale enquiries, analysed and independently verified by Consumer Intelligence in April 2019, 25.06% of consumers could achieve £1,000 more with Motorway.
More reasons to sell your vehicle with Motorway
Sell any make or model
From Mercedes to Kia, selling your vehicle in the UK is made easy. Regardless of make or model, you will find your ideal buyer with us. Start your search today.
Car finance untangle
Selling a financed car? No problem! We will help you resolve the car financing with your buyer quickly and painlessly. Simplify the transactions and get an instant online deal!
Transparent pricing
Our system is fully transparent. AI predictions with a personalized touch ensure all the prices you receive are correct. Adjust car parameters, and see how that shifts car quotes in real-time.
100% free service
Trade your vehicle with no mark-up, transaction costs, or any hidden fees. The service is entirely free. Sell with no outside pressure - we'll handle the rest.
Say no to wheeler dealers
Wondering how? Keep away from untrustworthy folk and know your buyer. Read Motorway's reviews and get your highest offer.
Same day payment
Sell your car for cash and receive it immediately. With same-day-payment guarantees, you're not left waiting for your money to arrive. Our transfers are fast and secure, so you have nothing to worry about.
How can I sell my used car?
Wondering what to do when selling a car…? We'll tell you!
The first step is to prepare all the necessary documents: MOT, V5C and service bills are the main ones. The more detailed your service book, the better it shows that the car has been looked after well.
Next up, find out how much your vehicle is worth. With our online services, it is easy to receive an exact assessment of your car's market value. You'll receive three different prices: one for a private sale, a car dealership price and a third scrap-parts cash price. These will be based on your car's make, age, mileage and more. All you'll need is your registration number to obtain a free valuation.
Ready it for sale. Start by removing all personal touches from the car, including your information from the onboard computer. Find all the necessary keys and accessories and fully clean out the interior.
Consider removing any small dents or scratches if possible. Selling your vehicle online involves making it appealing to potential buyers. Making the exterior look better will attract more buyers immediately.
Tackle a market. When searching "how to sell my car" online, you will find plenty of avenues to choose from. Figure out which work best for you. Most often, this means deciding between posting classified ads for private sales, contacting auto traders or finding dedicated avenues where you can sell it for parts. There is no single best approach. It depends on your car's current state, how fast you want the trade to happen, model and more.
Making a sale online has never been easier, and it creates a digital trail for further reference. Remember to notify the DVLA of completing the car transfer, as it could help you get a refund for vehicle tax.
Frequently Asked Questions
With us, you can sell your car to any car affiliated car buyer, any private person and even for parts with our trusted buyers. We'll find you the best offer.
Yes. Transferring ownership without a V5C is fully legal, but you will have to supply all relevant information in the bill of sale yourself.
You can with Motorway! All you need is a settlement figure from your finance company. This will show you how much balance you have remaining before the finance contract can be ended.
To sell your car in the UK you need the following documents:
Proof of sale, with the clause, that the car is bought as seen
However, the following documents might make it easier to sell it and get a decent price:
The vehicle logbook
Service history and receipts
Warranty
Yes. Selling your car online is possible without a logbook, but there's a catch. In the case of missing logbooks, buyers may try to haggle the price down considerably. Therefore, it is recommended to get all documents sorted before continuing with the sale, as it has tangible economic benefits.