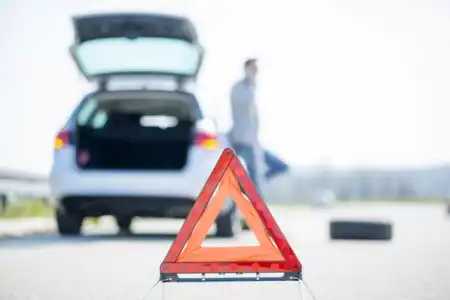 Breakdowns: they've happened to almost everyone who's ever held a set of car keys. Sometimes it's a simple electrical glitch, sometimes mechanical failure, occasionally it's even your own fault. Whatever causes you to grind to a halt, breakdowns are part of car ownership and, although they've become less common as time has moved on, they're still a real possibility. Here's what to do when this happens.
My car feels like it has a problem. What should I do?
More often than not, you'll get some sort of warning your car is about to give up on you. You might feel a lack of response from the accelerator, see steam or smoke from under the bonnet or exhaust, or simply have a warning light on your dashboard telling you to stop. Whatever the signs, make sure you stop in a safe place, and leave a good amount of space between your car and the moving traffic on the road. Keep your hazard lights on at all times.
I'm at a standstill, what comes next?
Unless you've stopped on a motorway hard shoulder, you should put out a warning triangle at least 50 yards behind your car. Some modern cars have one in the boot, or you may have bought one yourself. Get out of your car and stand in a safe place. If your car has stopped in a particularly dangerous place, you should call the police immediately. Then you should call a breakdown service.
If you've got fluorescent jackets, it is a good idea to put them on while stranded at the side of the road. If you're unfortunate enough to stop in the middle of a busy road, including a motorway, remain in the car with hazard lights activated and keep your seatbelt on. Some modern cars have an 'SOS' button that will alert the emergency services. But we'd advise telephoning them as well if possible.
Breakdown assistance is definitely worth having
Often, when you buy a new car you get breakdown cover thrown in for free. If not, or if you own an older car, it is well worth buying breakdown cover via a company such as the RAC or AA. They provide a good service and can even get you going from home if your car breaks down on the driveway. The AA also has an app to help locate you if you break down in an unfamiliar location.