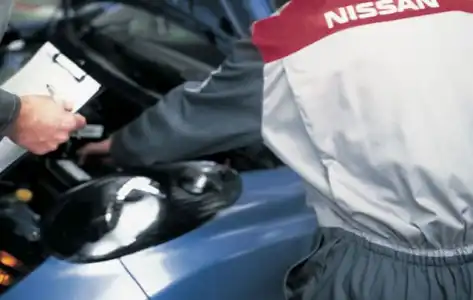 The You+Nissan Customer Promise has been extended to "set in stone" 6 core pledges and create "one of the motor industry's most comprehensive customer service promises", the manufacturer says. It is being rolled out in Europe as the first continent-wide customer promise, Nissan argues. The You+Nissan Customer Promise pledges to:
"keep customers mobile with a free of charge courtesy car or lift when their vehicle is in for service or repair;
provide a free vehicle assessment by video to help customers understand what's going on with their vehicle's service;
offer simple fixed price servicing and the best value for money by matching like-for-like written quotes within 10 miles of your local dealer;
provide continuous roadside assistance for free – offering maximum peace of mind; • propose a resolution to any problem within 2 working days;
enable customers to test drive any Nissan model when pre-booked online or through the customer service centre".
Includes electric vehicles
The You+Nissan EV Scheme incorporates further promises for motorists with fully electric vehicles such as the Nissan LEAF (small family class), and the e-NV200 Panel Van and Combi. These are:
"Nissan electric vehicle owners can rapid charge their cars for free on the Ecotricity Electric Highway or at participating Nissan dealerships;
Nissan electric vehicle owners can borrow a petrol or diesel Nissan for up to 14 days a year (subject to terms and conditions);
Anyone thinking about buying a Nissan electric vehicle can borrow a LEAF or e-NV200 for a 24 hour extended test drive, allowing them to experience the vehicle first-hand;
Nissan EV drivers will receive free recovery and roadside assistance should their vehicle breakdown or run out of charge on the road;
All Nissan LEAF and e-NV200 models come with the reassurance of a 5-year/60,000-thousand mile battery state of health guarantee."
Nissan launches new showroom design
Nissan has launched a new showroom design to further entice motorists. It incorporates a large halo secured by wire above vehicles. Its purpose is to replay messages relating to (say) low-interest finance offers.
Furthermore, a series of wall-mounted screens run promotional videos. The concept also minimises physical barriers between staff and customers such as desks and bulky computers. Cars are shown around a central lounge and a refuel centre.
The latter provides refreshments and iPads to entertain kids while their parents consider the options. Nissan's entire European Dealer Network will incorporate the new design by 2018.