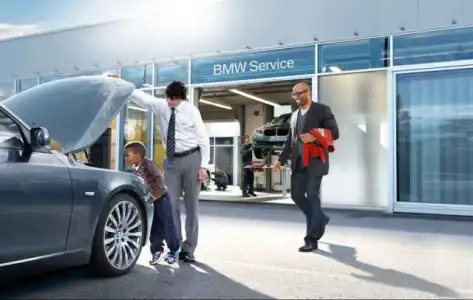 BMW argues: You didn't compromise on your choice of car, so why compromise with its servicing? The motor manufacturer – that produces popular models such as the 3 Series Saloon, X3 and 4 Series Convertible – claims there are countless benefits to trusting its Franchised Dealer Network in preference to the alternatives.
Technicians are trained for at least one-hundred hours, have access to approved diagnostic equipment, and only install manufacture parts backed by a two-year, fitted parts, warranty. Work is on a fixed price basis and costs less than some motorists assume. "Think we're expensive? Think again", BMW claims.
BMW Service Packs: Service Inclusive & Inclusive Plus
BMW Service Packs: Service Inclusive & Inclusive Plus BMW Service Packs cover maintenance for the first five years from registration, or sixty thousand miles (whichever is sooner).
BMW's website number plate search confirms which cars have such cover. This particularly benefits used buyers that might otherwise not recognise their entitlement. Not everyone knows Service Plans remain with vehicles when sold, after all.
The BMW Service Inclusive pack incorporates engine oil and filter (including top-ups between services), microfilters (air-con/charcoal container), air filter, spark plugs (petrol models only), fuel filter (diesel models only) and brake fluid. BMW Service Inclusive Plus adds: renew front/rear brake pads and discs, renew clutch and replace wiper blades.
BMW MOT Protect Cover
BMW Service Inclusive and Inclusive Plus incorporate MOT Protect for year one (for cars registered since January 1st 2009). Those registered since January 1st 2013 have second and third-year cover too.
Its purpose is to minimise cost and inconvenience should there be a failure. BMW claims: "MOT Protect will ensure repairs, replacements and labour are covered on a long list of key items from electrical and lighting equipment to steering and suspension."
Furthermore: "Any issues will be addressed promptly and completely free of charge so you can land your MOT certificate with the minimum of fuss."
BMW Service Icons Explained
BMW has systems that confirm when servicing is required. Part of the benefit of such work is that it proves to future buyers that cars have received the "best care", the company says.
Newer vehicles with iDrive have Condition Based Servicing (CBS) that monitors components such as engine oil, brake pads, brake fluid, spark plugs and the diesel particulate filter.
A red triangle confirms when these items require attention based on their condition. Older cars have the Service Interval Indicator (SII) which recommends care according to how many miles have been covered. Icons include oil, front brake pads, and rear brake pads.