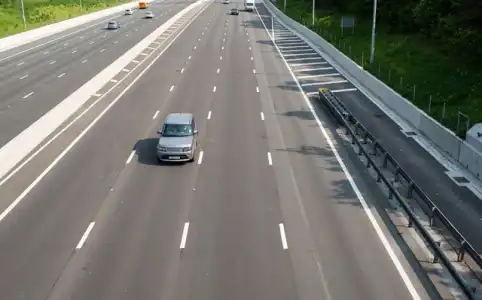 In 2013 the government made it easier for police to prosecute careless drivers by allowing police officers to issue on-the-spot fines for middle lane hogging.
Despite the changes being introduced in 2013, it was recently reported that the first Court conviction for middle lane hogging has only just taken place, almost two years on.
When the changes were introduced, the road safety minister, Stephen Hammond said:
"Careless drivers are a menace and their negligence puts innocent people's lives at risk. That is why we are making it easier for the police to tackle problem drivers by allowing them to immediately issue a fixed penalty notice rather than needing to take every offender to court."
Why then has it taken almost two years for the first Court prosecution to take place?
The fear of detection and prosecution has made us all more lane disciplined?
The police are inviting more people to take part in driver improvement courses as an alternative to prosecution?
People are accepting fixed penalties as an alternative to fighting their case in Court?
There is a significant lack of policing on the roads which has made the prosecution of this offence almost impossible to enforce?
You can make your own mind up as to the real reason for the lack of prosecutions based on the number of middle lane hoggers you encounter on a daily basis...
The rationale behind the proposals was simple, middle lane hogging is inconsiderate and in some cases puts other road users at risk. It highlighted that middle lane hogging is a form of careless driving.
The Road Traffic Act defines careless driving as:
Driving without due care and attention; or
Failing to show reasonable consideration for other people using the road or place.
Middle lane hogging typically falls into the second category of the offence.
A person is said to have driven without due care and attention if the way they drive" falls below that which is expected of a competent and careful driver".
The law does not explain what would constitute a "competent and careful driver" but you would expect that it would be one who understands and obeys fundamental parts of the Highway Code.
The highway code, at part 264 says: "You should always drive in the left-hand lane when the road ahead is clear. If you are overtaking a number of slower-moving vehicles, you should return to the left-hand lane as soon as you are safely past."
Driving in the middle lane whilst the left hand lane is unoccupied is clearly a breach of the Highway Code. Aside from the annoyance and inconvenience it causes other motorists, most would agree that it satisfies the legislative criteria of failing to show reasonable consideration to other road users.
Many cases or careless or inconsiderate driving can be successfully defended, however middle lane hogging rarely has any valid justification. A defence of "I like the convenience of the middle lane and don't like changing lanes" just wouldn't cut it.
The maximum penalty for failing to show reasonable consideration to other road users is up to 9 penalty points on your driving licence or an instant ban, and a fine of up to £5000. Middle lane hogging would realistically be viewed at the lower end of the spectrum unless significant consequences occurred as a result of the driver's actions. Nevertheless, if a person already has 9 penalty points on their licence and is prosecuted for this offence, they could ultimately face the loss of their licence for six months if they "tot-up" due to their lane hogging.
Forster Dean's Specialist Motoring Law Department deal with al types of motoring offences, from careless driving and totting up to drink or drug driving. If you have been accused of committing a motoring offence and would like advice and representation, call our free advice line on 0333 323 1830.
Article written by Expert Motoring Lawyer, Alison Ashworth; Head of Motoring Law at Forster Dean Solicitors.