Stretched Tyres: MOT Guidelines & Safety
Here's what you need to know about the safety, legality and reasons behind stretching tyres...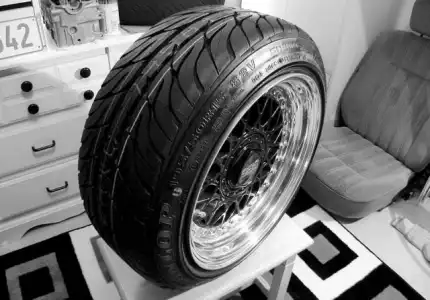 What Are They?
A vehicle with excessively stretched tyres fails its MOT, the Driver & Vehicle Standards Agency confirmed. The Agency has also produced guidance for assessors to confirm how much stretch is excessive, and what is tolerable. A stretched tyre – or Euro Look tyre – is fitted to a wheel which is to narrow; hence "stretching".
MOT Guidance
The Driver & Vehicle Standards Agency said: "To justify a failure, the tyre or its fitting must breach The Road Vehicles (Construction and Use) Regulations 1986 as amended." It continued: "While the regulations are specific about tread depth, cuts, speed ratings etc. the fitting of a tyre on an unsuitable size wheel rim is not specifically covered." However regulations say: "A tyre should not be used on a road if it's not maintained in such condition as to be fit for the use to which the vehicle is being put". This means the tyre must be fitted to a suitable wheel with a suitable valve, etc.
The Agency explained: "This part of the regulation, therefore, gives you reasons for rejection such as: damaged or misaligned valve stem (and/or) tyre incorrectly seated on the wheel rim". This is not to say any stretch justifies failure. Excessive is when the side of the bead is exposed, and the lower edge of the bead is sealed on the rim where the side of the bead should rest. The Agency said: "When this happens, the vehicle should be rejected for the tyre being incorrectly seated on the wheel rim." However: "Where this isn't obvious, the nominated tester should pass and advise".
Why Bother?
Tyre stretching is popular in a variety of circles. Drifters, for example, like to force vehicles to slide at the rear (over steer) then keep control by applying opposite lock (turning the steering wheel into the slide). The benefit of stretching in this scenario – according to a specialist tyre supplier – is that it minimises sidewall flex which makes it easier to break traction. Some claim it also provides a smoother transition from left slide, to right slide. The stretched look is also fashionable in certain circles as it lowers vehicles, and enables drivers to install oversize wheels. 
Safety
Stretched tyre safety is a contentious issue. Some enthusiasts argue that if they withstand drifting at extreme speed they withstand trips to the supermarket. It could be claimed, in contrast, that forcing tyres onto small wheels is fundamentally dangerous considering how much impact tyres have on handling, braking, stopping distance and ride. Those tempted to stretch could seek clarification from the relevant vehicle and tyre manufactures.