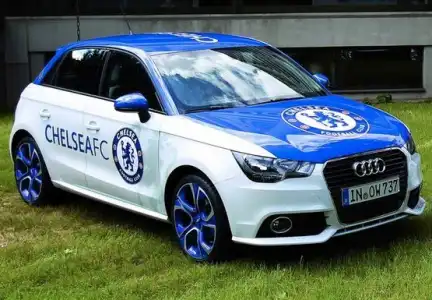 More On This Car
Take one for a spin or order a brochure
Request a Audi test drive
Audi UK have confirmed that it is to become the official car partner of Chelsea Football Club for the next three years. The German automakers have a long relationship with sports clubs and have had FC Barcelona, Real Madrid, AC Milan and Bayern Munich as their clients.
Audi UK Director Martin Sander said "Chelsea offers us the broadest scope for future opportunities, and our brands are very closely aligned in terms of innovation and progressiveness or 'Vorsprung durch Technik' as we call it.
Speaking about the new association, Mr Ron Gourlay, Chief Executive, Chelsea FC, said "it is exciting for Chelsea Football Club to sign this deal with a premium company, renowned for its excellent track record in elite performance and manufacturing, Audi is a phenomenal global partner for us as one of the world's most successful car brands, and we look forward to working closely with them."
Champions League and FA Cup winners Chelsea are ranked as the fifth largest team in the world in terms of fan base. Their stadium at Stamford Bridge will feature Audi branding for home matches, including the distinctive team seats in the dugout.
More On This Car
Take one for a spin or order a brochure
Request a Audi test drive