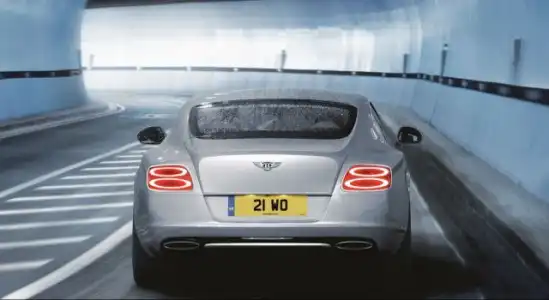 More On This Car
Take one for a spin or order a brochure
Request a Bentley brochure
Request a Bentley test drive
Bentley Upgrade Packs explained
Bentley has expanded the Upgrade Packs offer even further, to enable owners to personalise their cars to a greater extent. The Packs come in three categories: "Drive, Look and Feel" and are designed to improve one of three experiences.
"Drive" features optimise the driving experience. For example, a Continental V8 Sports Exhaust adds greater definition to the exhaust tone.
"Look" extras enhance the exterior and interior style with elements such as coloured Brake Callipers, a range of interior upgrades and Carbon Fibre Door Mirror Cowls.
Finally, "Feel" accessories allow enthusiasts to be more connected with their car thanks to different options of hand stitched steering wheels and the Sports Gear Lever.
Click below link to watch the 'Upgrade Packs by Bentley' video:
Owners can now choose from over 40 features to make their car truly match their personality. Some of the new accessories are described below:
Painted Lower Body Styling
The Painted Lower Body Styling is finished to either match or contrast, the car's factory colour. Elements include side sills, front spoiler and rear diffuser.
Red Breitling Clock
This precision timepiece is positioned within the centre of the dashboard between the air vents and replaces the existing clock. It incorporates white numerals and was first seen on the Supersports Ice Speed Record model. The motor manufacturer claims it is the: "Perfect combination of technique and aesthetics".
Branded Valve Caps
Bentley's Branded Valve Caps are an ideal gift for owners who wish to add that extra touch. Each feature the Bentley 'B' and you can choose from four colour options: chrome or black bezel with black or red badge.
Personalised Child Seat
This bespoke child seat is produced from the same hide as the vehicle's seats to ensure synergy. The colouring – as favoured – can either match or contrast the existing seat trim. Personalised Child Seats can be embroidered with your child's name on the headrest.
Apple® Music Integration Kit
The Apple® Music Integration Kit provides a: "Seamless way of enjoying all the music you love in the surrounds of your Bentley', as featured on the dedicated website. You can choose the original 30 pin Apple® connector, or the newer Lightning® connector.
Bentley Suggest
When looking for inspiration about how to transform your car, you can always check what the manufacturer suggests for your model on the website. Bentley has included 'Bentley Suggest' options featuring a number of the key accessories to complement a particular model.
One of the recommended packs contains the essential Mulliner upgrades such as Drilled Alloy Sports Pedals, Sports Gear Lever and Jewel Fuel Filler Cap.
Compatibility
If you would like to see which packs are recommended by Bentley or simply check the compatibility, you can do it on the dedicated website where you can search by model/year, Vehicle Identification Number (VIN) or registration. See here.
More On This Car
Take one for a spin or order a brochure
Request a Bentley brochure
Request a Bentley test drive