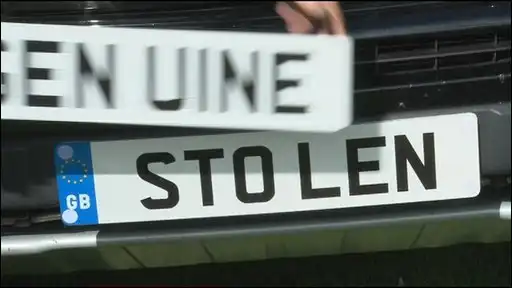 More On This Car
Take one for a spin or order a brochure
Criminals increasingly clone vehicles so that innocent motorists take the blame for their offences, history check specialist HPI says. A cloned car has a false registration so its occupant cannot be traced if caught speeding by a camera, for example.
The offender could alternatively hit the road without insurance as he cannot be found via the automatic number plate recognition system. However, the registration is simultaneously – and legitimately - fitted to its original car and the owner can be found through the DVLA.
The owner is then subject to any fine, threats and – if the offender committed an offence such as burglary – a police investigation.
How do I know if my car has been cloned?
You might have no idea that your vehicle has been cloned. Neil Hodson, Managing Director for HPI, comments: "For most victims of car cloning it's a parking fine from somewhere they have never visited, or a speeding ticket issued on a day the car was tucked-up in the garage that raises the alarm."
He continues: "For others, it can be more extreme. It could be the police turning up at their front door, especially if the car has been used to commit a crime."
A criminal might also clone a stolen vehicle to make it easier to sell. Mr Hodson warns: "For unwitting buyers of a car with an illegitimate identity, the consequences can be financially devastating."
It could be confiscated then returned to its legitimate owner, for example. In this scenario there is little, if any, chance of recovering a payment. On this basis, HPI urges used buyers to take "vital steps to avoid being stung" by the criminals.
How to spot a cloned vehicle
Always check the provenance/history of the car you are looking to buy, and make sure you view it at the address shown on the V5/logbook.
Check the vehicle's V5/logbook. Stolen V5 documents are still being used to accompany cloned vehicles.
Ensure all the VIN/chassis numbers on the vehicle match each other and then conduct a vehicle history check, to ensure they match DVLA records.
Know the car's market value. If you are paying less than 70% of the market price for a vehicle, then be on your guard. No seller will want to lose money on their sale.
Avoid paying in cash, especially if the car costs over £3,000. Use the banking system.
What to do if your car has been cloned
Notify the police immediately so they can trace and prosecute the offender.
Return any fines or letters to whoever issued them, along with any evidence you have to prove your case.
Write to the DVLA at DVLA, Swansea, SA99 1ZZ and include the crime reference number the police gave you. The DVLA will keep a record of the matter for future reference.
More On This Car
Take one for a spin or order a brochure