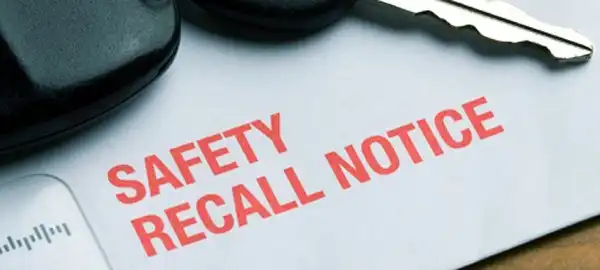 More On This Car
Take one for a spin or order a brochure
List of products that can be recalled
The Driver & Vehicle Standards Agency has urged motorists to confirm their vehicles, parts, and accessories have not been recalled due to potentially life threatening defects. Cars, motorbikes, quadricycles, tricycles, caravans, horse boxes, child seats, belts/harnesses, tyres, minibuses, coaches, agricultural equipment, lorries, buses, and parts can be recalled on this basis.
How a vehicle recall works
Let us consider an example. A vehicle manufacturer learns that a brake pipe in the engine bay is positioned in a manner which enables it to touch/rub the engine block. This could cause the pipe to fail and leak fluid. In such circumstances, the braking performance of the vehicle is hindered which could cause an impact.
As the registered keeper of such a car you receive a recall notice. It explains what work is required - and why. In this case, the mechanic checks the position and condition of the brake pipe. If necessary, it is repositioned and/or replaced. Recall work is free.
The motor manufacturer can trace you easily as the vehicle is registered to your name, at your address. It is traceable throughout its life as it is always registered to someone, somewhere. The same cannot be said for companies that produce (say) child car seats which you buy, use, then sell without registration.
It is, therefore, important to check for recalls for non-registered products at https://www.gov.uk/check-vehicle-recall. Also, check for registered product recalls in case your letter went missing. Search criteria includes: make, model plus start/end date.
Recent, January 2017, recalls include: panoramic roof might detach due to poor adhesion (van), parking brake might not activate correctly (crossover class), airbag failure (luxury saloon), and seat might not work properly in a collision (sports-utility model).
How to report a fault
The Driver & Vehicle Standards Agency explained that a serious, safety related, defect should first be reported to the manufacturer. It added that "a serious safety defect is something":
"about the way the vehicle is designed, or made, that is likely to cause injury or death;
that happens suddenly and without warning."
Issues are not considered a serious safety defect if:
"they can be found during routine maintenance and servicing;
you are warned about them by warning lights, noticeable changes in handling and unusual noises;
they are caused by you misusing the vehicle, e.g. overloading your vehicle causing a tyre failure."
Furthermore, The Driver & Vehicle Standards Agency wants to be notified if the manufacturer's response is below par. It then:
"investigates the issue with the manufacturer;
tells you what action is being taken."
Vehicle safety recalls: January 2017
More On This Car
Take one for a spin or order a brochure