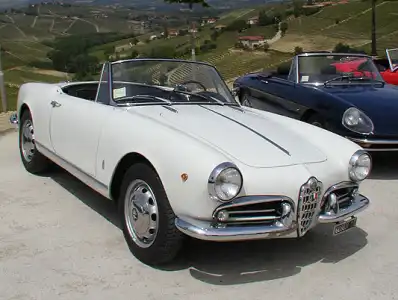 More On This Car
Take one for a spin or order a brochure
Christmas is over and January is upon us and now it is time to get thinking about 2013, many thoughts whizz through your mind it could be moving house or buying a new car or taking the holiday of your dreams.
Well if you are a car nut and love classic cars and are thinking of visiting a cultured and beautiful place like Italy for your holiday then look no further and read on.
Sprintage is a fantastic Italian company that specialises in self drive classic car rental and self drive classic car tours all over Italy including the likes of The Italian Lakes, Tuscany and the Amalfi coast. Sprintage has been operating in Italy for many years and provides a quality service which is appreciated by thousands of classic car customers from all over the world. Sprintage deliver and collect their classic cars all over Central and Northern Italy and suggest tours and itineraries. Each route has been carefully designed to take maximum pleasure from the driving experience without missing any of the wonderful sites on your way. You can choose one of the tours or be completely independent and travel freely. The Sprintage website shows examples of pre planned tours and all tours can be adapted to personal requirements.
There are many incredible cars to choose from, including the AC Cobra which is a brand of car built by Carroll Shelby in 1961 in the United States and was used in the very famous Dustin Hoffman film The Graduate. Sprintage have a fabulous 1977 AC Cobra in bright yellow and as you drive along in this wonderful car the Italians simply stand back and admire as they truly love their cars. A 1971 Alfa Romeo Duetto is another option, this particular model of Duetto, the "Duetto Junior", is a perfect example of a match made in heaven; design and performance, typical of Alfa Romeo and a very rare Italian true classic.
There are many others to choose from including MG, Fiat and Mini and most are convertibles and all from the fifties and sixties, the cars are all in outstanding condition and well serviced giving a safe and unique nostalgic experience in some of the most beautiful areas in the world.
See this link to the gallery and portfolio of fantastic cars https://www.sprintage.it/en/cars.phtml
If you don't fancy a full tour then just hire a car for a day and drive through the Italian vineyards, or around Lake Como or straight to the beach but what ever you do you will remember it for the rest of your life.
Visit https://www.sprintage.it/for all information, tours, locations and cars.
More On This Car
Take one for a spin or order a brochure