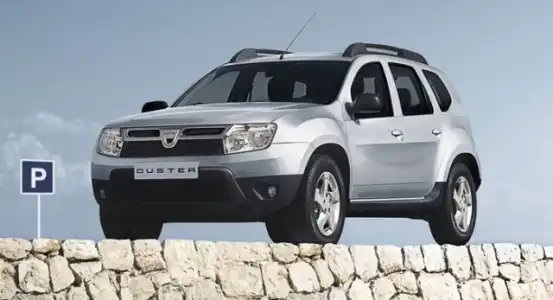 More On This Car
Take one for a spin or order a brochure
Request a Dacia Duster brochure
Request a Dacia Duster test drive
The Dacia Duster is one of the best value and most versatile vehicles on the market. Firstly, this workhorse – that costs from £99 per-month on finance or from £9,495 to £15,495 for cash - is available with two or four-wheel-drive. Models equipped with the former are more fuel efficient whereas the latter have superior traction in the rain, snow, ice and mud, etc. This mile-muncher also has high ground clearance and wide "approach" and "departure" angles for venturing over even trickier terrain. Furthermore, it can be locked in two-wheel-drive mode, four-wheel-drive mode or automatic that propels torque to the wheels that can best exploit it.
It has a 350mm wading depth too. Power comes via two engines that have pleasing performance considering the rock-bottom price. The 1.6-litre 105bhp petrol – that is teamed with five or six-speed manual transmission – propels the two-wheel-drive version to 62mph in 11.5 seconds while averaging 39.8mpg. It is slightly slower and less fuel efficient when powering a four-wheel-drive model (0-62mph in 12.8 seconds/35.3mpg). In contrast, the 1.5-litre 107bhp diesel – that is bolted to six-speed manual transmission – propels it to 62mph in 11.8 seconds and hits 56.5mpg in front-wheel-drive form. Diesel four-wheel models have 109bhp, hit 62mph in 12.5 seconds and manage 53.3mpg. And that is official.
Dacia Duster Cargo Capacity, Trim Levels And Equipment
The Dacia Duster has other virtues that defy its price tag. Cargo capacity, for example is 475-litres rising to 1,636-litres once the rear seats are folded flat into the spacious interior. Four-wheel-drive versions have slightly less capacity - but still eclipse a wide range of more expensive estates. The Duster is available in three trims: Access, Ambiance and Laureate – all of which can be teamed with two or four-wheel-drive. The Access includes an: electronic stability program that incorporates traction control, remote central locking, power steering, electric front windows and a folding – rather than spit and folding - rear bench.
The Ambiance shares its siblings features but adds: front fog lights, map pockets in the front seats, a spit/fold rear bench, Bluetooth and a USB connection for MP3 players. Exterior enhancements include the chrome number plate surround and more stylish sixteen-inch wheels. Finally, the top of the range Laureate adds: air conditioning, a seven-function computer, cruise control, speed limiter, heated/electric mirrors and electric rear windows. Aesthetic enhancements include the leather steering wheel and a piano black central console surround. And that is official too.
More On This Car
Take one for a spin or order a brochure
Request a Dacia Duster brochure
Request a Dacia Duster test drive