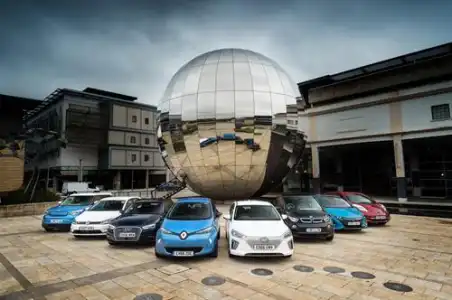 More On This Car
Take one for a spin or order a brochure
While a lot of us have been intrigued by the idea of owning an electric car, and excited by how much money we could save, it's not often been a realistic alternative for most buyers due to the lack of juice in the onboard batteries. Technology moves seriously fast though, and cars with sub-par batteries 3 years ago have been updated. So, for 2018 we're briefing you with the 10 EVs with the longest range, which could you live with?
VW e-Up! - 99 miles
Right, starting at number 10 is the VW e-Up!. This is based on the Up! That we all know and love. The e-Up! offers a solution to city dwellers who scarcely find themselves on the motorway, and do most of their time scooting around town. 99 miles is plenty for these tasks, but not enough if you're driving up and down the M6 every day… The price starts at £25,640 - which is a fair chunk on top of the standard Up! but VW reckons you'll make the money back through ownership.
Ford Focus Electric - 139 miles
It felt like Ford may have been falling away behind the pack in terms of electric vehicles, as they instead pushed their incredibly frugal EcoBoost petrol engines across the Ford lineup (even into the notoriously thirsty Mustang) but the Focus Electric suggests otherwise. It's worth mentioning that this Focus is as good as their first stab at an EV, so there is plenty of room for improvement, and the car isn't currently on sale in the UK, though it has received great reviews from across the pond where it retails for around £31,000.
KIA Soul EV - 155 miles
Now we're talking. 155 miles. Some petrol and diesel cars can expect around 300 miles of driving between fuel station visits, so is leaving your car on charge once in between covering that distance a big deal? Kia thinks not. We generally grew to adore the Soul. The EV is easy to drive and you soon forget there's not a combustion engine. Also, the Soul EV is nice and practical as well as affordable for a car of its size and the 7-year warranty is a welcomed addition. The price is just £25,395 after the plug-in car grant, which is just cheaper than the original price of the smaller e-Up! that we mentioned earlier. Full retail price without grant is £30,495.
Hyundai IONIQ - 174 miles
The IONIQ is Hyundai's response to the Toyota Prius which has dominated the green-car market for some time. It's a pretty decent response, too. 174 miles is plenty for most electric car users, especially on our little island where only particularly long journeys will exceed that distance. While from the outside the IONIQ does look a bit futuristic, once inside it's just like any other modern Hyundai, with excellent technology, smart material choices and an intuitive layout. It will take a lot to knock the Prius off its perch but this is a really fine effort, and all for just £24,995 after the plug-in car grant…
VW e-Golf - 186 miles
If you're looking at making your first step to EV ownership then surely a Golf has got to be the best bet? Practical, dynamic, pretty and incredibly easy to live with. 186 miles should be more than enough range for most users. Ok, you'll be plugging it in to charge more often than you'll be refilling your car at the petrol station, but it's definitely worth the savings made on fuel. It is worth mentioning though that the e-Golf is slightly more expensive at £27,690 even after the plug-in car grant.
BMW i3 - 195 miles
To keep this list fair, we are not including the range extender version of the i3 that has a petrol engine to top up the battery, so only the purely electric i3 qualifies. Interestingly, the i3 has just been given a facelift and is now available in a sportier 'S' model. This S model boasts lower suspension, a wider track, better alloys and some styling cues to help it fit in with the 'cooler' hatchbacks on the market. Let's be honest, while the original i3 satisfied our inner-geek, it was never even close to looking cool. The new one is much, much better. The price? £34,070 before the plug-in car grant.
Nissan Leaf - 235 miles
235 miles will eventually be the bare minimum for electric vehicle range on the market, but for the meantime, it is the benchmark set by Nissan that all mainstream manufacturers will have to surpass if they want to succeed. It was only 2 years ago that the Leaf was achieving just 125 miles on a charge, and they've almost doubled that with the new 30 kWh model now on sale. It's cute, unassuming and tranquil to drive around in while also being extremely competitively priced and big enough for 5 adults in relative comfort. The cheapest 30kwh model starts at £25,790 but that's for the Acenta trim which has things like alloy wheels, reversing camera, cruise control, regenerative braking and much more. Remember to knock £4,500 off if you can benefit from the plug-in car grant too...
Renault Zoe - 250 miles
When you look at the Renault Zoe's electric battery range and combine it with the fact that after the plug-in car grant the Dyanmique Nav model will set you back just £18,170, it really is impossible to find more electric-bang for your buck. This really is the best value EV on the market and the electric distance is simply incredible. There are one or two drawbacks though, such as the interior which is made of recycled plastics which are sustainable yes, but luxurious? No. Then there is the fact that Renault leases their batteries out to their customers, which complicates payments slightly but at the same time, it means you'll always have a top-performing battery.
Tesla Model X - 351 miles
Realistically you didn't think we weren't going to feature the most famous electric manufacturer in the world on our list, did you? What Tesla has achieved so far is nothing short of revolutionary. They are the only manufacturer in the world to consistently get over 300 miles out of an electric car, and this is thanks to their 100kWh Dual Motor 5dr Auto powertrain in the Model X. Featuring gull-wing doors, 7 seats and a 0-60mph time of under 4.8 seconds, this thing boggles the mind. The cost of all this? £87,200. Not cheap. But there's more...
Tesla Model S - 393 miles
Yes, the top of the list, and just about the only thing more ridiculously impressive than the Model X is the Model S, also from Tesla and also featuring the same 100kWh Dual Motor 5dr Auto powertrain. The Model S features All Wheel Drive, a top speed of 155 mph, air suspension and the 0-60mph drops to just 4.1 seconds. The price? £86,200.
Tesla really is setting the bar when it comes to electric cars, and considering it looks likely that soon most (if not all) cars will be electric, now is a good time to get on board. As you can see from this list there is a number of different EVs available to suit all buyers and all budgets, which one do you fancy?
More On This Car
Take one for a spin or order a brochure