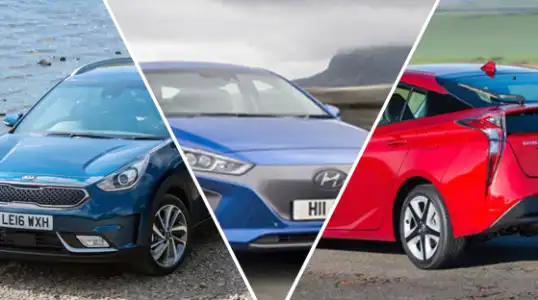 In this group test we'll compare their price, practicality and how economical they really are.
The Hyundai Ioniq - from £19,995
The most recent addition to the hybrid arena is the Ioniq from Hyundai, which they've managed to score a world first as it's available with three powertrains: a hybrid, all-electric and a plug-in hybrid, which arrives in 2017.
The hybrid is powered by a 1.6 petrol engine which produces 103hp and combined with an electric motor delivers 139hp, so it has plenty of power for long distance journeys or short commutes. It emits just 79g/km of CO2 emissions so is road tax exempt, Hyundai reckon it can achieve a combined 83.1mpg in fuel economy, obviously it all depends on how heavy your right foot is so under certain conditions it could be done, but running costs will be low, so will trips to the fuel pump.
Hyundai have manufactured a car that has a good, solid ride, if you're doing plenty of city driving then it works really well at being a comfortable car, steering is light yet has plenty of feedback, ideal for parking.
It's pretty spacious, tall passengers might struggle with the rear headroom but five adults could travel in the Ioniq. The boot size is 443-litres which can be increased to 1,505-litres with rear seats folded.
The cabin in the Ioniq is well laid out for the driver, a display screen dominates the centre of the interior, while the driver also has a clear, informative, 7-inch TFT instrument cluster.
It comes with plenty of standard equipment, the entry level SE features cruise control, a rear view camera, rear parking sensors, DAB radio and Bluetooth, but in a now very competitive segment does it have enough to take on the Toyota Prius?
Toyota Prius - from £23,600
The Toyota Prius started the hybrid segment, it's now into its fourth generation and still a very popular model.
It's not as powerful as the Ioniq; it has a 1.8-litre petrol engine producing 97hp, with the electric motor it combines to deliver 122hp and has an electric CVT transmission.
The Prius can emit jus 70g/km of CO2, so like the Ioniq there will be no charge for road tax, Toyota predict combined MPG figures around the mid nineties depending on wheel size, which could be achievable, we managed a figure around the early seventies on a road trip in the model.
There's something about the Prius which makes it a really good drive, the ride isn't too firm and it's been built on a new Toyota platform so it's much more supple than previous iterations.
The Toyota Prius excels when it comes to space, it's like a tardis and adults will have no issues with head or legroom. The boot space holds 457-litres which can increase to 1,633-litres and an interesting feature is the glass back so you can see straight out of the rear.
Hybrid battery systems can also take up much needed space but Toyota have placed it underneath the rear seats so it doesn't encroach on the boot.
The Prius has a very modern, almost futuristic looking cabin with its predominantly white trim inserts and all the driver information is displayed on a large screen on the centre stack.
All three cars on test come with a good lineup of standard equipment, the base Active model comes with heated door mirrors, adaptive cruise control, a rear-view camera and it has a five-year/100,000 mile warranty, can the Kia Niro beat both of these models?
Kia Niro - £21,295
Kia entered into the hybrid market earlier this year with the crossover looking Niro, will it win the hybrid battle in this group test?
The Niro generates its power from a 1.6-litre petrol engine which produces 104hp, combined with the electric motor it has 139hp using a six-speed dual-clutch automatic gearbox. It emits the highest CO2 of the three at 88g/km but it will still cost nothing in road tax and combined MPG figures will be around the mid sixties to seventies.
The Kia Niro has been built on a completely new platform, it's a comfortable ride and soaks up rough road surfaces well although the light steering could do with giving greater feedback.
The Niro gives the Prius a run for its money with interior space despite its crossover dimensions, it is enormous for that sort of car and it has class-leading headroom and a boot that holds 427-litres which increases to 1,425-litres with rear seats folded.
The cabin is really well designed, it looks as stylish as some premium manufacturer offerings and the blue and white coloured digital instrument panel really does set it apart for its uniqueness.
The entry level 1 trim features DAB radio, LED daytime running lights, dual-zone air conditioning and a 3.5-inch TFT screen, an added bonus is that it comes with Kia's seven-year/100,000 mile warranty.
Hybrid Price
The Hyundai Ioniq is the cheapest of the three, yet it still manages to pack as much standard equipment as its rivals and has a five-year/unlimited mileage warranty, so is a clear winner in this area.
Practicality
All three cars have very similar size boot spaces, the Toyota though does feel very spacious and it has decent amounts of head and legroom for five passengers.
Which is the best?
The hybrid class is now really competitive, there are so many rivals and Toyota have had to up their game to stay ahead of them. Naturally, it's going to come down to personal preference for looks, the Toyota Prius has quite a strange exterior design, whereas the Kia Niro looks a lot more stylish.
They've all got plenty of standard equipment, really good CO2 and MPG figures, there's really not much to choose between them, but the Hyundai Ioniq just has the edge, the newcomer impressing with its good drive, design and competitive price.