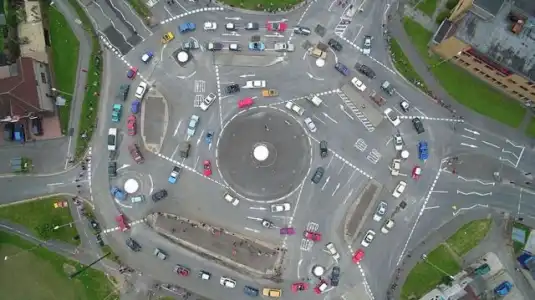 More On This Car
Take one for a spin or order a brochure
Us Brits love a good roundabout. It is estimated that there are over 25,000 roundabouts on our little island which is roughly 0.06 roundabouts per kilometre of road. There are more in France, over 32,000 of them, but that's only 0.03 roundabouts per kilometre. You're going to come across roundabouts more often in the UK than anywhere else in the world, probably, which is a good thing as it stops us sitting at traffic lights, burning fuel, waiting for a green light.
We all know how roundabouts work, you creep to up to the junction, wait for a gap and jump on when safe to do so. It keeps traffic moving, keeps our emissions down and gets us to our destination quicker. But what happens when one roundabout just isn't enough? Introducing the 7 circle 'Magic' roundabout in Swindon…
This legendary example of road construction was erected in 1972 and has perplexed road-users ever since. This junction consists of 5 miniature roundabouts organised within a 6th, anti-clockwise, outer roundabout.
Here's what it looks like on the approach...
And here is how it works…
So there you have it, arguably the most flamboyant display of construction on our road network. Is it safe? Well, apparently there has only been 1 fatality since introduction and accidents are few and far between. It is believe that there are few accidents because all traffic is moving relatively slowly and drivers are forced to have their wits about them.
More On This Car
Take one for a spin or order a brochure