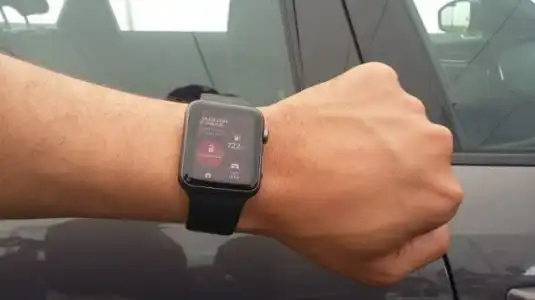 More On This Car
Take one for a spin or order a brochure
The Jaguar F-PACE is a performance sports-utility vehicle and some functions can be operated, remotely, via the Apple Watch. The purpose of this wearable technology – that relies on the InControl Remote app software - is to "keep you in touch with your car at a glance", the motor manufacture said. Let us consider the benefits.
Locks
The Apple Watch confirms that the vehicle is locked via its colourful, bright, touchscreen interface. This provides peace of mind should you park in a questionable neighbourhood then suspect you forgot to press the "lock" button on its key fob. If the vehicle is unlocked, it can be secured remotely with the timepiece.
The Apple Watch incorporates an unlock feature too. Imagine the Jaguar F-PACE is parked at home – locked, of course – but you are several miles away and unable to return. The watch enables you to unlock it so that a relative can retrieve something accidentally left in the boot, or a mobile car cleaner can refresh the interior.
Fuel and range
The watch relays the reading on the car's fuel gauge. It also suggests how far it can travel before the tank is empty. Knowing it is (say) half full and the range is 200 miles enables you to confirm whether you have to refuel before, during, or after a trip.
Cabin temperature
The Apple Watch also ensures the interior of the vehicle is a comfortable temperature before you climb aboard. Perhaps it is parked in direct sunlight – and therefore to hot – or covered with frost and to cold. Preconfiguring the thermostat eliminates the need to wait for the temperature to increase, or fall, once inside.
Beep and flash
The Jaguar F-PACE can be located via the watch too. Imagine it is parked in a large, featureless, car park on a dark night and it blends, as one, into the surroundings. The beep and flash feature enables it to stand out from the crowd then be more easily located.
Jaguar F-PACE overview
The Jaguar F-PACE is 4,731mm long and 1,936mm wide, so it is slightly larger than the XE which is the manufacturer's compact, executive class, saloon. It also has 5 seats and cargo capacity is 650-litres which is larger than many estate-type vehicles. Folding the rear seats flat increases cargo capacity to 1,740-litres.
F-PACE engines include the: 2.0-litre 180PS diesel, 3.0-litre 300PS diesel and 3.0-litre 380PS supercharged petrol. There is also a choice of rear, or 4-wheel-drive, and manual or automatic transmission. Trims levels are: Prestige, Portfolio, R-Sport, S and First Edition and prices range from £35,020 to £65,275 on the road.
More On This Car
Take one for a spin or order a brochure