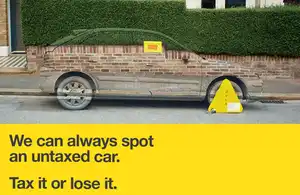 More On This Car
Take one for a spin or order a brochure
Television warning
Tax It Or Lose It is a new, multi-platform, campaign that warns greedy, selfish, tax dodgers that their cars can be clamped or impounded if they fail to pay excise duty, The Driver & Vehicle Licensing Agency confirmed. During November 2017, this warning comes via catch-up television, radio, print media and the internet.
Consider the television broadcast, for example. It opens with a shot of a quiet residential street that incorporates terrace houses. An untaxed car – that is visible but predominantly transparent – is parked by the kerb. The transparency represents the keeper's misconception that the authorities cannot see the car.
However, an enforcement van reverses towards the car and parks close to its bonnet. An officer emerges. The scene is then interrupted by a written message and voice over. It states: "If you haven't taxed your car we'll find it. Tax it or lose it." The car is then shown clamped front/right to prove it has been immobilised.
As the van leaves, a child passes the clamped car on a skateboard to further emphasise the "tax it or lose it" message. The subtext is that the perpetrator has to find alternative transport that is probably less comfortable, convenient and prestigious than the car.
"Only right" to target tax dodgers
The Driver & Vehicle Licensing Agency's Chief Executive, Oliver Morley, explained: "This campaign targets those who break the law by not taxing their car. While the overwhelming majority of vehicles on the road are licensed correctly - it is only right that we take action against those that think they can get away with it."
Mr Morley further said that ninety-eight percent of vehicles are taxed throughout The United Kingdom. It is, therefore, a minority of cash grabbing motorists that consider themselves beyond the law.
Radio warning
The Tax It Or Lose It Campaign targets perpetrators via radio, too.
The voice over says: "If you haven't taxed your car here's something to think about. At The DVLA, we have the records of over thirty-seven million vehicles on our database. Currently, we are clamping or impounding over ten-thousand untaxed vehicles every month. It's nothing personal. It's the law", the warning concludes.
Never been easier to tax cars
Mr Morley stressed it has never been easier to tax cars, be responsible and stay within the law. "Our online system is available twenty-four hours a day", he explained. Furthermore, Direct Debit payments help drivers "spread the cost over the year".
Furthermore, the Regit tool confirms when tax is due and sends reminders.
More On This Car
Take one for a spin or order a brochure