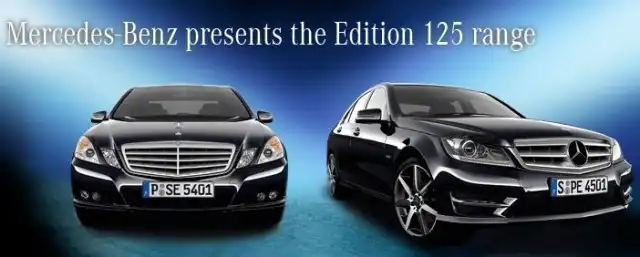 More On This Car
Take one for a spin or order a brochure
Request a Mercedes-Benz brochure
Request a Mercedes-Benz test drive
Mercedes-Benz celebrate 125 years of automotive innovation this year so to celebrate they are providing satellite navigation as standard on 9 exclusive Edition 125 models.
The Mercedes-Benz E-Class Saloon Edition 125 is equipped with Navigation 50 as standard. This system is an advanced communication and navigation system, Navigation 50 features DVD navigation for intuitive, efficient journey planning. In addition, it includes an integrated CD / DVD drive, Media Interface, MP3 compatibility and Bluetooth® connectivity.The exclusive version of the Mercedes C-Class Saloon Edition 125 is equipped with the most advanced multimedia and navigation system COMAND Online as standard. This offers internet access via your mobile phone connection so you can browse the web quickly and easily when the vehicle is stationary. What's more, the hard drive based navigation system includes a host of new features such as 3D map display with city views.
The Mercedes-Benz exclusive Edition 125 models are available across the SE, Avant-garde and Sport model lines offering an increased level of standard equipment.
More On This Car
Take one for a spin or order a brochure
Request a Mercedes-Benz brochure
Request a Mercedes-Benz test drive