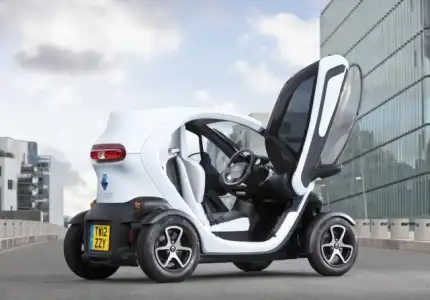 More On This Car
Take one for a spin or order a brochure
Request a Renault Twizy brochure
Request a Renault Twizy test drive
Renault has produced a total protection system for the Twizy which will enable drivers to keep the cold out. The system comes in two parts; a rigid metal frame which attaches to the door and a flexible transparent window which fastens to the frame by a zip. There is no need for tools and the frame can be easily removed by the owner.
The new kit which has been developed to keep the cold weather out is available for just £295 including VAT and will make the compact Twizy more versatile.
Twizy is the first-ever fully-electric urban compact two-seater, combining bold design and bright styling, while being incredibly fun and easy to drive. It is capable of up to 50mph and full charge takes three and half hours providing a range of up to 60 miles, this means running costs are virtually nonexistent.
The new accessory goes on sale at the end of November; Renault has tested the system extensively to ensure its resistance to UV light, corrosion and cold temperatures. There are two slits in the panel one at the front and the other at the rear to ensure a sufficient flow of air to prevent the interior from misting up. This new accessory goes on sale across the Renault network from the end of November.
More On This Car
Take one for a spin or order a brochure
Request a Renault Twizy brochure
Request a Renault Twizy test drive