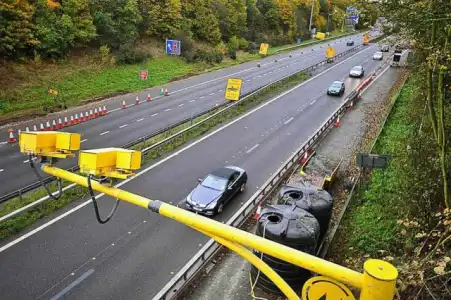 More On This Car
Take one for a spin or order a brochure
Temporary Safety Cameras Raise £4.7 Million In Fines
Temporary safety cameras (or temporary speed cameras as they are commonly referred to) caught tens of thousands of speeding motorists in 18 months and potentially raked in £4.7 million. The purpose of the cameras – that were monitoring areas such as the M1, M5 and M54 – was to enforce lower limits while road enhancement work was completed. 77,666 motorists failed to follow the rules. However, of these some escaped a fine as they could not be traced via a vehicle registration plate. Cameras were also triggered by emergency response units such as police cars, fire appliances and ambulances which can legally exceed the speed limit (on occasions).
The most prolific camera system was on the M54 around Shropshire and Staffordshire. Here, 13,484 drivers exceeded the 50mph limit over the 18 month road widening period. It was followed by cameras on the M6 – specifically in Cheshire – where 11,384 drivers broke the law over 10 weeks. The top 5 also included cameras on the Hammersmith flyover in London (third place, 8,590 motorists in 5 months); the M5 in Gloucestershire (fourth, 8,127 drivers in 12 months); and the M25 in Hertfordshire (fifth, 6,333 over 7 months).
Temporary Safety Cameras Of Questionable Merit
Hugh Bladon, of the Alliance of British Drivers, questioned the need for these safety cameras despite the number of offences. He told the Sunday People: "When there was a trend for the cameras to be switched off there was no increase in the accident rate."
However, a spokesperson for Highways England argued: "A tiny minority deem it appropriate to speed through roadworks. Their blatant disregard for road safety puts other drivers and our workforce at risk."
Temporary Safety Camera Hotspots
The most prolific temporary safety cameras included:
M54 near Wolverhampton (13,484 offences in 18 months)
M6 Thelwall Viaduct, Cheshire (11,384 in 10 weeks)
Hammersmith flyover in London (8,590 in 5 months)
M5 in Gloucestershire (8,127 in 12 months)
M25 Jct23 and 24, Hertfordshire (6,333 in 7 months)
M1 Tinsley Viaduct, Sheffield (5,483 in 6 months)
M25 near Godstone, Surrey (4,786 in 12 months)
M25, Clacket Lane services (4,491 in 12 months)
M6 near Tebay services, Cumbria (4,138 in 8 months)
M23 near Gatwick (2,195 in 4 weeks)
M5 near Bristol Airport (2,156 unknown time period)
M180 near Doncaster (1,788 in 2 months)
M1 near Barnsley (1,742 in 6 weeks)
A3, near Liss, Hampshire (1,720 in 3 months)
A23, Handcross Hill, West Sussex (1,249 in 2 years).
More On This Car
Take one for a spin or order a brochure