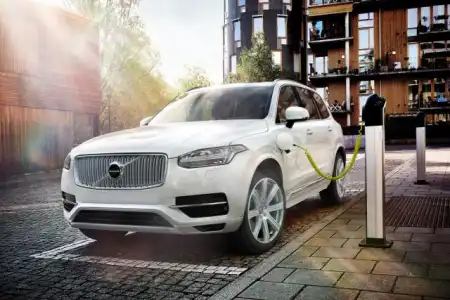 More On This Car
Take one for a spin or order a brochure
The UK has experienced an unprecedented and unanticipated demand for Plug-In Hybrid Vehicles as consumers look to make a saving on their fuel bill and their Vehicle Excise Duty.
Some manufacturers are struggling to keep up with the demand, and are even having to cancel orders with too long of a lead time. It's a competitive marketplace as more and more manufacturers are entering the hybrid arena, which means that there are great deals available and now might just be the perfect time to make the transition.
We're going to cover the whole spectrum, from the flashy to the frugal, so bear with us when the price tags get high, at least there'll be a nice big image to look at! Here are 10 of the best deals we can find on the marketplace...
10) BMW i3 range extender
Unsure if you're ready to take the leap to a fully electric car just yet? That's fair enough, a lot of people are sceptical at first, so BMW have introduced the range extender to go with their famous EV, the i3.
This car has the exact same exterior and interior as the fully electric i3, but under the bonnet is a clever 650cc two-cylinder motor, which doubles the range of the Electric Motor to a whopping 186 miles, which is far more than you'll need on an urban commute, but plenty to dispel any range anxiety you may have. It's a typically well built urban commuter and one we'd certainly recommend as a premium hybrid hatchback.
£403 per month may sound a bit expensive, but this is a high-tech piece of kit with lots of perks and the opportunity to save a real fortune on fuel, the consumption can work out around 470 miles per gallon afterall!
9) Mitsubishi Outlander PHEV
The Outlander PHEV was the first plug-in hybrid SUV on the market, and there are still very few who have decided to compete. This domination over the market share, and the fantastic end-product have combined to make the Outlander PHEV a real success since introduction.
The plug-in model costs exactly the same as the diesel model, but comes with the option of up to 25 miles of completely free electric travel with each full charge. Driven carefully you can get above and 70mpg from the PHEV but a realistic expectation would be a minimum of 50mpg. Business owners will love the 5% BIK tax rate too
8) Porsche Cayenne S E-Hybrid
Another big SUV for you, but this is one of the most luxurious options on the marketplace. The Cayenne S E-hybrid came out last year and offers the Audi-sourced 3.0 V6 supercharged petrol engine working in tandem with the latest 10.8kwh lithium-ion battery technology.
The Cayenne S E-Hybrid isn't cheap to buy, at a whopping £64,512 starting price, but this is made manageable for business owners at £943 per month on a personal, then even more affordable at £786 per month on a business deal. Not bad for a luxury SUV with a huge engine - the 83MPG is a welcomed statistic too…
7) Volvo XC90 t8-hybrid
In the market for some understated luxury with exceptional build quality? Forget your preconceptions and have a look at the new XC90. This car features a turbocharged and supercharged 4 cylinder, 2.0litre petrol engine which is good for a whole 320hp. An electric motor is then added to this which pushes out a further 87bhp itself. This leaves a combined output of 376bhp - which is plenty!
The XC90 benefits from a high ride height and soft suspension so it really is a dream to ride through pothole suburbia and cruise along motorways. This isn't a cheap car though, it's almost up there with the Range Rovers, but £799 per month on a PCP deal isn't that bad for senior executives who will achieve mpg's far greater than any Range Rover has ever dared, throughout ownership.
6) Toyota Yaris Hybrid
In the market for something smaller? Why not look at the new Yaris Hybrid hatch? The Yaris hybrid is one of the most affordable hybrid vehicles available on the market, and shares a lot of it's eco-DNA with the older sibling, the Prius.
The Yaris hybrid features the 1,5litre unit from the Prius and the same nickel-plated hydride battery from the Auris Hybrid, which sits under the boot floor. This does slightly detract from the boot space, which is 286-litres in non-hybrid form, but it is still big enough for a weekly shop and the car is the perfect size for scooting around town without feeling cramped.
5) Volkswagen Golf GTE
The best hatchback ever built, just got a little bit better. Now available with an electric motor to run alongside the 1.4 TFSi petrol motor, the GTE is actually quite a hot-hybrid-hatch.
Pushing out a combined 204 horsepower, the GTE does 0-60 in 7.6 seconds, which isn't far behind the GTD and GTi hatches from the Golf range. On the combined cycle, however, the GTE earns its stripes as VW claim you can achieve all the way up to 166mpg.
4) Toyota Prius
It's a firm favourite for Uber drivers across the world, and for good reason. The Prius is a well presented, comfortable package that delivers exceptional economy with very few compromises. The Prius is the pioneering example of hybrid cars, it may not be the prettiest car in the world, or the most exciting to drive, but it serves it's purpose valiantly.
Lease deals are competitive on the Prius, and you can pick a brand new 'Business Edition' from just £291 per month and expect a whole 94mpg in return, which is actually very achievable even while urban-commuting.
3) Audi A3 Sportback e-tron
The Audi A3 E-tron promises to be a firm entrant into the 'premium hatchback' segment where previously the only hybrid option was the Lexus CT, which now sports fairly dated hybrid technology. The A3 e-tron however is a brand new kid on the block and Audi claim it will return up to a whole 188mpg using both the electric motor and the combustion engine in combination, with a 30 mile range in total using just the electric power, meaning a full hybrid range of 580 miles.
2) Volvo V60 Twin Engine
The Volvo V60 D6 Twin Engine is a plug in hybrid like no other on this list. This car combines an electric motor with a diesel engine, opposed to a petrol engine, to bring some extremely impressive and cost-cutting figures.
In pure electric mode the V60 will offer you a solid 31 miles of zero emission motoring, so if your workplace is roughly 15 miles away, you could get away with free-of-charge commuting without having to recharge at your workplace.
The diesel-electric combination is meant to return a whole 155mpg while only pushing out 48g/km of CO2 - which means £0 road tax under current rates. Don't go thinking this is a slow and boring hybrid though, Volvo have tuned the electric motor to add performance to the diesel engine, and the V60 twin engine will get you from 0-60 in just 6.1 seconds… That's properly quick for a big, safe family car!
1 ) Mercedes Benz C350e
Mercedes have entered the mass-market plug in spectrum too, following the exclusive Mercedes S550 Plug-in hybrid which they released late 2015.
As you'd imagine from the '350e' name-tag, the C Class possesses the power figures of a traditional, high capacity 6 cylinder Merc, only the C350e is only sporting a modest 4 cylinder unit, which pushes out 208 horsepower. There is then an electric motor slapped on, offering a further 80 horsepower and a total of 443 lb-ft of torque.
The good news is that the final product will be a luxury saloon that returns up to 134.5mpg and breathes out only 49g/km of CO2 (which would be free under current road tax rates) but the bad news is, the C350e isn't quite ready yet. We expect to see this car introduced to showrooms toward the tail-end of summer.
More On This Car
Take one for a spin or order a brochure