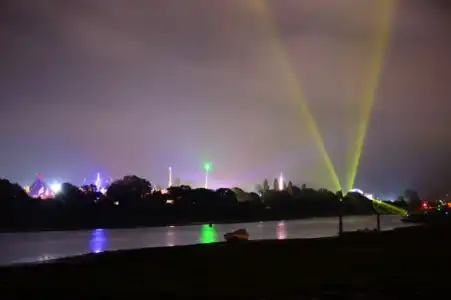 More On This Car
Take one for a spin or order a brochure
The Laser Misuse (Vehicles) Act explained
Hooligans that shine lasers at moving vehicles can now be sent to prison for five years, get an unlimited fine, or both, as new laws come into force. These penalties recognise that lasers – that are easy and cheap to obtain – can blind victims, confuse and cause crashes.
The Laser Misuse (Vehicles) Act has now worked its way through parliament. Its aim is to protect those responsible for vehicles including, train, planes, cars and boats, as well as air traffic controllers. Under the new law, an offence is committed if:
"The person shines or directs a laser beam towards a vehicle which is on a journey (and)
The laser beam dazzles or distracts, or is likely to dazzle or distract, a person with control of the vehicle"
Offenders face said consequences if they act deliberately or fail to take reasonable precautions to prevent a mishap. The Act also:
Expands on existing legislation that only protects pilots
Lifts the cap that limited the previous fine of £2,500
Makes it easier to prosecute offenders by removing the need to "establish proof of intention" to endanger a vehicle
The legislation is required as lasers have "become a growing concern", the Department for Transport said. The Civil Aviation Authority alone received reports of more than twelve-hundred attacks in 2016.

Ambulance driver blinded by a laser
During September 2017 in Carlisle, a laser hooligan temporarily blinded an ambulance driver en-route to a patient that was struggling to breathe. "Everything went black", the victim explained. She, therefore, stopped the ambulance for fear of collision and was treated in hospital for an "extreme burning pain".
The North West Ambulance Service's Operations Manager, Christine Jones, stated: "I am shocked and appalled that somebody has done such a cruel and dangerous thing to a member of staff." The perpetrator could "have caused a huge road accident", she confirmed. Fortunately, the driver recovered then returned to work.
New laws offer "greater protection", minister says
Aviation Minister, Baroness Sugg, said: "Lasers, used recklessly, can have very serious, potentially fatal consequences. This government has toughened up the law the crack down on this dangerous behaviour."
"These new laws offer greater protection for operators and passengers alike against irresponsible and reckless laser use."
More On This Car
Take one for a spin or order a brochure