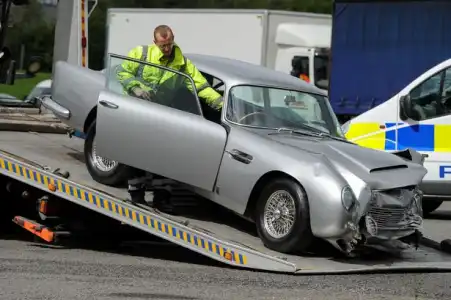 More On This Car
Take one for a spin or order a brochure
Vehicle identity check abolished
A car that is written-off by its insurer then repaired can now return to the road without a Vehicle Identity Check (VIC), the Department for Transport confirmed.
The VIC was introduced in 2003 to prevent ringing which is the process of transferring the identity of a written-off vehicle, to a stolen alternative.
The latter is then easier to sell. However, the government argued that: "Advances in technology - and the fact that most vehicles returned to the road have been in the hands of the same keeper for seven years or more - mean this (identity) check has become unnecessary".
Transport Secretary Patrick McLoughlin said: "The government is on the side of the honest motorist which is why we are scrapping this scheme which flies in the face of common sense and creates an unnecessary burden.
It will save motorists and businesses millions every year. During the past twelve years around a million checks have been made, resulting in only a handful of actual cases of wrongdoing."
The Department for Transport says it took account of:
"Major advances over the past decade in vehicle security which deter the low-level criminals for whom the VIC scheme was initially set up to combat;
Advances in online resources which allow secure checks to take place without a paper check;
Vehicles being equipped with increasingly sophisticated mechanical and electronic security methods."
How vehicle identity check worked
A vehicle received a marker when written-off by its insurer. This prevented the Driver & Vehicle Licensing Agency issuing (say) a V5C log book or posting reminders to pay excise duty. It was, therefore, necessary to have the marker removed via a Vehicle Identity Check that cost £41.
The vehicle had to have registration plates, be fit for the road, have an MOT (if applicable) and be insured. Road tax was not required, however. The inspector then checked legitimacy via references such as an identification number.
UK categories of insurance write-off
Damage to a written-off car is categorised from A to D. The Code of Practice for the Disposal of Motor Vehicle Salvage definitions are:
Category A. "Scrap only, i.e. with few or no economically salvageable parts and which is of value only for scrap metal";
Category B. "Break for spare parts if economically viable";
Category C. "Repairable total loss vehicles where repair costs including VAT exceed the vehicle's pre-accident value (PAV)";
Category D. "Repairable total loss vehicles where repair costs including VAT do not exceed the vehicle's PAV".
Need advice? Check out our insurance advice section.
Have your say
Was the government right to abolish the VIC? Tell us what you think in the comment section.
More On This Car
Take one for a spin or order a brochure