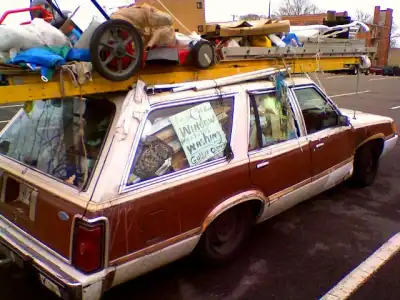 More On This Car
Take one for a spin or order a brochure
Surfboards falling from a car roof are suspected to have been the cause of a recent crash on a major road in Devon, leaving several people injured.
It's easy to see how accidents can happen when you add together a mix of busier roads – with families returning from holidays and thousands of trips to deliver students and their belongings to universities – and heavy, perhaps unstable, loads.
So to keep yourself, your passengers and other road users out of danger, it's vital that any car journey begins with a safety check.
Have you checked the maximum permitted weight (MPW) for your car, and your tyre pressures? The MPW could be lower than you expect and extra weight can alter the handling of your car.
Can you still see? Keep a clear view to the rear – anything packed above the line of the seats is at risk of flying forwards in a collision. If space inside is tight, try a roof rack. They're great for carrying lighter, awkward or bulkier items, but beware – they must be properly loaded and secured.
On the roof
Check you're not going over the maximum permitted roof load for your vehicle. Remember to include the weight of the roof rack and that the limit can easily exceeded by just a couple of items of flat-pack furniture. It's generally better to carry bulky but light things on the roof, and put heavier items inside the car.
Roof loads must be attached securely. Although the Highway Code states simply that 'you must secure your load and it must not stick out dangerously', at speed, airflow will be trying to lift the front of any long load. Fixing down the front and back of the load is important, to stop it sliding forwards when braking. Ropes and straps can work loose, so you should stop regularly and check them.
Another key consideration is the impact that having a roof rack or box can have on fuel economy. Be sure to remove them when not in use if you don't want to affect the aerodynamics of your car.
Here's our top tips for safe travelling with a loaded roof:
Make sure your roof rack fits your car properly and that it's installed correctly.
Know your car's MPW – heavy loads mean higher fuel consumption and exceeding your MPW can do damage to your vehicle, and potentially cause a serious accident.
Pack a stable load, evenly distributed, secure it tightly and check it regularly during your journey.
Loading and unloading is a pain while you're on the road. Pack items up top that you won't need to access regularly.
And don't ignore maximum height warnings on bridges – remember you have stuff on your roof, especially if it's taller items like bikes!
*Got a picture of an overloaded motor? Share it with us.
Picture by Taber Andrew Bain https://www.flickr.com/photos/andrewbain/2374787962/
More On This Car
Take one for a spin or order a brochure