Pros:
A driving purist's dream car for handling and performance

Surprisingly comfortable for such a low-slung sports car

Fairly decent running costs
Cons:
Infotainment system seems really outdated

Price-tag is quite steep

Storage space is poor just like all true sports coupes.
More On This Car
Need more information?
Request Dealer Contact
Introduction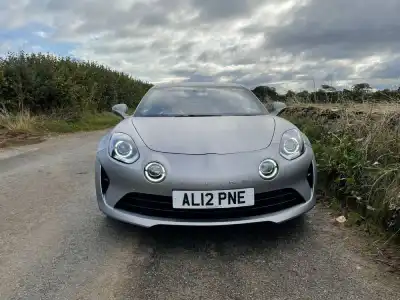 If you're not familiar with the Alpine name you certainly should be. It was founded in 1955 and earlier this year, Alpine, Renault Sport Cars and Renault Sport Racing joined forces under the Alpine flagship. And there is a new limited-edition model to mark the occasion.
The Alpine A110 Legende GT 2021 is limited to just 300 units and has been developed specifically for Europe. It combines all the performance ability of the A110S with the grand-touring luxury of the Legende GT models and it's quite the complete package.
It's 1960's lightweight sports car fun brought firing into the 21st Century.
On The Road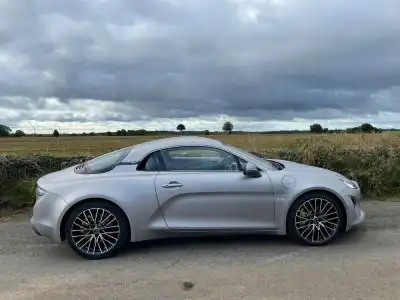 Performance
One glance in the direction of the Alpine A110 Legende GT 2021 will convince you there must be something a little bit special beneath the bonnet. And there is just that.
The car is powered by a 292hp, four-cylinder, 1.8-litre turbocharged petrol engine delivering 320Nm of torque. That results in a 0-62mph sprint time of just 4.4 seconds and top speed of 155mph.
The acceleration through the rapid-shifting seven-speed dual clutch transmission is blisteringly fast and there are Normal, Sport and Track modes to flick through for added fun. These alter the responses of the throttle, steering, gear shifts and exhaust sound accordingly.
This rear-wheel drive car is perfectly poised as it fires through the country lanes with outstanding grip into and out of tight bends and there are steering wheel-mounted paddles for extra engagement.
It's a car that loves to fizz along the B roads with as many switchback turns as possible. But it's also nice and agile in and around town too. That said; you will need to rely on all the car's safety systems as the all-round visibility is quite poor.
In addition, the lightweight car can feel a little vulnerable on busy motorways alongside huge juggernauts.
Another real plus point though is the sound. This car cracks, pops and bangs as it powers along which is the perfect accompaniment for such a beautiful sports car.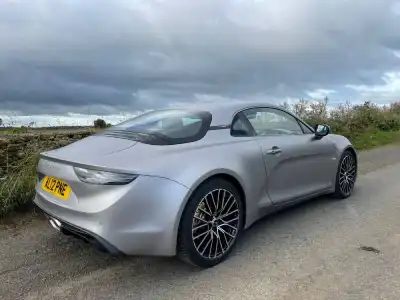 Ride Handling
When it comes to ride and handling, the Alpine A110 Legende GT is a high-performance car with comfort levels to match.
Despite sitting quite low to the ground, the Sebelt comfort sport seats offer ample support inside this mid-engined two-seater. The low centre of gravity and low weight of the car – it weighs just 1.13 tonnes – means the car feels lively, energetic and perfectly poised.
And that results in an exhilarating driving performance with sharp acceleration. If you're too heavy with your right foot, the car soars away and you'll find yourself pinned to the seat, but that adds to the attraction. I'm sure if it pointed skywards, it could have won the race for putting passengers into space – it feels that fast!
The steering is nicely weighted and precise with plenty of driver feedback and the four-pot engine has ample power for short bursts of pace to overtake slower-moving vehicles.
The bright red button on the steering wheel with 'SPORT' written on it is just too tempting to resist and that injects even more pace offering a short-cut to the Sport driving mode.
There is minimal body roll into corners but it's not anything problematic and also the light suspension helps smooth out uneven road surfaces along the way.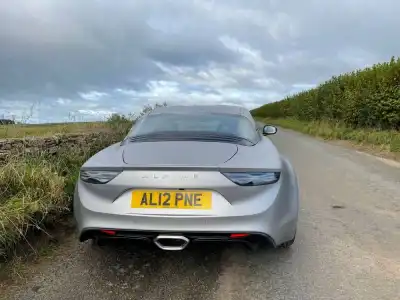 Styling
Wherever the Alpine A110 Legende GT passes it is guaranteed to attract attention. Not only does it sound amazing, but it also boasts drop dead gorgeous styling with subtle design cues that mark it out as the most luxurious car in the range.
Customers can choose from one of two colours for their limited-edition car – Matt Mercury Silver or Abyss Blue. In all honesty, the car looks amazing in either colour.
It also features pale gold Alpine logos, monograms and 18-inch diamond-cut Grand Prix alloy wheels with gold brake calipers.
Translucent white LED taillights are standard on the model and there is the option of a glossy carbon roof. There is a chrome central exhaust pipe plus French tricolore flags on the C pillars.
Moving inside, the snug two-seater cockpit is beautifully laid out with a real focus on the driver. Backlit doorsills feature the Alpine emblem while the six-way adjustable seats boast leather upholstery with matching materials on the doors too.
There are glossy carbon fibre trimmings, along with a plaque on the centre console featuring the unique build number of this limited-edition car.
In The Car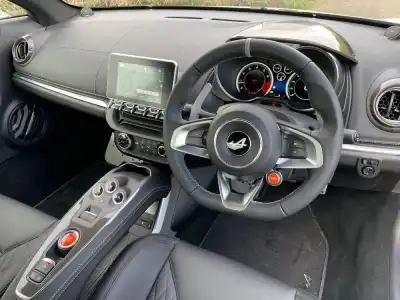 Behind the Wheel
Getting comfortable inside the Alpine A110 Legende GT is an easy enough process with manually adjustable seats and steering wheel. The flat-bottomed steering wheel feels well weighted and there are huge paddles each side to change gear manually.
The driver has a good view forwards and sideways, but in true two-door coupe tradition, the rear view is dreadful through the narrow screen. However, a rearview camera, along with parking sensors make reversing less daunting.
The on-board technology is okay, but the seven-inch multi-media touchscreen seemed a tad dated with slow responses. Creature comforts include Apple CarPlay and Android Auto smartphone connectivity, USB ports, a two-speaker Focal audio system and Bluetooth connectivity,
All the automatic climate control settings are operated via a separate panel which is a real positive inside a car such as this Alpine. There is nothing worse than having to work your way through a drop-down touchscreen menu just to turn the temperature up.
The dials behind the steering wheel are nice and clear and offer all the vital data. Switch across to Sport mode and you will see the levels of Nm and hp being used, while in the Normal setting, the dials display the more traditional rev counter and speedo.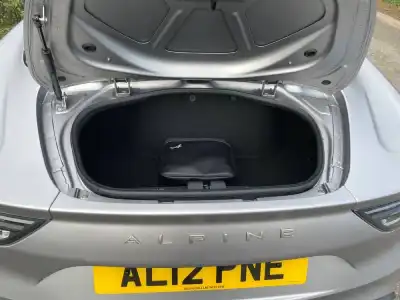 Space & Practicality
Clearly, purely by its nature, the Alpine 110 GT is never going to be a practical choice. It's a car that will brighten up the day for any driving enthusiast and that's about it. Yes, it will look incredibly cool on the school run, but if you have more than one child it will take more than one trip.
It's a two-seater sports coupe with wide opening doors (so be careful where you park) and a tiny boot with a 96-litre capacity so it can hold a couple of overnight bags.
However, there is good news as the Alpine is a mid-engined car, so it also has a front boot and this can swallow an additional 100 litres of luggage.
Inside the cabin, there is no glovebox or door bins, but there is a single cup holder, a pocket for the key to slot into and an optional storage pack that added £468 to the price. This introduces a storage case and cargo net behind the driver's seat.
The car measures 4,180mm in length, is 1,980mm wide (including mirrors) and is 1,252mm high. The cabin space for two occupants stretches 1,314mm across which is ample room for a couple of adults to sit comfortably.
Ownership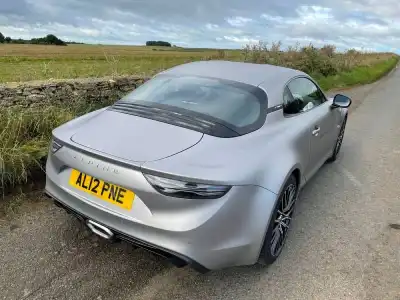 Running Costs
The Alpine A110 Legende GT 2021 is limited to just 300 models and costs £61,665 to buy. Our test car also featured a number of optional extras, including heated front seats (£420), a storage pack (£468), Alpine telematics (£264) and Matt Mercury Silver paint (£2,000). The final cost was £64,807.
According to official figures under WLTP testing, the car could deliver a combined 40.4-41.5mpg with carbon emissions of 153-158g/km.
This CO2 figure would result in a first year Vehicle Excise Duty charge of £555 dropping to the standard rate of £155 after the first 12 months. But the costs don't end there as there is a Government Premium Rate levy of £335 for five years on vehicles costing £40k or above.
The Alpine A110 Legende GT 2021 model sits in insurance group 50.
With limited production numbers the Alpine should retain strong residual values though and could become a collector's car before long.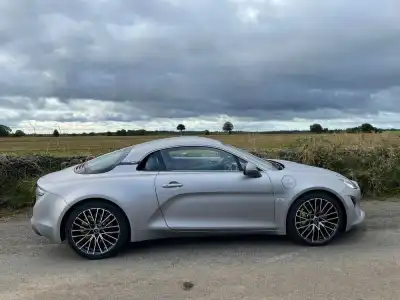 Quality & Reliability
The A110 is manufactured in Dieppe, France. This is where the original version of the A110 was built from the late 1960s. The car is built by a team of 400 employees at the facility that boasts unique machinery to assemble the A110's full aluminium body and chassis.
The Alpine training school and premium finishing workshop is onsite where quality remains a top priority in the production process.
Although it is too early to predict how reliable it will prove, the car looks and feels solid in its build quality.
All Alpine models are covered by a three-year, 60,000-mile warranty for added peace of mind.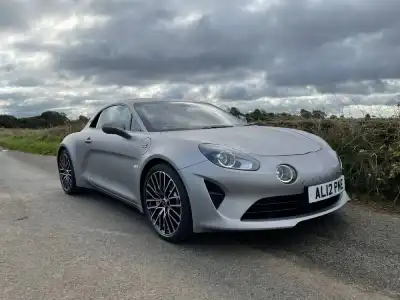 Safety & Security
Due to its limited sales numbers, the Alpine A110 Legende GT has not been and is unlikely to be crash tested for a Euro NCAP safety rating.
The car is equipped with a fair amount of safety kit though, including emergency brake assist with anti-lock brakes, cruise control with speed limiter, hill start assist, driver and passenger airbags, a tyre inflation and repair kit and an electronic stability programme that can be deactivated for track experiences.
The Alpine is fitted with a good quality alarm and immobiliser to keep thieves at bay.
Summary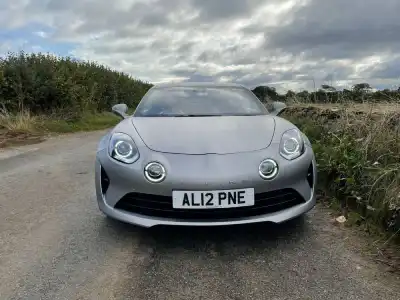 In a day and age when all eyes are on an electrified future, it's sometimes nice to put those thoughts to one side for a moment and enjoy some thrilling performance cars and all they have to offer. And the Alpine A110 Legende GT 2021 is one of them.
More On This Car
Need more information?
Request Dealer Contact