Pros:
Dynamic styling and performance to match

Beautifully timed automatic gearbox with paddles for extra fun

Its an Alfa Romeo
Cons:
The interior quality

Other models have more space for back seat passengers

Not as refined as its German rivals
More On This Car
Take one for a spin or order a brochure
Request a Alfa Romeo Stelvio brochure
Request a Alfa Romeo Stelvio test drive
Introduction
When Alfa Romeo announced it was entering SUV territory there were gasps of disbelief. After all, this is a marque associated with pure performance at all costs and certainly not renowned for practicality and family holidays. But those fears were completely unwarranted because the Stelvio oozes Alfa DNA through and through.
It boasts all the dynamic styling associated with the brand and is packed with Italian flair. It is based very much on the Guilia saloon so it has the performance bases covered too.
In a day and age where every other new car arriving on the scene is an SUV, designers have to come up with a unique recipe for success and the Stelvio seems to have all the right ingredients.
On The Road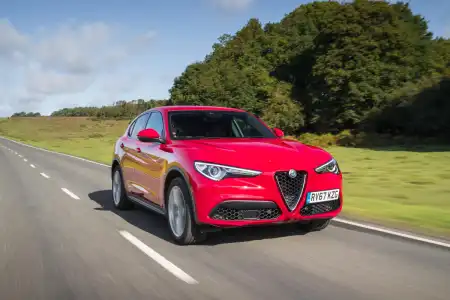 Performance
Alfa Romeo first ventured into the SUV sector in 2017 when it launched its all-new five-door Stelvio model. And now two years down the line, the vehicle has been refreshed for 2019 with the latest Euro 6D engines, increased standard specification plus an improved warranty package.
The diesel models benefit from the addition of AdBlue, which provides a reduction in NOx emissions, but also sees the 2.2-litre 150hp and 2.2-litre 180hp turbo diesel engines gain an extra 10hp.
Customers can choose from a range of trim levels but the headline-grabbers are the big-hitting 2.9-litre V6 Bi-Turbo 510hp Quadrifoglio and Quadrifoglio NRING editions, priced at £69,500 and £89,500 respectively.
We opted for the slightly tamer, but certainly not lacking in power, 2.0-litre petrol-driven 280hp AWD Milano model mated to an eight-speed automatic gearbox and it was a sheer delight to drive. With a whopping 400Nm of torque on offer the Stelvio, which weighs 1.67 tonnes, can sprint from 0-62mph in 5.7 seconds and tops out at 134mph. I should just add as a reminder that this is an SUV.
The acceleration is blisteringly quick and the power levels are constant as the Stelvio fires through the perfectly timed gearbox with chunky steering wheel-mounted paddles for extra driver fun.
In the wet, the Alfa Romeo AWD system, named Q4, gives the car extra grip meaning the Stelvio is a car that won't be fazed by a turn for the worse in the weather.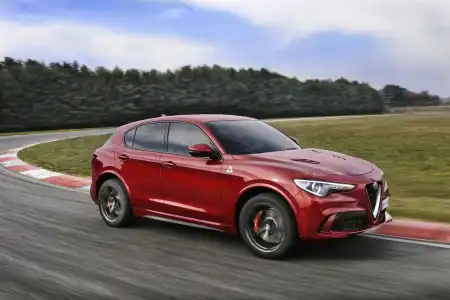 Ride Handling
Out on the country lanes and quieter B roads, the Stelvio was beautifully poised and balanced. The road holding proved ultra-grippy as it swept through long sweeping bends with ease. Sharp switchback turns were also conquered without any fuss meaning the car lives up to its Stelvio name-tag (although we couldn't find 48 hairpin bends in quick succession without booking a trip to the Eastern Alps!)
The driver can switch through drive modes, aptly named DNA, and these alter the manner in which the car reacts and behaves. The letters stand for Dynamic, Normal and All-weather which leaves little doubt as to which mode delivers the best driving experience. We were blessed with some fine weather during our test drive and that meant the car could be unleashed with confidence.
At times it's easy to forget the Stelvio's SUV dimensions because the handling is so similar to a car. And just like it's stablemate - the Giulia - on which it is based, the steering is very precise with ample driver feel and feedback. Factor in a fairly stiff suspension set-up and the Stelvio has all the 'must-have' features for dynamic driving.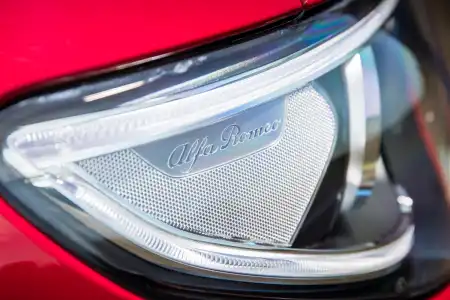 Styling
The Stelvio demands and gets attention wherever it goes thanks to its beautiful styling. This is essential for any Alfa Romeo to succeed as the company's huge fanbase demand two things - great handling and a drop-dead gorgeous design. The Stelvio succeeds on both counts.
It seems Alfa Romeo has re-written the rulebook when it comes to SUV styling as the Stelvio boasts a combination of muscular aggressive lines mixed with silky curves. There are slim headlights, narrow tail lamps, 20-inch alloys with red brake callipers and tinted windows.
The interior is equally classy and upmarket in its layout with heated leather seats, a tow-tone dashboard, a sporty flat-bottomed steering wheel, aluminium sports pedals and neat decorative trim. It's all very premium and is packed with Italian chic.
The 2.0-litre engine is not as refined as some rivals and sounds quite throaty when pushed hard, but it does deliver all the power you could wish for. You can also expect to hear a little road noise when the sound system is turned down low. On the plus side, wind noise is quite low thanks in the main to the car's dynamic styling cues.
The suspension is quite firm which is perfect for a sportier driving experience, but you will feel the odd bump or two along the way. As is the way with all models, stick to smaller wheels for improved all-round performance.
In The Car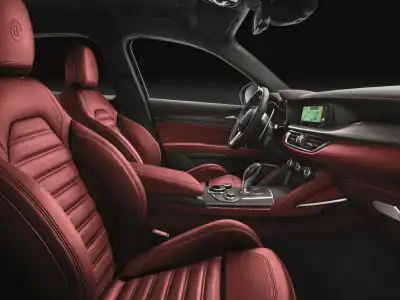 Behind the Wheel
Getting comfortable is a simple process with powered seat adjustment and ample steering wheel movement. The driver benefits from decent visibility apart from quite thick pillars and all controls, dials and readouts are well positioned for ease of use.
Onboard technology is plentiful and our test car was packed with the latest infotainment systems. Features included an 8.8-inch screen with 3D navigation system, a pitch-perfect 10-speaker sound system, DAB radio, Bluetooth, dual-zone air conditioning, heated seats and a heated steering wheel.
Most of the car's entertainment systems can be controlled via a dial just behind the chunky gearstick. This is easy to operate and far better than fiddling around with a touchscreen. it's also nice to see that the climate control is adjusted via dials and buttons which means less distraction when driving too.
It's worth noting that all 2019 Stelvio models now come equipped with the 8.8-inch Alfa Connect with a navigation system that includes Apple CarPlay and Android Auto. Some lower trims also gain upgraded alloys and tyres, plus the likes of privacy glass.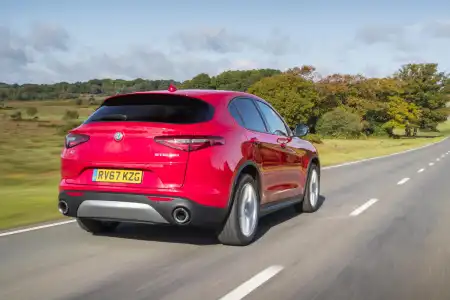 Space & Practicality
The Stelvio is targeting customers looking to buy an SUV and therefore needs to tick all the boxes when it comes to practicality. And to a certain degree, it does well. The boot is well-sized and can hold 525 litres of kit, a limit that increases with the 40:20:40 split-folding rear seats dropped flat. There is a glovebox, central cubby box, door bins and cup holders to hide away bits and bobs too. There are also two cup holders in the fold-down armrest in the back.
But when it comes to rear legroom, the Stelvio is quite limited on space. A couple of adults can fit in the back so long as the front seats are not pushed right back, but add a third and it all becomes rather cramped. And taller back seat passengers may find the dynamic sloping roof design of the car means their hair brushes against the headlining.
The rear doors open nice and wide and the car has Isofix fixtures to secure a child seat which is a plus point. The slightly elevated seating position means the car is also okay for anyone with mobility problems who struggles to get in and out of a lower-sitting saloon or hatchback.
Ownership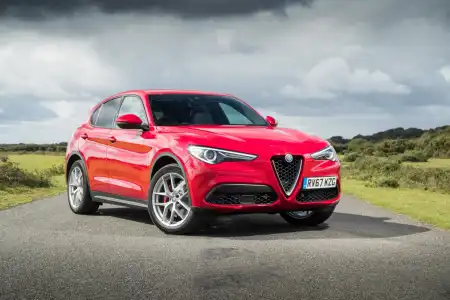 Running Costs
There is an Alfa Romeo Stelvio to suit a variety of budgets with the entry-level 2.2 Turbo diesel 190hp RWD Super model costing £36,990 and the range-topping limited edition Stelvio 2.9 V6 Bi-Turbo510hp AWD Quadrifoglio NRING priced at £89,500.
Our test car - the 2.0-litre Turbo Petrol 280hp model in Milano grade - was priced at £46,490 and according to WLTP figures, could deliver a combined 29.8mpg with carbon emissions of 182g/km. This CO2 figures would result in a first-year Vehicle Excise Duty charge of £855, dropping down to the standard £145 for each following year.
However, there is an extra charge of £320 per year as the car's list price exceeds £40,000 and this would be added to the first five years of standard rate.
The insurance group rating for the test car is 36.
Quality & Reliability
While Alfa Romeo never scored particularly well in customer satisfaction surveys, it is a manufacturer that is on the climb and has turned its reputation around in recent years. The company has a loyal following and huge fanbase. It even has an owner's club.
Original Stelvio models were supplied with a three-year, unlimited mileage warranty, but new for 2019 models is an upgraded warranty package to add extra peace of mind.
All the latest Stelvio models receive a further two-year warranty and roadside assistance, valid for five years from the date the car is first registered, or until it has covered 75,000 miles.
In addition, the cars now also come with three-year scheduled servicing, covering the costs of parts, lubricants and labour. As with all warranties, there are some terms and conditions so it's always worth checking out the small print.
Our test car certainly felt sturdy enough, but there were a few hard-plastic surfaces that may prove prone to scratching over time. But all the switchgear and the upmarket upholstery feel solid in their construction.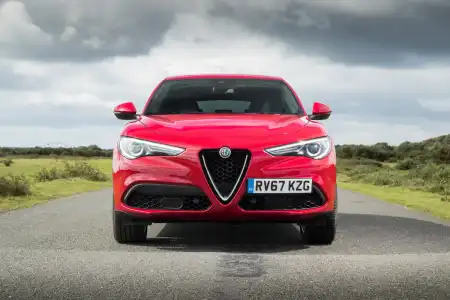 Safety & Security
The Alfa Romeo Stelvio secured a maximum five stars when it was tested for its Euro NCAP safety rating and comes loaded with kit to protect occupants, pedestrians and help prevent accidents occurring in the first instance.
The car scored particularly highly on passenger protection with a 97 per cent rating.
Safety kit includes autonomous emergency braking with pedestrian detection, lane departure warning, blind-spot monitoring, rear cross traffic detection, electronic stability control, active cruise control, hill descent control, rear parking sensors, rain and dusk sensors, tyre pressure monitoring, a full range of airbags and lots more besides.
The car is fitted with a Thatcham Category 1 alarm system to keep away any uninvited attention.
More On This Car
Take one for a spin or order a brochure
Request a Alfa Romeo Stelvio brochure
Request a Alfa Romeo Stelvio test drive