Pros:
Excellent size for the family

Sturdily made cabin

The dual-fuel option is cool
Cons:
It's a slow car

The safety rating is poor
Speak with our Concierge team to discuss your car buying options
Request a free call back
Introduction
The Dacia Sandero might once have had all the looks of a pig on heat, but 2021 sees the model look half decent. To be fair, it's even better than that. The brighter paintwork, cleaner exterior lines and comfortable interior make the Sandero an out and out winner – for the price.
Its competitors are the MG3 and Skoda Fabia, but they cost a bit more. To equal the Dacia's size and modern cabin, you'd also be looking at a Fiesta – but expect to fork out more for the Ford.
With a price range from £7,815 to £12,575, you don't need to be an auto expert to see that the all-new Dacia Sandero will be a popular choice for British hatchback consumers.
On The Road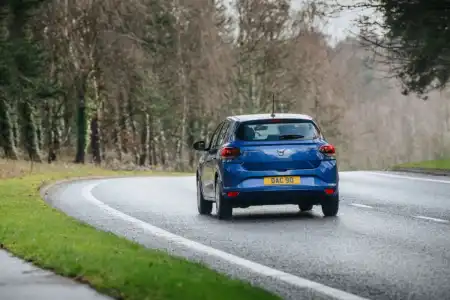 Performance
Dacia hasn't followed the herd by going down the electric route yet. Instead, it's kept to petrol and a Bi-Fuel LPG choice.
The entry-level car is a 1.0-litre petrol unit known as the SCe 65. This non-turbo powerplant produces a snivelling 65PS, and the resulting zero to 60 mph time is an embarrassing 16.5 seconds. Come on; even your granny would find that impossibly slow.
So, you can see why the 1.0-litre 90PS turbocharged engine – the TCe 90, might be more desirable. This version of the Sandero gets you to 60mph in 11.5 seconds, which isn't fast – but it's a lot quicker than the basic model. It comes factory-fitted with a six-speed manual gearbox, although a CVT auto transmission is obtainable, too. This was our test car, and we drove it in manual, top of the range, "Comfort" guise.
The Bi-Fuel variant, which contains a 100PS 1.0-litre power unit, can run on petrol or LPG. Combined, the fuels give about 800 miles of total range, meaning you'll be able to drive from Southampton to Bilbao in Spain – and still have fuel swilling around. This version of the Sandero shares slightly quicker performance figures than the 90PS model – getting from 0- 60mph in an acceptable 11.4 seconds.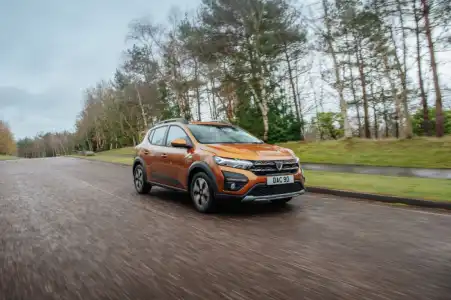 Ride Handling
The turbocharged 90PS engine in the Sandero we drove delivers the kind of clout that's good enough from a hatchback of this size. Okay, let's not fool ourselves; a Fiesta won't be worried about the Sandero just yet. Still, with a comfy ride, excellent visibility, easy to use controls and decent steering, the hatch will be a great motor to live with for years.
The TCe 90's handling is focused, carving through corners with confidence, and the grip is good, making you feel secure behind the five-door hatch's wheel. There's some roll if you take a corner too hastily, but, generally, there's ample stability. In fact, you get enough feel from the chassis to have a titter if you want to. A large part of this is due to the agreeably weighted steering, which gives a good feel of how much purchase the front tyres possess.
Cruising at motorway pace, you'd be justified for thinking you were driving a larger, more luxurious family car due to the muted wind noise. Furthermore, the all-new Sandero is just as pleasant to tootle around town in. Its manageable size makes parking child's play.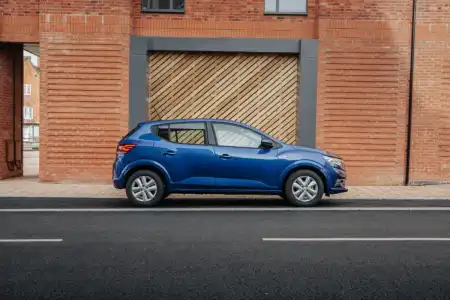 Styling
The outgoing Sandero didn't know the meaning of the word "refinement", but 2021's model is poles apart. Behind the tiller, it feels more like a Renault Clio than a Dacia, with refinement having been enhanced considerably.
Some of the interior plastics are still scratchy and cheap, especially below your knees, but they are a world away from the kids' toy plastics of old. You get a chic fabric stripe across the dashboard now, and the ergonomics are superb. Fundamentally, the cabin of this Dacia is delightfully unfussy and undemanding. It's the kind of interior you want in a family-sized hatchback.
When it comes to trim levels, you can select Access, Essential and Comfort. Top-grade Comfort editions are kitted out with a sizeable touchscreen that comes with navigation and smartphone mirroring. The tech is slick, considering this petrol trim level's £11,595 price (expect to pay over £12k for the Bi-Fuel LPG variant). Another tick in the Sandero's box is its spacious interior – but more on that later.
"Access" editions are basic – and that's putting it kindly. You don't even get a radio, for goodness' sake. However, Dacia manages to squeeze in LED headlights and electric front windows – so it's not all bad.
Step up to the "Essential", and you'll see more eye-catching 15-inch wheels as well as a DAB radio (hallelujah!), cruise control, Bluetooth and air conditioning. At the top of the tree, the "Comfort", which Dacia reckons will be the most popular, brings that touchscreen mentioned above along with a reversing camera and front fog lights. Oh, and you get keyless entry, too.
In The Car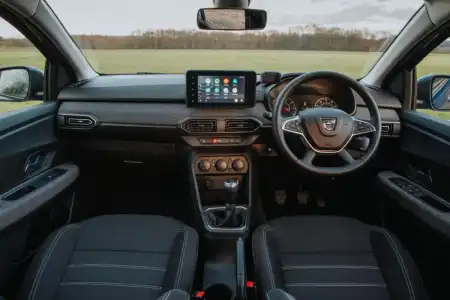 Behind the Wheel
As we've more than hinted at, Dacia has gone to town on the Sandero's interior, and you can tell. It's so much better than the pre-2021 model and boasts modern design and technology.
But perhaps more importantly, the car is comfortable for real-world everyday use in the UK. It's not quite a "magic-carpet" ride, but it can handle our pothole-peppered roads better than some cars costing double the Sandero's price tag.
The seats on the Comfort grade have bolsters that hold you nicely in place without feeling restricted. There's also enough fine-tuning between the steering wheel and the driver's seat to find a contented driving position for lengthy trips.
Indeed, the seats are perfect if you have an iffy back. (We should know – this reviewer moans about his back from time to time). The Sandero's chairs make long stretches behind the wheel untroubled, as we discovered on our three-hour road test. There's even a fold-down armrest on the Comfort grade.
The all-new Dacia Sandero is as likely to be used for supermarket trips and meetings at motorway services as it is for the school run, so we were delighted with the good visibility all around.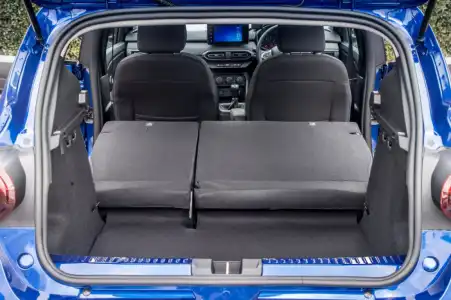 Space & Practicality
The absence of cabin space has never been a problem for the Sandero, and the same is true for this generation. The car offers segment-leading rear room that's fitting even for taller people, as well as a 328-litre cargo capacity.
Headroom, legroom, elbow room, and shoulder room mean there's abundant space for five-up. Part of the feeling of room is due to the comparatively scant interior features. There are fewer cubbyholes than in pricier equivalents, but the "less is more" cabin design is becoming fashionable, so that's all good.
As a thoroughly functional hatchback, the all-new Sandero puts load space over styling, and the rear is nearly perpendicular beneath the parcel shelf. This means you really can make the most of the 328-litres of cargo capacity.
It's worth noting that if you select the Bi-Fuel variant, the LPG tank only eats up the room usually taken by the spare wheel, but there are no other differences. Good, eh? Just make sure you keep a tyre repair kit in the car in this instance.
Ownership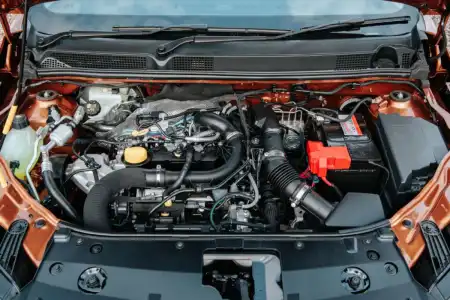 Running Costs
The all-new Sandero's petrol units are all efficient. The one to potentially steer away from is the automatic TCe 90 automatic. The SCe 65 is the most frugal, but as we've outlined, its performance is woeful. However, the TCe 90 (we got over 50mpg out of our test car) is a good bet, with the Bi-Fuel version being the "greenest".
That said, despite the eco-friendly nature of LPG, the Bi-Fuel Sandero invites a higher BIK tax rate than the Sandero TCe 90. Unfair, or what? But don't worry, the added BIK expense will be equalised by the fuel savings you'll make if you're a high mileage motorist.
Of course, as with any motor, your running costs will be affected by how and where you drive.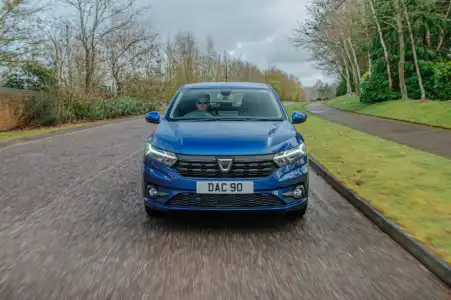 Quality & Reliability
The Dacia's interior and exterior build quality is as solid as an unripe avocado. What's more, even though the all-new Sandero is, erm, all-new, it's built on current systems and platforms. The 1.0-litre TCe powerplant has been offered in numerous Dacias and Renaults for some time, so no worries to be had there.
The soundly made cabin will last for years, and as there are more physical switches than virtual digital ones, you won't get as many technical gremlins down the line. The Sandero will also be a cheap car to fix should anything go wrong.
Indeed, every Dacia is protected by a standard three-year or 60,000-mile warranty package. During this time, any issues will be sorted out in the UK's Dacia network at no charge. Dacia Assistance also operates 24/7, should you be unfortunate enough to experience a breakdown.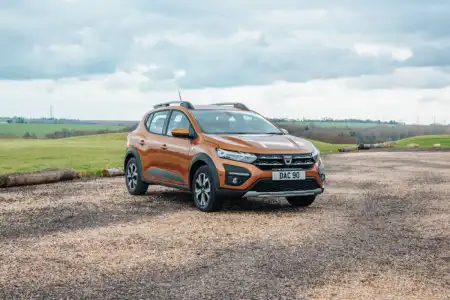 Safety & Security
Safety is the all-new Dacia Sandero's Achilles' heel. Independent crash test organisation Euro NCAP only awarded the hatchback two stars out of a possible five for safety. That makes it one of the lowest scores given to a car since the more rigorous test system was ushered in at the beginning of 2020.
Euro NCAP criticised the Dacia's automatic emergency braking system. It said that while the Sandero can identify other cars and avoid crashes with them, it doesn't stop collisions with cyclists or pedestrians.
The crash test body also slammed the model for not being offered with active lane-keeping assistance.
However, Euro NCAP acknowledged that the quantity of crash protection supplied in the Sandero is decent, with it at a point where the Dacia would have achieved four stars if it were not for the limitations elsewhere.
The all-new Sandero hasn't been checked for anti-theft protection by Thatcham Research yet. This is a relatively new scheme that started in 2019 to evaluate new vehicles' security with keyless start and keyless entry systems.
Speak with our Concierge team to discuss your car buying options
Request a free call back