Pros:
Sharp appearance

Comfortable ride

Large cargo capacity
Cons:
Badge image

Restricted rear legroom

Starting to get expensive
More On This Car
Need more information?
Request More Information
Introduction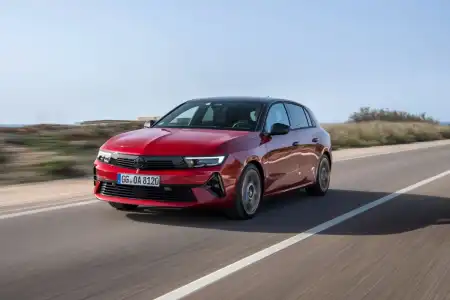 It has been ages since the Astra first arrived. Indeed, after more than 40 years, the car is so well known that it's almost part of the landscape. The hatchback has gone through many guises, but this latest eighth-generation Astra is probably the best yet.
That should come as no surprise. After all, the Griffin-badged automaker has had forever to get the Astra right. And now that Vauxhall is owned by parent company, Stellantis, the model shares its platform with the new Peugeot 308. That's a good thing as the 308 is hardly a bad car.
The looks of the new Astra are so hot that you wouldn't kick it off your driveway. That can't be said for the last few generations. In our humble opinion, the Astra hasn't been as sexy as this since the first and second-generation models.
Anyway, enough about the Vauxhall's looks - what's the brand-new Astra like to drive? Keep reading this review to find out.
On The Road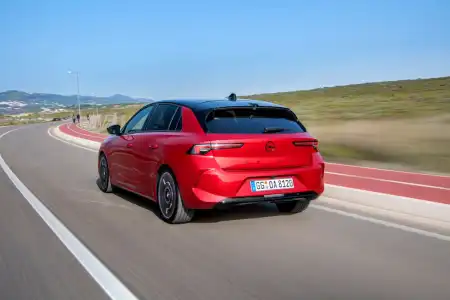 Performance
The car is no slouch, but it's hardly a rocket ship on paper. In 1.5 single-turbo 130PS diesel guise, the hatchback does zero to 62mph in 10.6 seconds. Hang on, did we say 'diesel'? Yep, we did – that's the model we drove – proving that heavy-oil propelled cars aren't dead. Clearly, Vauxhall doesn't think they are, and while there's a market for diesel, some manufacturers will keep making and selling them. Well, until 2030 in the UK, anyway. But don't let us confuse you, the new Astra is made in Germany – where Vauxhall is known as Opel. It comes in a dumbed-down trim range here – with the grades going in this order: Design, GS Line and Ultimate. Yep, Ultimate is the flagship Astra and Design is the basic hatch. Guess what, we went for the middle, £29,200, GS Line version.
The GS Line is meant to have an athletic edge – and it kind of does. Yes, we are contradicting our earlier remarks about performance, but as you'll read below under "ride and handling", the Astra starts to come into its own when pushed along ribbons of tarmac. Of course, pure figures aren't always what define 'performance' – and certainly, where bread and butter C-segment cars are concerned – a few things can define it. Comfort, agility and out and out drivability are just some of the ingredients bobbing around in the stew of 'performance'. The new Astra can't quite beat its rivals for all this yet, but it's close.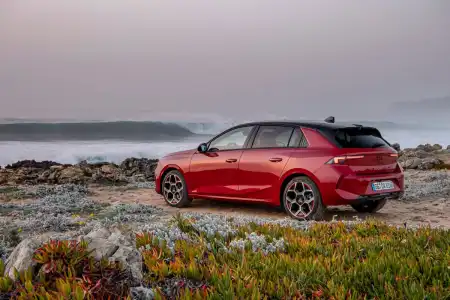 Ride Handling
So, here's the juicy bit we referred to above. Yes, the Astra is no VW Golf or Ford Focus, but the fissure between these cars has just got smaller now that the fresh Vauxhall is here.
In GS Line, the diesel Astra hatch sticks to the twists and turns remarkably, and there's a real sense of fun at the wheel. There is very little body lean, and the car effortlessly absorbs scarred bitumen. Of course, there is an amount of 'lumpiness' when you tackle 'sleeping policemen' at the appropriate 'snail's pace', but that's hardly a deal-breaker.
The front-wheel-drive Astra's steering is also the best there's ever been in any generation. It is light enough to make mincemeat out of mind-numbing town driving, but it weights up satisfyingly on the straights and the snaking sections. In addition, it is a well set up steering arrangement, where the smallest of inputs make a real difference to direction. Yep, that's how responsive it is.
Mostly, the GS Line diesel makes for an athletic motoring experience, then – but, as we've touched on, the nought to 62 miles an hour number in the diesel is the only slight let down. If you want more dynamism, then a 130PS petrol-powered Astra or the 180PS plug-in hybrid version could be for you.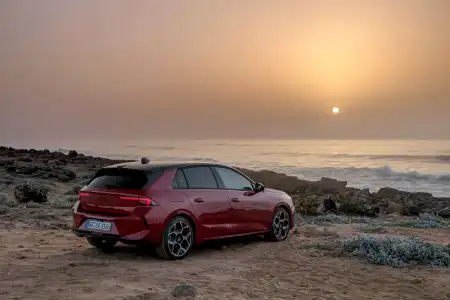 Styling
Vauxhalls are not VWs or Fords – and they're nowhere near BMW or Audi when it comes to styling and refinement. Well, hang on, they didn't use to be. But we will go all out here and say that the Astra is now on a level with Ford, and it's just a whisker away from the looks and refinement of a VW Golf.
It still has some way to get anywhere near BMW and Audi – but we reckon these Germans need to watch out. Stellantis is like a supergroup – well, it would be if it were a rock band – which means there may be no stopping it from getting to where it wants to be. And given time and a few tweaks, we think Vauxhalls will one day reap the rewards of being part of this automotive giant. In other words, this could lead to the Astra being as stylish as a BMW or an Audi one day.
Okay, let's not get carried away; 2022's Astra is a C-segment car aimed at small families. It is a motor designed to be a workhorse from the outset. But, given the reasonably steep pricing of the new Astra, we think Vauxhall – or rather Stellantis – knows that people will pay more once they've tasted the honey. So, yes, when you've driven the new Astra, you'll see what we mean. Add the handsome looks to the Astra's better-than-before refinement, and you can already see it becoming a winner.
The sophisticated seats are so supportive and ergonomic that you can do a hundred miles without getting a numb bum. They are well-bolstered and give you serious support if you take a corner harder than you meant to. Add a bunch of tasteful, soft to the touch surfaces and a funky, uncluttered cockpit (with ace connectivity) into the equation, and you quickly realise there's little to moan about on the styling or refinement side.
In The Car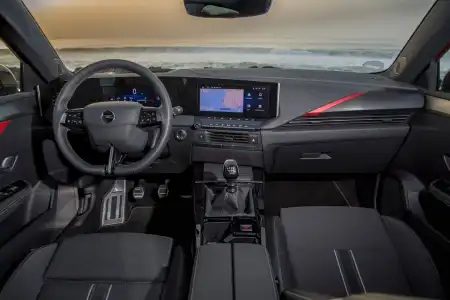 Behind the Wheel
The Astra is as different inside as it is on the outside when compared with the outgoing model. Indeed, the new cabin is lovely, and your gaze will be pulled straight to Vauxhall's Pure Panel Pro cockpit.
The panel accommodates two 10-inch displays in one coalesced unit. One replaces the customary analogue rev counter and speedo with a screen giving you information about speed and navigation. The other display works the touchscreen infotainment system.
The digital instruments are customisable, and the infotainment system and navigation work well. Wireless (or wired, if you prefer) Apple CarPlay/Android Auto comes factory fitted, as does voice control technology.
Other kit includes dual-zone climate control, intelligent adaptive cruise control, keyless entry and start, as well as heated sports-style front seats.
What's more, the new Astra's interior is immersed in ambient illumination, which amounts to a chilled vibe behind the wheel.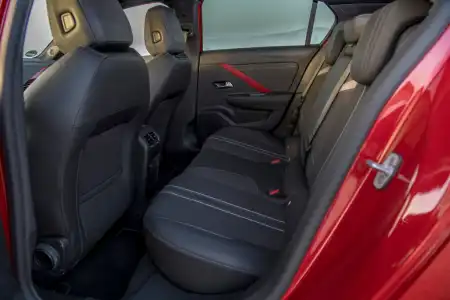 Space & Practicality
You get generous storage space in the Astra, and there is a good deal of headroom and legroom in the front.
However, the rear of the hatchback is a different story. Here, passenger space is not as generous as the seventh-generation model. You might wonder why that is. Well, it's because of the platform the car's built on. It ultimately gives the Astra a bigger boot than before, but this eats into the rear seats, meaning less legroom. The seats are still suitable for two or three adults, but if you're tall, you'll find your knees and feet are a little hemmed in.
We have already mentioned the Golf and the Focus, but let's drop in another rival - the Seat Leon. This Spanish offering supplies more room in the rear, so this could well be a deal-breaker for you if you're going to be transporting lofty occupants around.
Nevertheless, there is still a load of space to fit child seats to keep your tots safe.
But, back to the boot. The Astra now boasts 422-litres, which is better than its closest challengers. Fold the rear seats, though, and cargo capacity bloats to 1,389-litres. Furthermore, the GS Line has a 'ski hatch' that you can poke longer items from the boot through into the cabin.
Just a word of caution, however – if you go for the hybrid variant we mentioned at the top of the piece, cargo capacity is slashed to 352-litres. The reason is that the new plug-in Astra stores its battery pack under the boot floor.

Ownership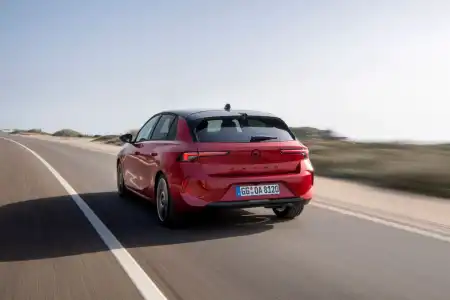 Running Costs
2022 sees the Astra come with various powerplants, so running costs depend on what you go for. The cheapest 110PS petrol does around 51mpg, emitting 123g/km CO2. The 130PS petrol does the same but emits 124g/km CO2 with a six-speed manual gearbox, and around 50mpg and 127g/km CO2 when fitted with an auto transmission.
The 1.5-litre turbo diesel does circa 64mpg and releases 115g/km CO2 with the manual 'box. However, you will get the best part of 62mpg along with 118g/km CO2 if you go for the eight-speed automatic, as tested here.
The plug-in hybrid Astra has a pure electric range of about 43 miles. Additionally, fuel economy leaps to 256mpg, with only 24g/km CO2 emissions. Just remember that you'll need to charge the Vauxhall to get anywhere near this mpg figure, though.

Quality & Reliability
Vauxhall has a so-so dependability record. Some of its older cars haven't been all that. That said, the Astra's been around since time began (almost), so the Griffin-badged carmaker must have been doing something right to keep the Astra so popular.
In all fairness, the Astra has always been pretty easy to put right if anything does go wrong, but this is the first model under the Stellantis umbrella. And that means the all-new Astra is too fresh to know how reliable it will be. So it is a case of 'only time will tell' at this juncture.
The Vauxhall Astra comes with an unexceptional three-year guarantee, and it's only effective for the car's first 60,000 miles. This limitation is not unusual by any means, although Kia offers a seven-year warranty and Hyundai offers five.
However, as with many motor manufacturers, you're able to purchase an extended guarantee if you need extra peace of mind.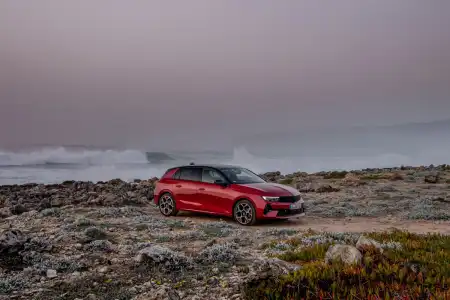 Safety & Security
Euro NCAP hasn't tested the all-new Astra yet, but, as a rule, Vauxhall usually does well.
Lane-keeping assist, automatic emergency braking and traffic-sign recognition are fitted as standard, plus parking sensors are thrown in. Furthermore, the GS Line and the flagship Ultimate get adaptive cruise control (which holds you back from the vehicle in front). Then there's a 360-degree camera, rear cross-traffic alert, and lane-change assist – all of which come as standard with the abovementioned Ultimate grade.
On the security side, Vauxhall works to improve sound car security systems. So, be assured - you're in good hands if you buy the all-new Astra.

Summary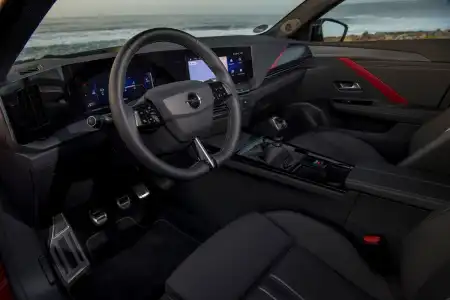 The all-new Astra is going to be more popular than ever – trust us.
It doesn't quite have the spirit of all its challengers, but it's still real-world, great looking, and it'll be the first Vauxhall to have the VW Golf looking over its shoulder.
The hatchback will be in showrooms from the end of May and the estate version, known as the Sports Tourer, is due to be ushered into the UK later in the year.

More On This Car
Need more information?
Request More Information