Pros:
Supreme performance from a glorious engine

Handling is superb

Glorious design looks a million dollars
Cons:
Ride is just too firm for UK roads

Little room for storage

Over complicated dashboard lacks polish
More On This Car
Take one for a spin or order a brochure
Request a Aston Martin Vantage brochure
Request a Aston Martin Vantage test drive
Introduction
Since the DB11 arrived, Aston Martin has been enjoying something of a renaissance. The big grand tourer sits at one end of Aston's range, with the Vantage at the other, all aggressive, potent and noisy.
It shares a reasonably significant chunk of its underpinnings with the DB11, and the same 4.0-litre twin-turbo V8 engine. Yes, there's a big V12 available in the DB11, but that's too lazy an engine for the vigorous Vantage.
It's focussed, laser-tight, on its brief of being a track toy that's usable on the road, and has the Porsche 911 GTS in its sights. That's important, as the Vantage was benchmarked against the German car, and Aston reckons they've hit the mark. There's no doubting the performance, the handling and the style - oh, the style - but Warwickshire's finest still falls a little short when it comes to practicalities.
High-tech suspension, all manner of electronic aids, and the pleasing option to turn it all off and just drive the thing, makes the Vantage a compelling choice for weekend warriors, but make sure it's the right choice for you if you're facing the prospect of driving it every day.
On The Road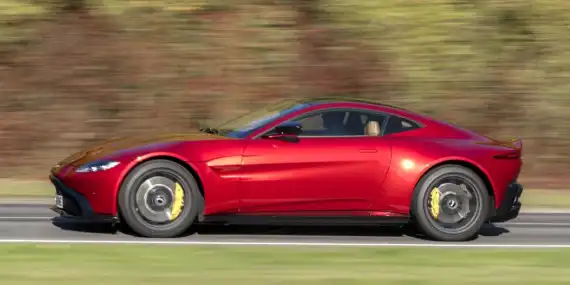 Performance
Yes, the engine has been borrowed from Mercedes, but its AMG performance arm knows how to build something spectacular, and it's not let us down with this 4.0-litre twin-turbocharged V8. There's a healthy 503bhp on tap, which is enough to slingshot the Vantage to 62mph in just 3.6 seconds. That's just a quarter of the time it's taken you to read this paragraph.
It won't quite hit 200mph, stopping at 195mph, but it's better to have a car engineered to perform at its best in all circumstances than to simply target a specific number.
It's that engineering that makes the Vantage. This isn't just a car shouting about numbers but one that engages, and it's the engine that counts for much of that. There's more than enough low-down power to get the car rolling, with 685Nm of torque available at just 2,000rpm, but it really comes alive at 4,000rpm. Then the V8 howls, the glorious noise filling the cabin and the countryside around.
There's an eight-speed automatic gearbox in place between the engine and wheels that shifts up quickly. It can be a tad reluctant to shift back down at times, but a flick of the wheel-mounted paddles will force the box to do your bidding.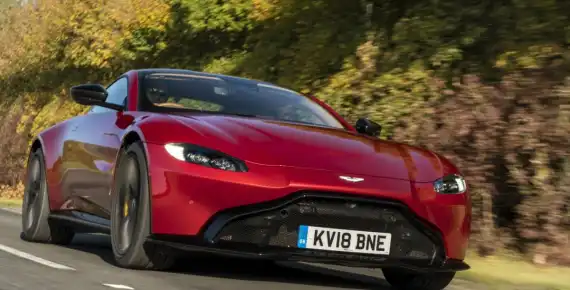 Ride Handling
For all its speed, the Vantage needs to be at home on UK country roads to really be a contender, and speeds tend to be a little lower there. Fortunately, the chassis is up to the task, the front end tucking in and the car darting to wherever you point it. It feels like it's rotating around the driver, which is unsurprising given the 50/50 weight distribution.
Turn into a corner and an electronic differential, dynamic torque vectoring, stability control, adaptive damping with mysterious sounding Skyhooks, and foot-wide Pirelli P-Zero tyres all combine to create a car that positively flings itself around bends.
Different driving modes are available, starting at Sport and moving through Sport+ to Track. There's no Comfort or Normal here. It's eager enough to perform in its default mode of Sport, but switch it up and the car improves, getting more responsive, sharper, more aggressive and vocal.
Track mode is more of the same. Much more. Pleasingly, the stability and traction control can be turned off, properly off, allowing the car the freedom to stretch its legs and get all sorts of sideways.
With a responsible hat back on my head, it's perhaps a bit too much for our roads. Even in Sport it's tough to contend with the endless jiggling and crashing over the smallest of bumps and imperfections. Perhaps I'm getting old, but I actually want a Comfort mode rather than feeling I've got to drive everywhere like my trousers are on fire.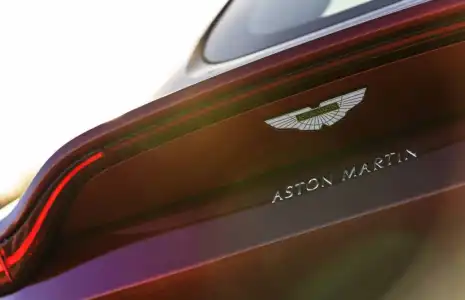 Styling
The lack of a cosseting softer suspension mode hampers the Vantage, as it's just too stiff for our broken roads. Jarring from bump to bump gets tiring when you're just trying to make your way home on a cold, wet evening. That's perhaps a small price to pay for the performance on offer when you want to play, though.
Elsewhere, it's all rather nice. Wind noise is kept to a minimum, and even that exhaust note isn't obtrusive until you turn up the driving modes. There's always some tyre roar though, and that never seems to dissipate.
The seats are comfortable and supportive though, allowing you to relax at least a little bit. Aston Martin's own sound system is also decent enough to listen to, but it's not quite got the clarity of some branded models.
Still, this is the Vantage. You're not buying one for refinement, instead looking towards its performance and handling. If you want much the same car in a more refined, practical and useable form, then Aston's DB11 might be a better bet.
In The Car
Behind the Wheel
The first thing you'll notice as you slide into the Vantage's supportive seats is the excellent driving position. A widely adjustable seat and steering wheel makes getting into position a cinch, and there's good visibility out of the front and side of the car. There's less so over the shoulder, but that's to be expected from a low-slung two-seater.
The cabin is covered in leather or carbon fibre (it looks real, too) but there's an awful lot going on. The centre stack is a pile of buttons and switches - there's around 50 in the cabin, with ten of them being on the steering wheel. Minimalist, it isn't.
Above them are a couple of air vents that look dated, especially housed in the faux-chrome surround they're in. It's all topped off with a Mercedes-sourced infotainment system, the eight-inch screen looking like it pops out of the dashboard, although it's actually firmly fixed in position.
It's not a touchscreen system, something that will frustrate initially. Instead it's controlled by a hefty pad and rotary controller between the seats. It's easy enough to use, but many options are hidden away in multiple menus, making fine tuning rather tricky.
As you'd expect, there's a DAB radio, Bluetooth connectivity, navigation and Apple CarPlay smartphone mirroring. Oddly, there's no sign of Android Auto.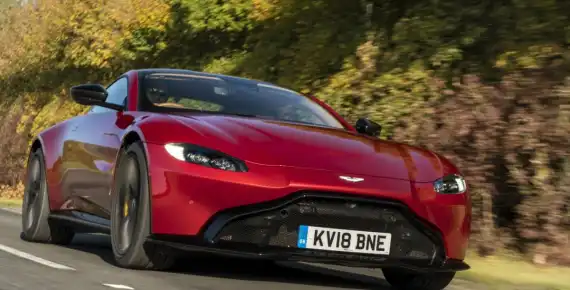 Space & Practicality
With just two seats, the Vantage is never going to be considered a practical proposition. That said, there's loads of space for the lucky two occupants, with plenty of leg and head room. The seats are adjustable in all directions, so finding a comfortable driving position isn't difficult either.
Finding somewhere to put any luggage, of whatever size, is a tougher challenge. There's no glovebox and precious little in the way of cubby holes or pockets. There's a small storage area under the central armrest, and tiny door pockets, but that's about it.
The boot is a little better for space, with Aston Martin promising it'll take two sets of golf clubs. Without a bag, maybe…
Ownership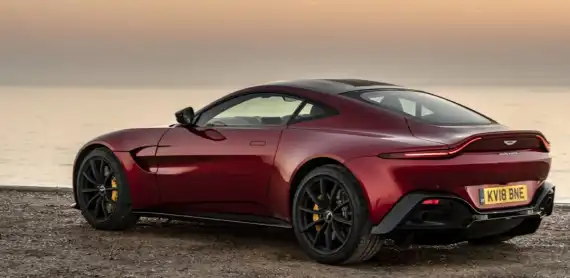 Running Costs
Do you usually care about running costs if you're buying a track-focussed Aston Martin? For those that do look at a Vantage and wonder what the financial impact will be, then prepare for some pain.
The car costs around £20,000 more than its obvious rival, the Porsche 911 GTS, making monthly payments that bit higher. The Vantage also drinks fuel a little more enthusiastically, although official economy of 26.8mpg isn't too bad.
As you might expect, CO2 emissions are high at 245g/km, which means the on-the-road price includes £1,760 fee for car tax. From then on it's £450 a year for the next five years. It gets worse for company car drivers who will be facing a tax bill of around £18,000 a year.
Service, insurance and repair costs will also be high.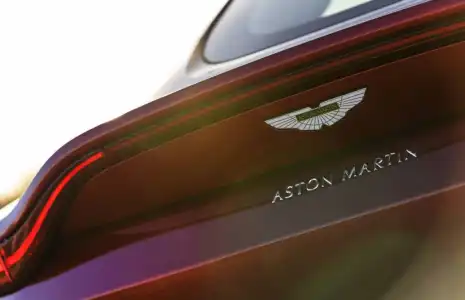 Quality & Reliability
There's a lot of Mercedes bits under that sleek bodyshell, so there's an reasonable expectation of reliability. The 4.0-litre V8 engine is shared across multiple AMG models in the Mercedes range, and has proven reliable to date.
The same holds true for many of the electronic items inside the cabin, such as the touchscreen infotainment centre. While it's to small a seller to be rated in the Auto Express Driver Power survey, the fact the technology is well known should offer some reassurance to buyers.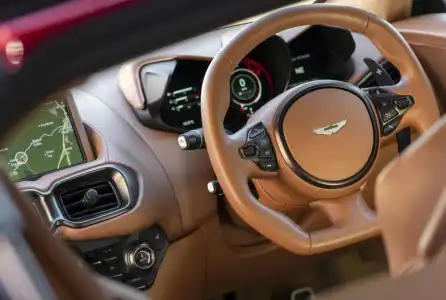 Safety & Security
EuroNCAP doesn't tend to test cars of this nature, but the Vantage comes with multiple airbags and a stability control system. There's no sign of adaptive cruise control or lane keeping assist, but they're anathema to the pure driving experience the Vantage provides.
More importantly, the agile chassis and huge brakes ensure that you can scrub off a huge amount of speed long before any impact occurs, reducing forces on the car's occupants. That said, the stability control system can be turned off entirely, making it rather easy to get the car into all sorts of difficulty.
More On This Car
Take one for a spin or order a brochure
Request a Aston Martin Vantage brochure
Request a Aston Martin Vantage test drive