Aston Martin Vantage (2018 - ) Review
Aston Martin's Vantage is a hot, rocking piece of kit with all the class of a classical piece of music. It's about as far from sports car chav as you can get – and about as close to British automotive brilliance as you'd expect.
Pros:
Awesome looks and image

Entertaining to drive

V8 soundtrack
Cons:
High price

Sluggish entertainment system

Sluggish entertainment system
Starting price:
£120,900 (£148,500 as tested)
Introduction
The latest Vantage is bigger than its forerunner, and Aston's alliance with Mercedes means the powerplant, switchgear and infotainment system has changed. But the core of the machine remains the same – that hard to define Aston Martin "sophistication" that has been amplified over the years by the James Bond 007 movies.
The Vantage's foes include Jaguar's F-Type and the Mercedes-AMG, but the biggest rival of all is Porsche's 911 Turbo. However, the British coupe's rear-wheel-drive is nothing like the scientific "Germanness" of the 911's four-wheel-drive system. It's more rebellious – and therefore more exciting. Furthermore, the Vantage's engine sits at the front - but behind the axle – and that equates to superior handling and better weight distribution.
On The Road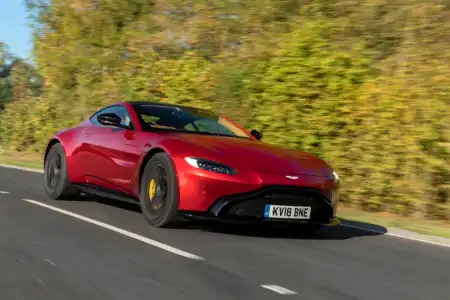 Performance
A 4.0-litre V8 lump with twin-turbocharging lurks under the big bonnet. The powerplant kicks out 510PS, which is enough to yank the Aston to 60mph in just 3.5 seconds. If you're brave, and you're in a legal place to keep your right foot buried into the thick carpeting, you'll see 195mph. And when it's time to scrub off the madness, the Vantage's anchors kick in with just the right amount of unrelenting urgency.
The rumbling sound of the car is enough to wake the neighbours, and the volume only increases the more you step on the accelerator. The grumble turns to a crackle as the vehicle takes to its heels. It flicks through the eight cogs of its auto 'box unflappably while swigging petrol like no tomorrow. The gas-guzzling is of no concern, though – life behind the wheel doesn't get much sweeter when you know you're in an Aston Martin.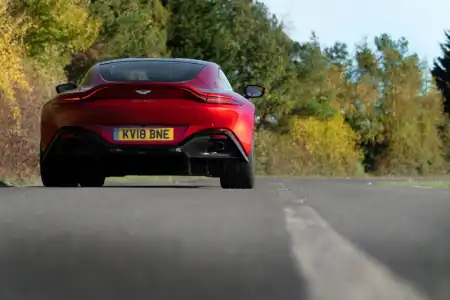 Ride Handling
The present-day Vantage is nimbler and more direct than ever before. As a result, it delivers entertainment when the blacktop starts to get a bit bendy. And because this is a rear-wheel-drive car, it handles corners fluently, filling you with satisfaction at every turn.
A trio of drive settings for the gearbox and engine help dial up the fun, and there are modes for the suspension. But, to cut a long story short, you don't need the car to be any stiffer during everyday use.
There's zero body roll, and the steering response is terrific. What's more, front-end grip is delivered by the truckload. All this means any edginess at the tiller is soon ironed out.
The Vantage quickly becomes your trusted companion – but don't take advantage of the relationship; push the Aston too far, and you may find yourself on the outer edges of its ability to stick to the road.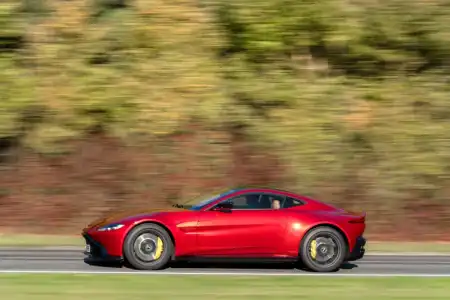 Styling
The up-to-date Vantage is a remarkable machine, with its chassis, powertrain and design all unifying to produce a sports car that's a game of two halves. On the one hand, it's capable of shocking, aggressive performance, yet on the other, the vehicle is the epitome of refinement.
The coupe is cultured enough to be used daily, but it's at its finest when driven for pleasure on a long snaking section of tarmac. It's indisputably a step-up over the former Vantage in how it drives, and its cabin feels like it will outlive its rivals'. Why? Well, everything is agreeably laid out and well screwed together.
The Aston Martin also feels more out of the ordinary than its foes – it's far less clinical – and far more special. Put it this way; you can't help thinking you should wear a 007-style tux at the wheel.
In The Car
Behind the Wheel
Behind the marginally square wheel, you could wear a tuxedo or a racing suit in the electrically adjustable seat. This is because the driving position feels, well, racy. You sit low, and you feel well-supported, with all the switchgear in precisely the right place.
The steering column has large paddle shifts mounted on it, and these feel rewarding to shift cogs with. What's more, the speedometer and adjacent instrumentation screens are vibrant and undemanding to read.
The only thing to rain on the Aston's chips is the slightly lazy Mercedes-Benz equipped infotainment system. It feels sluggish to respond – but maybe that's us being impatient – it's still loads better than the previous Vantage's Volvo unit. Electrical first-world issues aside, the cabin is well-furnished, with sumptuous Alcantara and leather materials complementing a rightfully theatrical and stylish cockpit.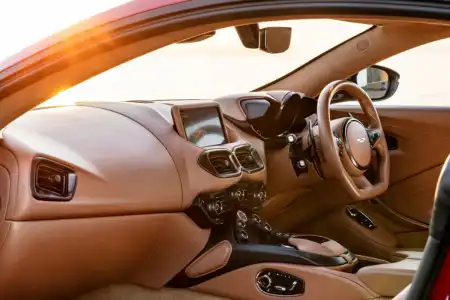 Space & Practicality
As a two-seater coupe, this part of the review will be rather brief. This Aston Martin isn't a vehicle to plump for if you need either room or practicality. Nevertheless, compared with some adversaries, the cabin space for both passenger and driver feels up to scratch. That's pretty good, bearing in mind what kind of car this is.
A 350-litre boot means you can stuff a couple of bags in if you fancy a cheeky weekend away in the Vantage, which is ideal for the functions that this sports car will be carrying out. Mind you, storage compartments inside the Aston are a tad miserly, with the centre console and door bins only being able to house bits and bobs.
Oh, you can also elect to have a brand-named umbrella fastened to the tailgate – but it won't be a Bond-style one that shoots darts or bullets.
Ownership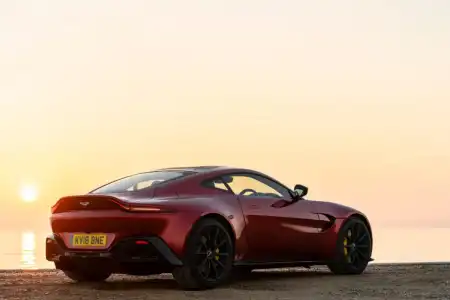 Running Costs
According to Aston Martin, the Vantage does 27.4mpg on the combined cycle and gives off 230g/km of CO2. We feel that mpg figure is a fair one, as on a test route from the Midlands to Norfolk and back, we achieved mid-20s mpg. We weren't exactly light-footed for most of that circuit, either.
You're lucky to get any more than 18-19mpg around town, though - and the large fuel tank makes you think you have hundreds of miles to go before you visit the pumps. Ours said we had over 400 miles – but take that reading with a pinch of salt.
As is the case with practicality, you don't buy a car like this for its frugality – you purchase it because of how the Aston Martin makes you feel. And that translates into high residual values because of strong demand and the limited number of Vantage models rolling off the production line.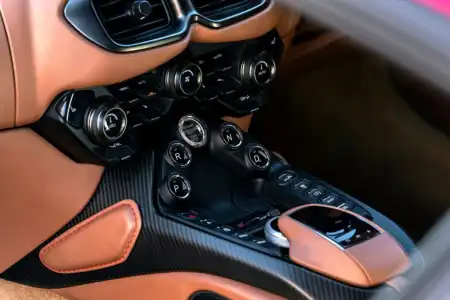 Quality & Reliability
There is no doubting the general quality of the British sports car maker's products, and this latest Aston Martin Vantage is no different. Everything you pat, tap or stroke feels well made, and the finish of the whole coupe is of a high standard.
You should also take some comfort that components for the Vantage are carried across from Mercedes-Benz, and the engine is used in the Benz lineup. That means the Germans will have put any mechanical gremlins to bed long ago.
The Vantage comes with a manufacturer guarantee of three years with unlimited mileage. If things go wrong outside of the warranty, any components needed will be easy to find. That said, they'll be pricey, but you've bought an Aston Martin, so what do you expect?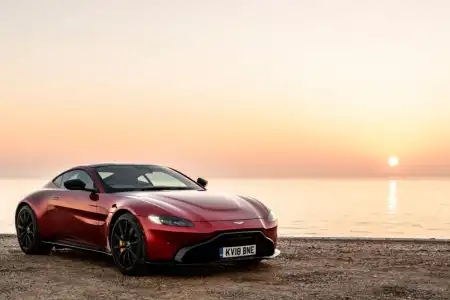 Safety & Security
We would be surprised if the present Vantage ever ends up getting crash-tested by Euro NCAP. Rivals, like the Porsche 911, don't get that treatment either. As a result, it's not likely we'll be able to give you a definitive crash safety score for the coupe.
What we can tell you, though, is that it's kitted out with all the modern safety technology you'd expect in a sports car of this standing. Intelligent electronic aids such as traction control, emergency brake assist and stability control will all help you recapture control if you've lost it. You get airbags and parking sensors, too.
The Vantage does come with LED headlights – but they're not the piercing laser-like ones you might see in a movie. In fact, the brightness seems to have been dialled down, so on our way back from Norfolk, we had to sink some caffeine and focus hard on the dark rural roads.
If you need to up the safety kit stakes, you can go for a 360-degree camera, a blind-spot monitoring system and even a first aid kit. Alas, no spy gadgetry is offered, though, so you'll have to do without the rear bullet shield and machine guns.