Pros:
Refined

Top build quality

Satisfying drive
Cons:
Rear seats don't fold flat

Can get tight in the back

Pricey to buy or lease
More On This Car
Need more information?
Request Dealer Contact
Introduction
True to the marque's Vorsprung durch Technik values, the Audi A3 Sportback once again sets high standards, integrating a digitalised interior, trailblazing infotainment, distinctive light signatures, potent engines, and a suite of assistance systems into a redesigned, yet familiar body. We took the 35 TFSI 150PS S line version for a drive around the Midlands to get to know the new A3 better.
On The Road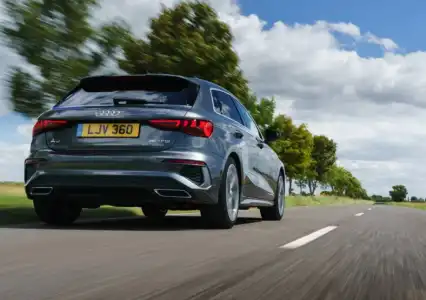 Performance
All powerplants in 2020's A3 Sportback excite with their commanding torque and erudite running characteristics. In Britain, the premium five-door model comes with a few engine versions, both with quattro and front-wheel drive. We won't bore you to tears with the details, but these engines include a 1.5 TFSI manual with 150 PS and a 2.0 TDI with the same output and an S tronic dual-clutch transmission. There's also a plug-in hybrid with a couple of power levels.
There's more, though – and this one's important because it's the model tested here. You see, there's a second version of the 1.5 TFSI now out that's fitted with a mild hybrid system (MHEV). The car does 0-62mph in 8.4 seconds and has a top speed of 139mph.
With this unit, the German automaker is continuing its electrification policy in the premium compact sector. Sorry, we said we wouldn't bore you, but I guess you've got to know how this MHEV works, right? Well, a belt alternator starter (BAS) nourishes a 48-volt electrical system that incorporates a lithium-ion battery. During brake applications or when decelerating, the BAS recuperates power and feeds it to the A3's energy storage unit. When driving away and gathering speed, it supports the TFSI with torque. With the MHEV system, the Sportback can glide with its powerplant deactivated for around 40 seconds, helping with better consumption. Got that? Good.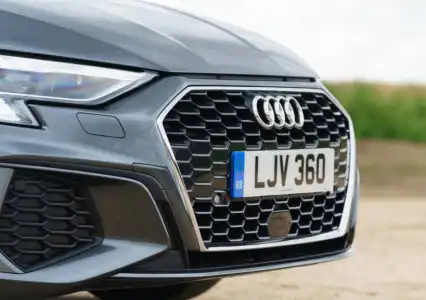 Ride Handling
Aside from a fidgety ride around the rutted streets of Leicester, we found the Audi A3 Sportback to be a decent alternative to the likes of BMW and Mercedes-Benz. Once out of the clogged city and on the M69 motorway heading west, our review car was tranquil, quick, and planted. The unity of the slick-changing manual gearbox and the 1.5-litre engine makes for a confidence-inducing, dynamic and comfy ride.
The suspension is not blatantly soft like some Mercedes models can be, but it doesn't jar you, either. When we swung off the M69 onto snaking rural routes, the A3 did a fine job of ironing out imperfections in the tarmac. And it's on the country bends that you begin to become cognisant of the 35 TFSI 150PS S line's assured and flat cornering conduct.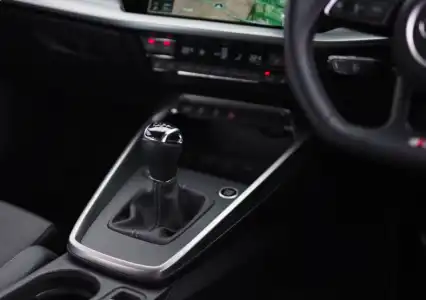 Styling
The Audi A3 Sportback is hugely refined. And, so it should be, given that it's a premium compact car. Even if you were blind to its looks, you can't help but be aware that it's kitted out with abundant assist systems that give support when driving.
All A3s get LED tech and alloys, while the S line model looks even sexier with black twin leather sport seats with S embossing and rock grey stitching. From cruise control, climate control to a good quality infotainment system and parking sensors, it seems the Audi Sportback has it all. But there's more. It also boasts navigation and digital instrumentation.
Whichever trim level you go for, the interior of the A3 is a lovely place to be. It's mega-modern and just as classy as you'd hope. Everything you lay your hands on feels like it's manufactured from top quality materials, just like in larger, costlier Audis.
In The Car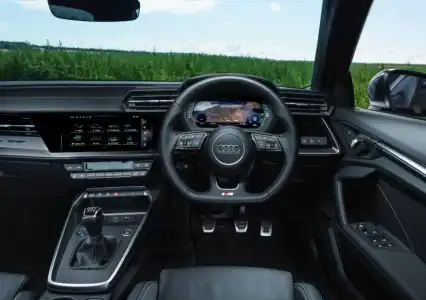 Behind the Wheel
Audi is well-known for its interiors, and the A3 Sportback doesn't let the carmaker's reputation down. It flaunts the best and neatest quality, if not the most adrenaline-charged design of the compact class.
The driving position is outstanding and, each aspect of the car's switchgear feels hearteningly solid, with immaculate design and detailing. All A3s get a 10.25-inch Virtual Cockpit, and there's also a 10.1-inch infotainment screen in the middle of the dashboard. It's a straightforward, quick to react system, and, as standard, it contains Android Auto and Apple CarPlay. An absence of actual switches means it can be exasperating to use on occasion, however.
Behind the tiller, the A3 is immensely competent and doesn't thrust its judiciously punchy aptitude into your face, as much as, say, a similarly powered BMW 1 Series does. The energy is subtle, but there are mountains of shove when you need it. Even completely weighed down with possessions and people, the 150ps 35 TFSI S line version never runs out of steam and allows you to get through many miles readily.
There's barely any roll from the A3's body, and the stylish steering wheel, as seen in other Audi S lines, gives the Sportback a spirited feel. A BMW's steering is more accurate, but the A3 is still a delight to operate.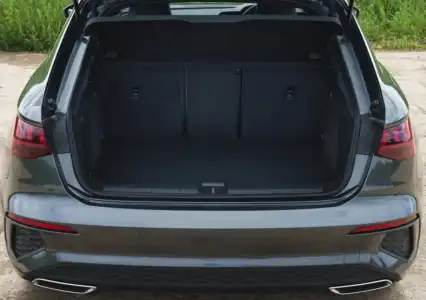 Space & Practicality
There's ample headroom, and there's reasonable legroom for the driver and front-seat passenger. As for the rear, a couple of adults will easily fit into the back seats. What's more, as Audi has done away with the three-door version of the A3, back-seat passengers needn't fret about ingress and egress.
If you need to frequently transport more than two rear-seat occupants, though, it's somewhat limited behind the A3's front seats, so you'd be better off shopping for a bigger motor. You could stick with Audi and go for, say, the Audi Q3 - or if you wanted to keep some cash back for a rainy day, the less expensive Octavia from Skoda is worth considering.
The A3 Sportback's 380 litres of boot space equals that of the BMW 1 Series, and it's bigger than the 370 litres found in the A3's other rival – the Mercedes-Benz A-Class. As well as decent cargo capacity, the A3 houses a convenient adjustable load floor.
In addition, the Audi's rear seats fold down effortlessly if you need more room. However, it's worth bearing in mind that the seats don't fold completely flat. If that's a dealbreaker for you, then you really need to check out an estate car.
Ownership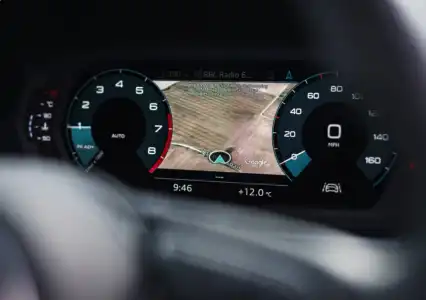 Running Costs
The A3 35 TFSI 150PS S line, reviewed here, will do a claimed combined mpg of 45.6 while emitting 141g/km of CO2. This efficiency is competitive for the class of motor. Mind you, while circumnavigating the roads of Leicestershire and the M69, we only managed to get 40 mpg.
If you want a premium compact hatch, and your heart is set on an A3, you'd be better off with the 35 TDI, if economy and range are your focus. Yes, we know, it's a diesel, but this does up to 62.8mpg. Then, of course, there's always the A3 plug-in hybrid to think about, too.
Something else worth pondering is insurance. The premium Audi emblem might make the A3 a tad dearer to insure than the comparable VW Golf. Oh, didn't you know? The A3 Sportback is the Volkswagen Golf's posh next of kin. Obvious now, isn't it? So, maybe the new Golf should be on your list of cars to test drive as well as the A3 Sportback. That way, you can be sure the A3 is worth the extra money.
Quality & Reliability
The A3's exterior and interior build quality are solid as granite, so the Audi will cope with aeons of use. Also, seeing as the latest A3 is really just a hardcore update of the departing model, you shouldn't have anything to be anxious about regarding the underlying tech or structure. The powerplants are enhanced editions of what has been sold before, too - and they're used throughout the entire VW Group. That said, the mild-hybrid technology isn't as well tried yet.
For added assuredness, the German automaker guarantees that it will repair, cost-free, flaws in workmanship and materials for up to three years or 60,000 miles, whichever comes first. The warranty affects all Audi vehicles which were imported into the United Kingdom by Audi UK.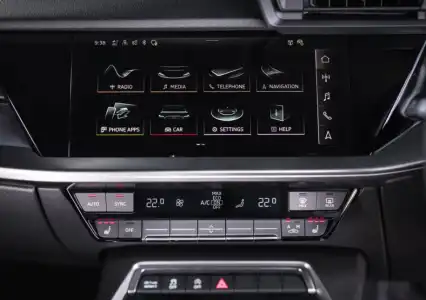 Safety & Security
Audi's A3 shares a bunch of tech with the latest VW Golf, which was awarded the top five-star score by Euro NCAP following rigorous crash testing. Therefore, it's no surprise that the A3 has also got the full five stars. As well as a couple of ISOFIX anchor points in the rear, the front passenger seat gets them, too.
Every A3 gets cruise control and Audi's pre-sense front collision warning system, as well as automatic braking with pedestrian and cyclist detection. The car's lane departure warning works excellently, giving the steering wheel a delicate prod if you start to glide away from the centre of the lane.
As for security, the latest Audi A3 hasn't been analysed for anti-theft protection by Thatcham Research yet. This is a relatively new scheme that was ushered in to gauge the security of new vehicles equipped with keyless entry and keyless start technology.
Find out our latest offers for used Audi A3.
More On This Car
Need more information?
Request Dealer Contact