Pros:
Powerful looks

Stylish cabin

Effortless performance
Cons:
It's a bulky car

Warranty isn't particularly generous

It's pricey
More On This Car
Take one for a spin or order a brochure
Request a Audi A7 brochure
Request a Audi A7 test drive
Introduction
Do you like the idea of a coupe that does zero to 62mph in 5.7 seconds? Do you need one with a big boot and five seats so you can use it as your primary family car as well as for work? Well, you could do a lot worse than an A7 Sportback. This five-door motor has "Managing Director" scribbled all over it – but who gives a hoot when you can munch hundreds of miles in one go without feeling wrecked? You might care when you see the price-tag, though. The Sportback, on test here, costs nearly sixty thousand pounds. But, if you have a bank balance large enough, or you're a highfalutin business type with the A7 on the company vehicle list, then why on earth not? You see, the marque with the four connecting rings knows how to make motoring relaxing rather than routine. It also makes cars to last – outside and in. The pure power and comfort supplied by the A7 will make you beam – even on a sad, grey day. I took the A7, in 50 TDI Quattro 286PS S line Tiptronic guise, for a drive around Northamptonshire to find out more about the car.
On The Road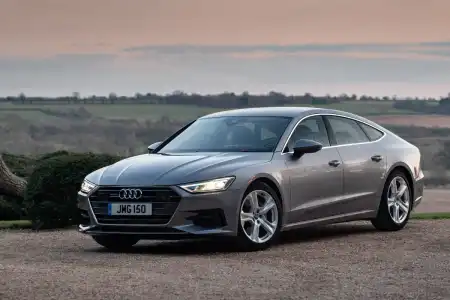 Performance
The A7 comes with a 3.0-litre V6 diesel powerhouse which drives its chunky alloy wheels via an eight-speed automatic transmission. The 286ps produced gets the substantial coupe from 0-62mph in just 5.7 seconds and on to 155mph. The diesel is also coupled to mild-hybrid tech that uses an electric motor to amplify performance and fuel economy. The A7's auto 'box swaps the cogs impeccably – most of the time. It only becomes a little hesitant to shift the gears down when you tread firmly on the accelerator pedal. That said, like virtually all sizeable heavy oil motors, you don't need to work the 50 TDI like a dog to get the best from it. There's a pleasing measure of pull long before you reach the red line, so shoving the engine further than 4,000rpm feels pointless. Around choked areas, the A7 is graceful to drive for such a copious coupe, although there's no concealing its 1955kg bulk. It's also a fantastic vehicle to spend all day sailing along motorways and dual carriageways.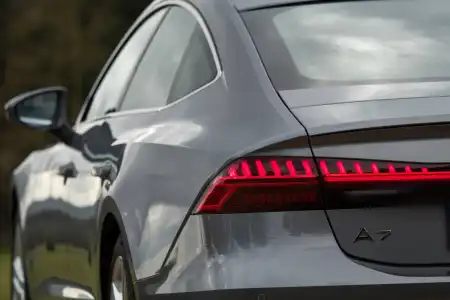 Ride Handling
The Audi A7 Sportback's handling is admirable and equals BMW's in this regard. It has an athletic core and carves through corners with greater skill than it has any right to do so. Grip is also astounding due to the all-wheel-drive, otherwise known as Audi's "Quattro" system. It makes you feel secure behind the A7's wheel, particularly when the roads are dank and oily, as was the case during my road test. Furthermore, handling is supported by Audi's optional all-wheel steering. It makes the coupe easier to drive gently around town and keeps the A7's backside steadier at speed and through bends. The German carmaker's Quattro sport differential is also available as an option. It actively allocates drive torque between the back wheels for the highest cornering adjustability.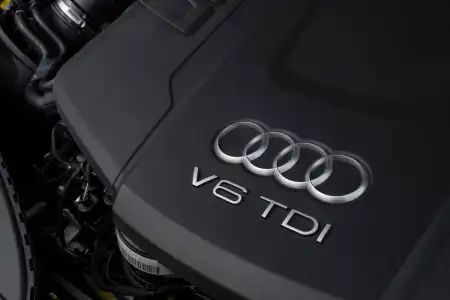 Styling
Audi has ensured the A7 is a refined coupe and that means insulation has been fitted for a hushed and laid-back experience. Even if you make use of the car's sportiness, you can't help but luxuriate in the Sportback's plush surroundings. Indeed, the A7 has one of the most sumptuous cabins south of a Bentley. The cabin is so thoroughly assembled that it feels like it's been chiselled from sandstone, yet it's so comfy. Even the padding on the doors, dash and centre console feels deluxe. On the outside, the S line specification, as tested, is hugely appealing. The model comes with 20-inch alloys, HD Matrix LED headlights, and sport suspension, which drops the car's body by ten millimetres.
In The Car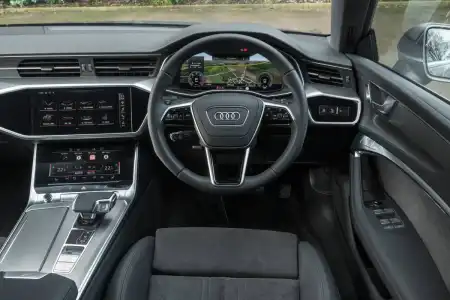 Behind the Wheel
The Audi A7's interior design revolves around the brilliant infotainment system. This encompasses an ample, instinctive 10.1-inch upper screen and a lower 8.6-inch display, which appears to meld into the dashboard when turned off. The touch displays provide acoustic and haptic feedback as confirmation when a fingertip initiates a function. The S line grade lends the cabin a wonderfully dynamic air through liberally bolstered front sport seats covered in Alcantara and leather with S line-specific interior detailing. The seats are great if you have a dodgy back. I should know - I have one. They come with lumbar support and an extendable base, which helps you to stop thinking about any aches and pains. Furthermore, they make extended periods behind the wheel agreeable, as I discovered on one two-and-a-half-hour excursion from Northampton to Bristol. Regarding the steering wheel, it provides a good range of movement, making your desired driving position uncomplicated to find. The A7 Sportback is as likely to be used on the school run as it is floating between company meetings, so I was pleased with the admirable visibility all around. Even the sloping coupe roof doesn't spoil the party.
Space & Practicality
The A7 Sportback's interior projects the Audi nicely into the future. It has been designed cleanly, with an accent on horizontal lines and a smooth instrument panel increasing the feeling of airy roominess. The car will seat four adults comfortably – and for most occupants under 6ft 5, this is likely to be a cheery place to spend time. Why? Well, compared with the first-generation model, cabin length has enlarged by 21 millimetres, resulting in better knee room in the rear. Back seat passengers also have extra headroom. What's more, the A7 has frameless windows, and, believe it or not, these help to get in and out of the car. And when it comes to load space, the three-seat rear bench's backrest can be fully folded away. This results in the boot capacity ballooning from 535 litres to a plentiful 1,390 litres.
Ownership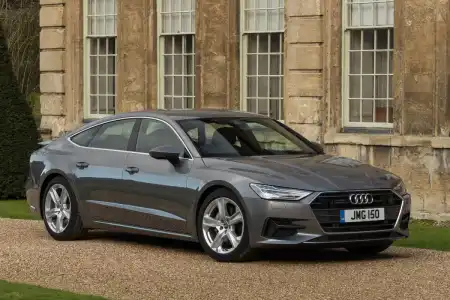 Running Costs
Audi reckons the 50 TDI Quattro 286PS S line Tiptronic version of the A7 will do 37.7 to 38.7mpg on average. That isn't bad for such a big coupe. On my UK test, I saw mid-30s mpg, which is very acceptable. It's not overly polluting either, emanating just 150g/km CO2. Additionally, the mild-hybrid technology fitted to the Sportback means the car's V6 lump can be shut off, allowing the car to freewheel between 34 and 99mph. This further cuts fuel emissions and improves economy. The Audi's belt alternator starter re-ignites the engine comfortably and smoothly after coasting, and can even channel around 12kW of energy back into the battery during braking. What's more, the A7's start-stop function kicks in at 13mph. The engine is re-fired predictively while stationary as soon as the vehicle ahead starts to move, reducing fuel consumption further.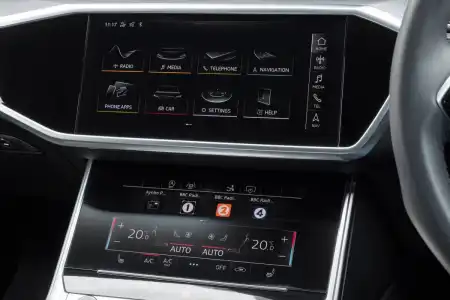 Quality & Reliability
The latest Audi A7 Sportback's interior and exterior build-quality is as robust as you can get. It's amongst the finest there is in the automotive arena, and Audi has a decent reputation for making first-rate cars. The A7 is supplied with some parts that other Audis have made the most of over the years - and it uses the same platform that the A6 saloon and A8 limo do. Therefore, the car should prove reliable. That said, it also uses some technology and greasy parts that are relatively new to the Audi range. For example, the mild-hybrid system potentially adds some extra mechanical trickery to the already state-of-the-art car. This means that longer-term dependability isn't easy to remark on – especially as the A7 doesn't sell in vast numbers. The good news so far, though, is that there haven't been any significant reliability problems since this generation of the Sportback was ushered in during 2018. Whatever the case, a three-year/60,000-mile warranty adds reassurance – and this can be prolonged (for a cost) to four years/75,000 miles.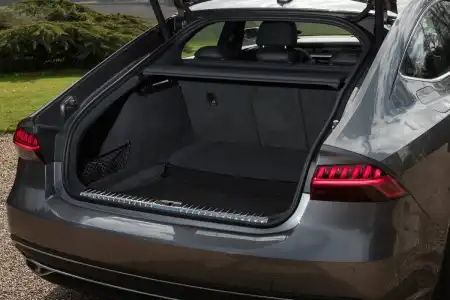 Safety & Security
The Audi A7 Sportback attained the top five stars in Euro NCAP crash assessments – so it's a very safe car. But the plethora of equipment on board the Sportback is there to stop a smash occurring in the first place. To achieve this, the A7 houses radar sensors, cameras and scanners. The car won't entirely drive itself yet, but if, for example, you roam out of your lane, the Audi's steering will escort you back. The A7 can even brake for you – but it only does this automatically at the last moment – so don't try it out! Not surprisingly, safety mainstays, like parking sensors and electronic stability control, are also provided, which just add to the peace of mind of driving a motor like this. Add four-wheel drive, and you have a big coupe that's sure-footed in all conditions. That alone is a significant selling point - particularly for drivers in Britain.
More On This Car
Take one for a spin or order a brochure
Request a Audi A7 brochure
Request a Audi A7 test drive