Pros:
Very refined and composed on the open road

Beautifully styled inside and out with plenty of space

Generously equipped and well-priced
Cons:
Design looks a little mainstream for an Audi

Prices creep up quite dramatically when you add in the optional extras

Some rivals offer more boot space
Speak with our Concierge team to discuss your car buying options
Request a free call back
Introduction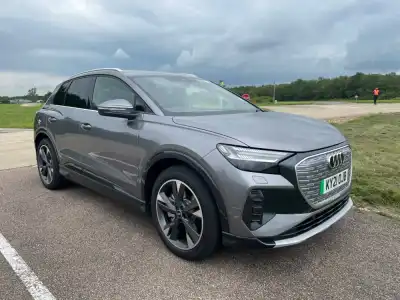 The Q4 e-tron is Audi's all-new, fully electrified, five-door SUV that sits neatly between the Q3 and Q5 in the company's line-up.
Customers can choose from three versions depending what battery size they need with the high-end models also offering quattro all-wheel drive.
The cars are badged 35 e-tron which is fitted with a 52kWh battery and has a 208-mile range, the 40 e-tron that has a larger 77kWh battery and a 316-mile driving range or the 50 e-tron that has the bigger battery but also gains an extra front motor for 4WD.
Trim levels are generously equipped and called Sport, S Line, Edition 1 and Vorsprung. Customers will also be able to chose between an SUV styled-model or Sportback.
On The Road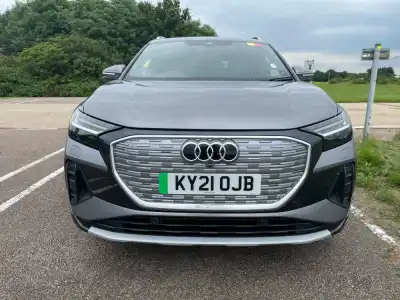 Performance
We tested the Q4 e-tron 40 so it had the larger 77kWh battery pack and could deliver 204PS of power and 310Nm of torque. We opted for the entry-level Sport model (it was certainly anything but basic) and it could complete the 0-62mph sprint in 8.5 seconds going on to a top speed of 99.4. That's not bad for a family SUV that weighs in at just over two tonnes and can be driven more than 300 miles between charges.
The acceleration through the single-speed transmission is both smooth and responsive with a constant stream of power on tap to make light work of overtaking.
The road holding in this rear-wheel drive SUV is ultra-confident with only a minimal amount of body movement even if tighter corners are attacked enthusiastically. The Q4 e-tron is happy cruising at 70mph, powering through bends on sweeping B roads or navigating busier town centre settings where the 10.2 metre turning circle is a real plus factor.
There is also an efficient regenerative braking system that helps capture energy whilst driving to boost the battery levels. The level of this regenerative braking can be controlled via steering wheel paddles and this feature is standard on high-end Edition 1 and Vorsprung cars and available as an option on the Sport and S Line models.
The WLTP-tested driving range of 316 miles between charges also impresses on this car.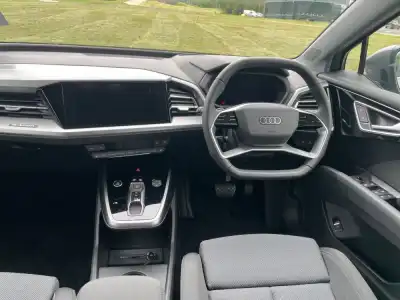 Ride Handling
With the high-voltage batteries positioned between the axles beneath the passenger compartment, the Q4 e-tron boasts a low centre of gravity with a near 50:50 weight distribution ratio. And that means the car is poised and handles beautifully.
The steering is nicely weighted with plenty of driver feedback and there are drive modes called Efficiency, Comfort, Auto, Dynamic and Individual that alter the car's reactions with Dynamic proving the most fun for the adventurous-minded.
Factor in the advanced suspension system that incorporates a MacPherson strut layout at the front and a compact multi-link system at the rear, and the vehicle certainly delivers a cushioned ride even over bumpier road surfaces. Our car was riding on 20-inch wheels which seemed ideal – move up to Vorsprung versions and they increase to 21-inches.
Our car also featured additional damper control, which added £950 to the cost, and this monitors the road and driving conditions at five millisecond intervals to deliver the optimal performance.
The only possible downside to any car that runs in complete silence is that outside noises, such as road rumble or wind, are amplified within the cabin. It also means that the tiniest squeak becomes infuriating after a few seconds. Thankfully, this is an Audi and the insulation is first class on the Q4 e-tron. You will hear a little tyre rumble at higher speeds, but that's about it.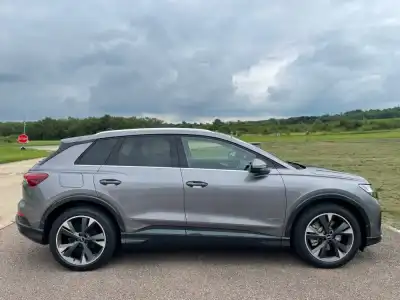 Styling
The five-door car is built on the VW Group's MEB platform which is used to develop the VW ID.4 and Skoda Enyaq models, but the Q4 e-tron certainly boasts plenty of individuality of its own.
With a statement front grille housing the company's famous four-rings emblem, that can seemingly be spotted from miles away, there is little doubt that this car is from the Audi fold.
It boasts a muscular, dynamic stance with Matrix LED headlights, privacy glass, a rear spoiler, black sills and wheel arch cladding, plus 20-inch graphite alloy wheels.
Move inside and the cabin is pure quality throughout with a combination of fine upholstery, soft touch surfaces and upmarket decorative trimmings.
The cloth seats look really upmarket and the snazzy steering wheel is hexagonal in shape with lots of buttons offering touch and swipe shortcuts to onboard features. There is a head-up display that shows vital information such as your current speed, speed limits and navigation instructions without turning your gaze from the road ahead.
The gear lever is fairly compact freeing up lots of space between the front occupants and the main focal point is the traditional 10.1-inch MMI display touchscreen, along with Audi's 10.25-inch virtual cockpit display behind the steering wheel that can be personalised to taste and requirements.
In The Car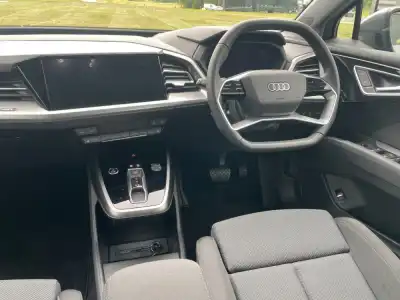 Behind the Wheel
Both the driver's seat and steering wheel have plenty of manual adjustment, so finding the perfect driving position is a simple process. Then it's just a case of sitting back and taking stock of all the technology at your disposal in the driver-focused cockpit.
On-board kit includes a full navigation system, smartphone connectivity via Apple CarPlay and Android Auto, a DAB digital radio, three-zone climate control, heated front seats, plus USB-C ports to keep devices connected on the move.
Accessing the many on-board systems is very simple enough which is a major plus point. We seem to be in a day and age where manufacturers are adopting a minimalist approach - this can lead to issues with driver distraction as they navigate complicated drop down menus to complete a relatively simple task such as increasing the temperature. Sometimes, less really isn't more!
Audi has teamed up with Sonos to ensure the Q4 e-tron features one of the finest sound systems around. This comes as standard on the top models, but is available as an optional extra via a Comfort and Sound pack.
Thanks to the elevated seating position, the driver benefits from excellent all-round visibility. This is a 'must' on any family SUV that is likely to feature on the school run with cars, children and bicycles darting out from all angles.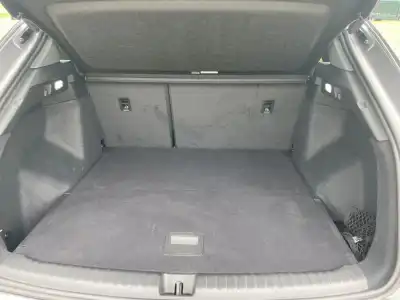 Space & Practicality
The Audi Q4 e-tron is the German carmaker's electric compact SUV and it ticks all the right boxes when it comes to practicality. Up front the driver and passenger are treated to bundles of legroom and the car is wide too measuring more than 2.1 metres across, so you won't be bumping elbows all the time.
In the back, a trio of passengers have enough room to sit comfortably even with the front seats pushed well back.
Storage options are good too with a boot, accessed via a powered tailgate, boasting a capacity of 520 litres, increasing to 1,490 litres with the 60:40 split-folding rear seats dropped flat. Yes, there are larger SUV models out there with more boot space, but there is ample room within the Q4 e-tron to transport a family and all their goodies for a weekend in the countryside.
There is a lockable glovebox, deep central cubby between the front occupants, practically-sized door bins, seat back nets and cup holders.
Charging is one of the Q4 e-tron's many strengths as, depending on the battery size, it can be charged from five to 80 per cent in as little as 38 minutes. And with its WLTP-tested driving distance of up to 316 miles between charges, longer journeys will no longer be any cause for range anxiety.
While our test car was rear-wheel drive, there is the option of choosing models with Audi's excellent quattro all-wheel drive system costing from £51,370.
Ownership
Running Costs
Owning an electric car brings with it plenty of financial incentives. For example, the zero-carbon emissions figure is rewarded by being Congestion Charge-exempt and road tax – or Vehicle Excise Duty to give it its official name – is also zero for the first year. Business owners profit too as the car is rated in the best Benefit in Kind category of just one per cent.
And while the initial outlay is quite steep, the Q4 e-tron should hold its residual value quite well.
Prices range from £40,750 for the entry-level Q4 35 e-tron Sport to £65,070 for the Q4 50 e-tron quattro Vorsprung edition. And, as is the way with all high-end, premium manufacturers, the list of optional extras is seemingly endless – if you have the money to spend, of course!
However, despite the Government rewarding the electric car initiative with one hand, it is quick to take away with the other. That's because new cars with a list price topping the £40k mark incur an additional levy of £335 for five years.
The insurance rating for the Audi Q4 e-tron 40 204PS 150kW Sport is group 29.
Quality & Reliability
It's a fact that in recent years, Audi has come under some criticism regarding reliability especially concerning electrical issues, but the premium carmaker has upped its game and worked tirelessly to address those problems in recent models.
While much of the technology is new, Audi is confident enough to offer an eight-year or 100,000-mile warranty on the Q4 e-tron's battery and the more standard three-year, 60,000-mile cover for the rest of the car.
The Q4 e-tron's build quality is solid with the doors closing with a reassuring thud and the cabin oozes premium quality at every turn with the finest upholstery, soft-touch surfaces and sturdy switchgear throughout.
The instrumentation certainly looks like it has been designed with longevity in mind, and although the touchscreen can be prone to fingerprint smudges, it is easily wiped clean.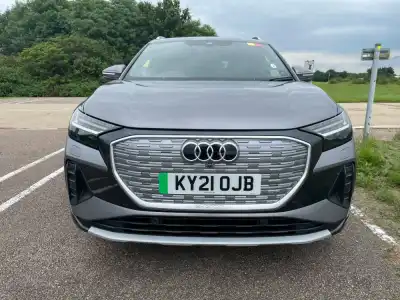 Safety & Security
Audi has an enviable reputation throughout the industry for developing safe, secure cars that protect occupants and pedestrians alike, and although the Q4 e-tron is yet to be tested for its Euro NCAP safety rating, it is almost certain to be awarded the maximum five-star rating.
That's because Audi has packed the vehicle to bursting with safety kit and driver aids. In addition, the Skoda Enyaq and VW ID.4 (which are built on the same platform) both secured top marks.
All models get rear parking sensors, traffic sign recognition, lane departure warning and cruise control as standard. And as you move up through the range, so the level of safety features increases.
The front seats boast state-of-the art safety technology. In the event of a side impact, a centre airbag deploys from the left-hand bolster of the driver's seat in addition to the side airbags to ensure that the driver and front passenger do not collide with one another. All models also feature visually integrated head restraints.
There is Audi pre-sense front with pedestrian and cyclist detection, lane departure warning and swerve and turn assist. Further optional systems – like many other equipment features – are divided into packages.
Highlights of the Assistance Package Pro include adaptive cruise assist, which assists the driver with guidance over the entire speed range, and a four-camera system providing 360° visibility that makes lighter work of city driving and parking.
The Safety Package Plus adds features such as Audi Side Assist blindspot monitoring and the rear cross traffic assist reversing aid. Both packages are standard features on range-topping Q4 e-tron and Q4 Sportback e-tron Vorsprung models.
The car is fitted with an anti-theft alarm to keep uninvited attention at bay.
Summary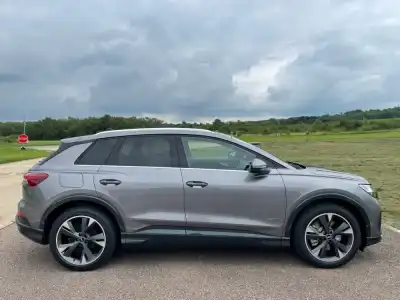 There is something to be said for developing fully electric cars that look 'normal' without over-the-top, futuristic and often off-putting designs and Audi has succeeded on every count with the Q4 e-tron. It delivers all the power, dynamics and practicality of a family SUV but has been developed with the electrified future in mind. With excellent range and competitive pricing, this is certainly one to watch.
Speak with our Concierge team to discuss your car buying options
Request a free call back