Pros:
Low running costs

Clever hybrid system using navigation for further efficiency

Comfortable seats
Cons:
Charging cable bag eats into boot space

Costly options
More On This Car
Take one for a spin or order a brochure
Request a Audi Q5 brochure
Request a Audi Q5 test drive
Introduction
The Q5 is Audi's dependable luxury SUV which first came on the scene in 2008 in the compact crossover segment, over the years it has become a very competitive class and the Q5 model has become one of the most popular in it.
Last year saw the release of the second generation Q5 and in 2019 it has set the bar by becoming the first model in the Audi range to be offered as a plug-in hybrid.
On The Road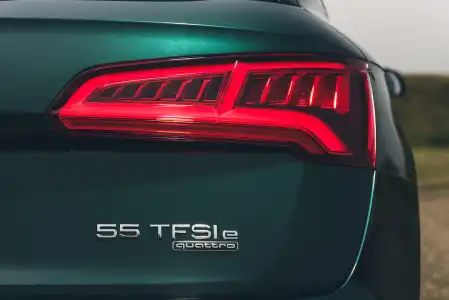 Performance
This test car was Audi's 55 TFSi e version which combines a 2.0 litre four-cylinder petrol engine with an electric motor which forms part of their new plug-in hybrid range.
The petrol engine produces 252PS with 370Nm of torque and in hybrid mode this combines to deliver 367PS and a whopping 500Nm of torque, so expect a 0-62mph time of just 5.3 seconds. Not bad for such a large model.
The benefits of this e version is that at least 26 miles can be run purely on electric, which when heading on a round trip to the shops worked great and in this mode it's no slouch either as it can get up to 84mph.
If you've set a journey in the navigation, stuck it in hybrid mode then it will cleverly use the battery charge across the route, so that when you arrive at your final destination it will have planned it so that it'll be nearly empty, thus keeping fuel consumption down.
So what are the fuel consumption figures like then? Audi reckon on the WLTP cycle it'll achieve 113mpg and will emit just 49g/km of CO2 emissions which if you're aiming to keep running costs low then great, but in the real world it's whether these figures can be achievable.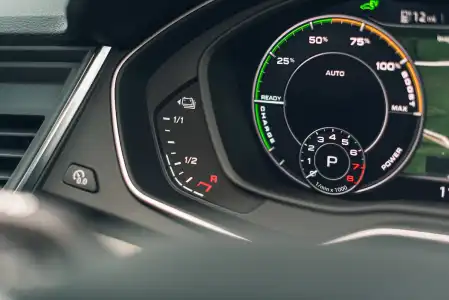 Ride Handling
After launching this new plug-in hybrid, another first for the manufacturer is mating their quattro all-wheel drive system with an electric motor and this combination makes for a comfortable, yet agile ride considering its weight, giving you plenty of traction when you need it and deactivating it when you're just having a leisurely drive using front-wheel drive, this improving fuel efficiency.
Steering is fairly light, a bit too light at times as it felt that on testing road conditions it didn't make the driving experience as connected to the driver as it should.
But that being said there are various driving modes to alter the driving characteristics including efficiency, which can be used in either hybrid or full EV mode, off-road, comfort, individual and dynamic which adds a bit more grunt to the overall driving experience.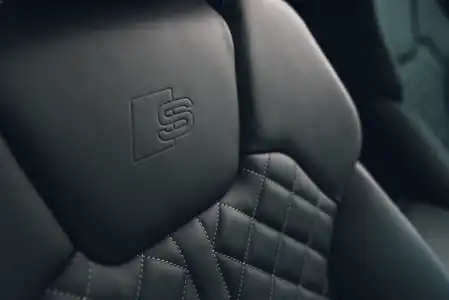 Styling
The Q5 hasn't dramatically changed, the now familiar large grille, chrome window surrounds and clamshell bonnet make it stand out against other Audi Q models and this test car came with optional matrix LED headlights which adds a certain wow factor.
It's really quiet in a well insulated cabin, the petrol engine not being that noisy at all and when in electric mode it's quite silent as you waft along the roads.
The car we had on test came in an understated Azores Green colour but other paint options available include the striking Turbo Blue, the metallic Manhattan Grey and vibrant Matador Red.
The heated seats are covered in Nappa leather which come with 'S' embossing due to the S Line trim, they are really comfortable, electronically adjustable and provide plenty of support including a massage function.
In The Car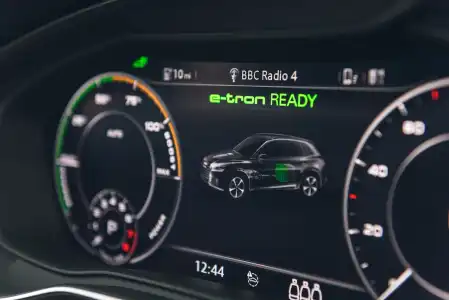 Behind the Wheel
Audi's enormous driver's display is where all car information and settings are, including all important electric range at the touch of buttons on the sporty steering wheel.
There is an electronic display for the 3 zone climate control, so passengers in the rear can adjust their own temperature too as it can be frustrating at times when your body temperature seems to be on a different scale to passengers up front, this option in the rear is really helpful.
There is a wireless phone charger between the front seats, it managed to charge a phone even with a case on and in the armrest storage there are USB and Aux sockets should you wish to connect to the car through Apple CarPlay or Android Auto.
The centre display screen can be operated with the touchpad below the centre stack, this clever system takes cues from using a trackpad on laptops and is really simple to use to input details like postcodes into the navigation.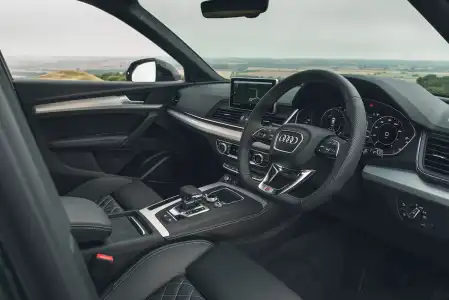 Space & Practicality
The boot comes in at 465 litres but there is one thing that does take up room and that's the bag for the charging cable - it's like having a suitcase in the back so best to leave at home unless you really need it, we forgot we had it in there on a supermarket trip then had to rearrange all the shopping to get it all in.
At over 4.5 metres long there is plenty of space in the Q5, rear passengers get ample leg and head room and up front it's roomy too. But if you are sat in the middle rear seat be prepared for a sturdy upright position as it's a fold down armrest with cupholders and may not be that comfortable on long journeys.
The optional panoramic glass sunroof came in at £1,400 but was a welcome addition to let some light into quite a dark cabin.
Ownership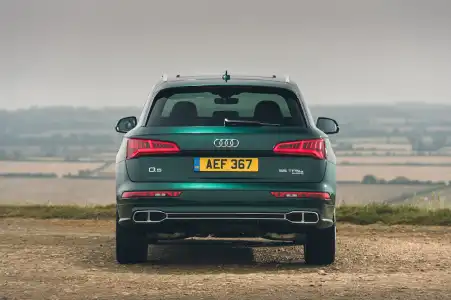 Running Costs
The Audi Q5 plug-in hybrid is priced from £49,735 for the entry level 50 TFSI e which produces 299PS, with this 55 TFSI e version in S Line Competition trim that we tested starting from £54,185, with options raising it to £61,805.
More and more owners are looking to reduce fuel consumption but it comes at quite the cost to do this nowadays, which is a shame as hybrid and electric sales are starting to increase and yet brands are charging a lot for it. Audi's first all-electric e-tron model is a staggering £68,095, which as cool as it looks is just not affordable.
The Q5 is a solid drive, it comes with plenty of onboard technology and safety aids and it's perfect when it comes to practicality, but there just seems to be no one stand out factor on the Q5 which you need to stay ahead of the competition.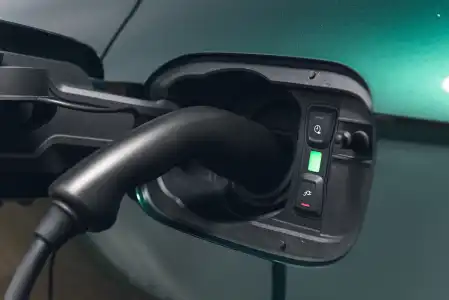 Quality & Reliability
The quality in any Audi model is top notch, we really liked the cabin on the Q5 as everything looked and felt premium - the brushed aluminium inserts were striking, the materials used around the car feel long lasting and durable which is a huge plus point.
When it comes to reliability the Q5 has been exempt from any major issues but as the mileage climbs on any Audi model then things like cambelts will need changing and to keep costs down it would be wise to not take to a main dealer.
Safety & Security
The good thing about Audi models is that they come packed with safety technology and the Q5 features Audi's Pre-sense City, Parking System Plus, cruise control with speed limiter, rear-view camera, Isofix for child car seats and an anti-theft alarm system.
Driving aids can sometimes give the driver too much security, they can seem to kick in for what seems like no reason at all and a few times we got caught out by the brakes being applied, regardless of the fact there was nothing we were going to hit.
In the EuroNCAP ratings in 2017 it scored the full five stars with 93% for adult occupant protection, while pedestrian protection had climbed significantly from 32% for the first generation model to 73%.
More On This Car
Take one for a spin or order a brochure
Request a Audi Q5 brochure
Request a Audi Q5 test drive