From £65,040
Pros:
Handsome looks

Stylish cabin

Powerful performance
Cons:
It's a heavy car

Ride is stiff in dynamic mode

No seven-seat option
More On This Car
Take one for a spin or order a brochure
Request a Audi Q8 brochure
Request a Audi Q8 test drive
Introduction
All things seem to have their day in the sun, and currently, SUVs rule the automotive arena. Therefore, it should come as no bolt from the blue that Audi has decided to create another one to add to its range. The brand already has the small Q2, the family-focused Q3, the large Q5 and the seven-seater Q7. And now the Q8 has joined its SUV line-up. Audi wants it to be perceived as the new jewel in its SUV crown. But is it? And does the Q8 take the fight to the likes of the BMW X6 and Mercedes-Benz GLE Coupe? Both these models have come to symbolise the luxury coupe SUV market. We took the Q8, in 50 TDI Quattro S Line Tiptronic guise, for a drive around Buckinghamshire to find out.
On The Road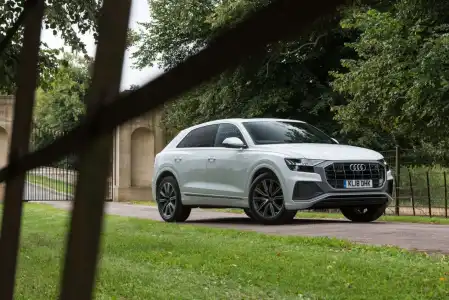 Performance
The Q8 is fitted at launch with a diesel unit which drives all its wheels via an automatic transmission. The 50 TDI houses a beefy 3.0-litre V6 unit, delivering 286PS. This produces enough clout to get the weighty SUV from zero to 62mph in 6.3 seconds and on to 152mph. The diesel is also mated to a mild-hybrid system that employs an electric motor to increase fuel economy and performance. The Q8's eight-speed automatic 'box shifts seamlessly, but it can be a tad hesitant to drop the cogs down when you step hard on the accelerator. That said, like nearly all big heavy oil powerplants, you don't need to work the 50 TDI Q8 hard to get the best out of it. There's a satisfactory quantity of pull well before the red line, so pushing the engine beyond 4,000rpm feels needless. Around congested areas, the Q8 is effortless to drive for such a large machine, although there's no hiding its two-tonne size. It's also a delightful car to cruise along dual carriageways and motorways.
While this model is feisty, if you want something even quicker, then you'll have to wait until next year. In the early part of 2019, a 55 TFSI petrol Q8 will hit dealerships. Producing 340PS, this model will do the zero to 62mph sprint in under six seconds.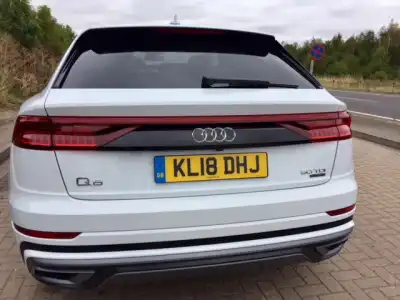 Ride Handling
The Q8's handling is excellent and equals BMW's X6 in this regard. It has an athletic focus and slices through corners with greater dexterity than its Q7 relative. Grip is also awesome due to the factory-fitted all-wheel-drive Quattro system. It makes you feel confident behind the SUV's wheel, particularly when the roads are damp and greasy, as was the case at the launch. What's more, handling is helped by Audi's optional all-wheel steering. It makes the Q8 easier to drive slowly around town and keeps the car's rear end steadier at higher speeds.
Because this is a luxury vehicle, the Q8 comes with adaptive air suspension. It means you can fine-tune the car's elevation by as much as 90mm using a selector switch. Putting the Audi in its nethermost setting trims body roll and gives the SUV a hunkered down, energetic feel. If you toggle it to the topmost setting, you have a car that suddenly becomes capable off-road. However, you're more likely to throw a party in your new Q8 than take it into the rough. It's an expensive motor and, a dirt track might be as far as you dare venture.
Back on tarmac, and using different drive settings, if you stick the Audi in 'Comfort' the standard air suspension puts pay to all but the worst potholes. The jauntier Dynamic mode enriches the throttle reaction, but it makes the ride so inflexible that it feels as though you're motoring without any suspension at all. Thankfully, though, we found very little need to engage this setting on our rural and urban test route.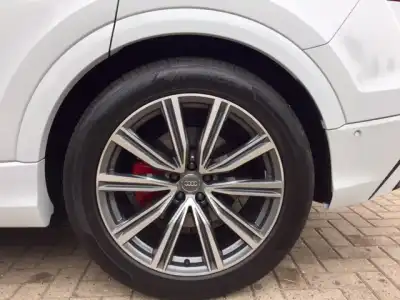 Styling
Audi has ensured the new Q8 is a refined SUV and that has meant loads of acoustic insulation has been fitted for a hushed and chilled-out experience. Even if you make use of the SUV's sportiness, you can't help but bask in the car's luxurious surroundings. Indeed, the Q8 has one of the most opulent cabins south of a Rolls Royce Cullinan. The interior is so solidly fitted together that it feels like it's been sculpted from granite, yet it's so comfortable. Even the dashboard materials and the padding on the doors and centre console feel opulent.
The Q8 comes with a couple of trims: S Line and Vorsprung. You won't feel like you've been fleeced if you go for the basic S Line model on test here. It comes with the already mentioned adaptive air suspension, 21-inch alloys, a power-operated tailgate, privacy glass and Matrix LED headlights. It also has electrically powered and heated seats wrapped in Alcantara and leather. The Vorsprung adds 22-inch alloy wheels and Super Sports seats swathed in Valcona leather. In addition, heated seats are fitted in the rear, plus you get a panoramic sunroof, a flat-bottomed steering wheel and a Bang & Olufsen music system.
In The Car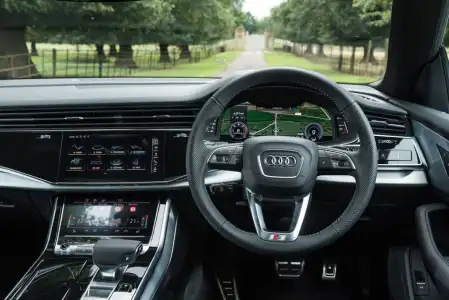 Behind the Wheel
The Audi Q8's interior design centres around the superb infotainment system. This comprises a sizeable, instinctive to use 10.1-inch screen in the heart of the dash with another 8.6-inch display retained above the centre console. This provides uncomplicated access to functions such as the radio and climate control. Audi's 12.3-inch Virtual Cockpit digital dash panel is built-in too, and, like the infotainment system, is undemanding to use. It enables you to tailor the data that is shown right in front of you.
The front seats we've already talked about are worth mentioning again because they're perfect if you have a bad back. I should know - I do. They come with a base that's extendable and lumbar support, which makes you forget about any discomfort. What's more, they make reasonably long periods of time behind the wheel easy-going, as we discovered on our three-hour road test. Speaking of the steering wheel, it provides an extensive range of movement, making your preferred driving position unproblematic to find.
The new Q8 is as likely to be used on a school run as it is swanning between business meetings, so we were pleased with the excellent visibility all around. Even the sloping coupe roof doesn't rain on the parade. And, if you have difficulty twisting your neck when reverse parking, there's a standard fit reversing camera to help you out.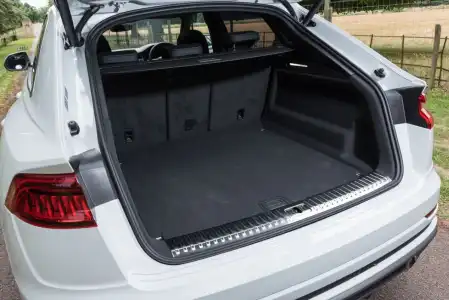 Space & Practicality
If you hadn't taken the hint already, this is one big machine, and there's ample room for five people. The range-topping Vorsprung Q8 has rear seats that slide to give you either better legroom or more boot space. But fear not, we got in the back of the basic S Line, and there's lots of space to spread out without this feature - even for three six-footers and above there's good leg and headroom. In fact, the Q8 is more able to transport tall occupants than the Mercedes GLE Coupe or BMW X6. Audi has made fitting child seats in its latest model unfussy too. Due to the reasonably high roof and generous rear door access, the Q8's Isofix points are easy to get to so you can secure the seat – and the youngster.
If you and your passengers like to keep hydrated, you'll be pleased to read that you can get a 1.5-litre water bottle in all four door bins – and the Q8's glovebox provides room for two smaller bottles. There are also a couple of cupholders up front and two incorporated into the armrest in the back.
With the rear seats in place, the Q8's boot offers 605-litres of space. Basically, what we're saying is that it's a big cargo area – large enough to swallow a bunch of suitcases as well as a load of shopping. Or, to put it another way, it'd take tot's buggy and a couple of sets of golf clubs. A strange load combination – but you get the idea!
If you need to transport even more stuff, the seats can be folded to give you 1,755-litres.
Ownership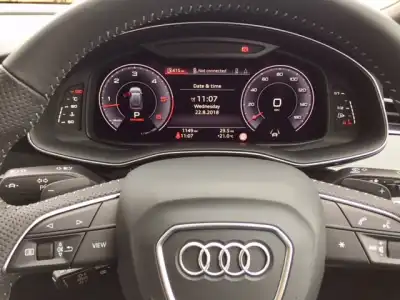 Running Costs
Audi reckons the 50 TDI Q8 will do 41.5mpg on average. This is more economical than similar engines from Mercedes-Benz and BMW. On our UK test, we saw late 30s mpg, which is still very reasonable for a hefty SUV. It's not very polluting either, emitting just 178g/km CO2. What's more, Audi's mild-hybrid technology system means the Q8 can coast between 34 and 99mph, further helping fuel emissions and economy.
There'll also soon be a more efficient, but less powerful 45 TDI diesel coming to our shores, so watch this space.
Even though the Vorsprung offers more kit than the S Line, the latter is the one we'd go for. It's available from £65,040 on the road and is on a par with its rivals. At £83,040 though, the Vorsprung starts to look expensive. It's also worth noting that the Q8's four-wheel-drive, although great for grip, doesn't uncouple power to the rear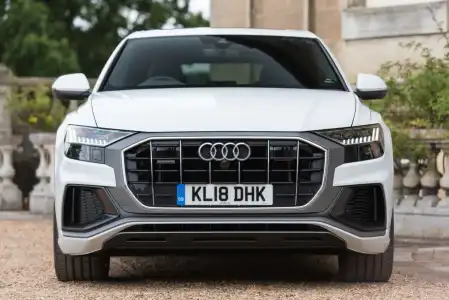 Quality & Reliability
The new Audi Q8's exterior and interior build-quality is as solid as you can get. It's amongst the best there is in the automotive world, but like all new cars, we can't 100 per cent guarantee what its reliability and quality will be like until it's been around a while. However, what we can say is that Audi has an enviable reputation for making excellent cars. The Q8 is fitted with parts that other Audis have utilised over the years and uses the same platform that the Q7 does, so the car should prove dependable. That said, there have been some hiccups with the Q7's LED headlights and Virtual Cockpit system. But we expect Audi will have sorted this for the Q8. A three-year/60,000-mile warranty also adds assurance.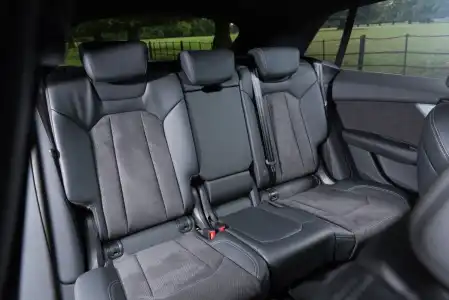 Safety & Security
Euro NCAP hasn't subjected the Q8 to a crash test yet, but the large SUV should do very well should the worst happen. We say this with a degree of confidence because the Audi has no less than 39 driver assistance systems that are fitted to protect all occupants and prevent it from straying off course.
On top of the usual range of gadgetry, like lane-departure warning and autonomous emergency braking, the Audi Q8 offers efficiency assist that adapts to the speed limit and cuts speed before bends. It is also available with adaptive cruise control that senses vehicles, lane markings, and 'road furniture'.
What's more, emergency assist identifies how active the driver is. If it senses no movement, it gives off acoustic and visual alerts. If this doesn't stir the driver and it perceives the Q8 isn't being controlled sufficiently, the technology takes control of the Audi and brings it safely to a stop.
More On This Car
Take one for a spin or order a brochure
Request a Audi Q8 brochure
Request a Audi Q8 test drive