Pros:
Extremely economical

Excellent interior

Good handling given its size
Cons:
Very expensive

Laggy acceleration at low speeds

Lack of physical buttons is distracting
Speak with our Concierge team to discuss your car buying options
Request a free call back
Introduction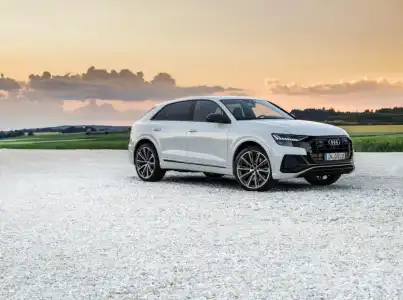 Don't be fooled by the pictures. Audis – largely thanks to their disproportionately sized front grilles – can sometimes make the rest of its cars appear smaller than they are. So, although the coupe-SUV Q8 doesn't look massive on paper, it is. In fact, it's based on the big daddy Q7.
You only get five seats instead of seven, but that doesn't mean it's small on the inside either. On the contrary, it has a spacious interior, benefitting from all of Audi's revisions in recent years, which have won it many admirers.
This car will go head-to-head with the hybrid variants of the Range Rover Sport and the Porsche Cayenne, so it needs to impress.
It's so far, so good for Audi. The Q8 has been around since 2018, and it's been rated highly on the whole.
But now, the Bavarian manufacturer continues its hybridisation of the range with two new plug-in variants to choose from – the entry-level 55 TFSI e Quattro and the top of the range 60 TFSI e Quattro.
Ours is the entry-level in S Line trim.
On The Road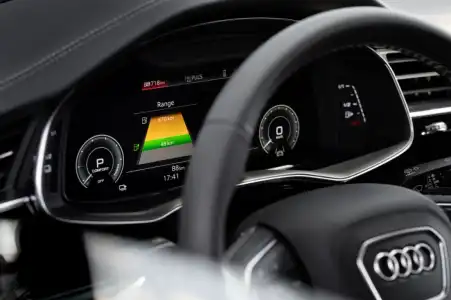 Performance
The plug-in hybrids are 3.0-litre V6 petrol engines, with our test car '55' variant producing 340PS. This power is combined with a 100kW electric motor running off a 17.9kWh battery installed underneath the boot floor, which boosts the clout to 381PS.
The hybrid system then runs in three sub-modes: auto (which looks at your planned route to work out the most fuel-efficient way to get to your destination), hold (which maintains the existing charge in the battery) and charge (which, as the name suggests, will prioritise charging).
Both the 55 and 60 TFSI come with an eight-speed automatic transmission.
You can drive about on all-electric at lower speeds if you want – and it is a relaxing experience. However, this will automatically change to hybrid mode when you demand more power than the electric motor can manage on its own. The transition is seamless and barely noticeable – unless you're trying to floor the car from a standing start to force the engine into life.
Sadly, you'll end up feeling like you do need to floor it. Despite the glut of muscle underneath, due to its sheer mass (it weighs around 2.5 tonnes), it is sluggish unless you're demanding a lot of power. This can be frustrating when driving slowly around town, as the accelerator pedal needs a good hit with your foot to get going.
Once it does get moving, though, the acceleration is fierce. The result is 0-62mph in 5.8 seconds, topping out at 149mph.
The more powerful 60, on the other hand, produces 462PS, taking 5.4-seconds to reach 62mph from a standing start.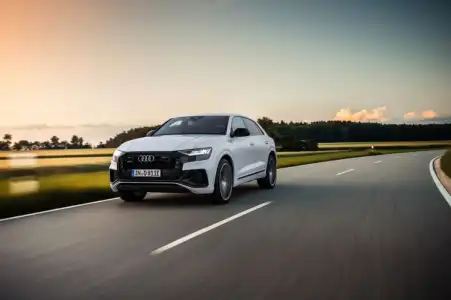 Ride Handling
The name Quattro is Audi's terminology for four-wheel drive. The system sends 40% of the power to the front and 60% to the rear by default. Mind you, it can be as much as 85% at the fore and 70% at the back, depending on the driving situation.
The system works very well. When the going gets bendy, it navigates around corners well, despite some noticeable body roll. Even at higher speeds, the car is calm and relaxing to drive.
Our test motor had optional (and massive) 22-inch wheels and air suspension, which is standard on all plug-in hybrid models. The vehicle gets not-quite-so-massive 21-inch rims as standard, but even the larger ones make for a smooth ride when combined with the suspension system. The adjustable ride height it provides irons out uneven surfaces, while the four-wheel steering gives it a turning circle comparable to a small hatchback.
The Audi feels stable and very grippy on the road, while driving around the sharp bends of a town centre feels effortless, with finger-light steering.
Weight does play its part, and there is only so much you can do to get around gravity. But, for such a heavy car, Audi has done an excellent job with the handling.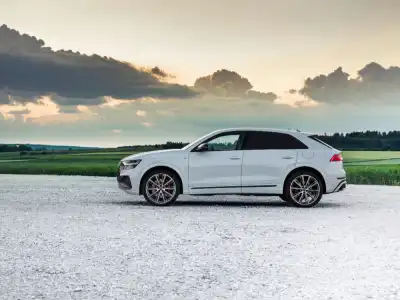 Styling
Audis, especially bigger ones, tend to come with enormous grilles nowadays, which are looking ever more chiselled and less rounded, with thick dark-coloured surrounds. They tend to divide opinion, and we suspect the Q8 will be no different.
It wears its looks well compared with other Audis, but we still doubt whether the aesthetics will win prizes at the beauty pageant.
At the front, there's not much to talk about. Why? Well, the grille is so enormous that there isn't room for anything else. Yes, it's that big.
Around the back, there's a large steep sloping rear window and an LED light array that spans the whole width of the boot, breaking up the body colour nicely. Again, though, we expect that will be a bit love-hate depending on who the admirer is.
The Q8 also features pillarless doors.
In The Car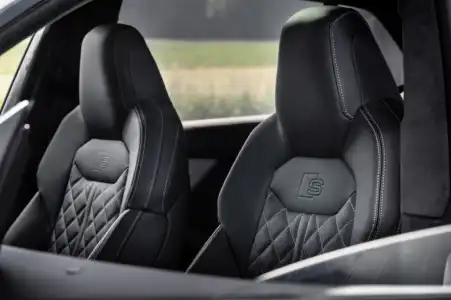 Behind the Wheel
The exterior looks may cause arguments, but one thing that won't be up for debate is the quality of the interior. Audi has overhauled its design in the last few years, and the inside of the Q8's looks as premium as you'd expect it to be.
Forget one screen – there is a trio. The primary infotainment display is integrated perfectly flat into the dashboard, to the point that you wouldn't know it was a screen when the car's switched off. Beneath it is another screen that controls things like air conditioning and climate control. A third is a digital instrument display that replaces analogue dials behind the steering wheel.
There are still physical buttons on the wheel, and many of the essential systems can be operated from these switches via the digital instrument display. This can also display the navigation map full screen.
Touch-sensitive buttons aren't as intuitive to operate as physical ones, though, as there's no natural feel to ensure you're pressing the right one. This may annoy some drivers, especially on the lower touchscreen, which controls the temperature.
Meanwhile, the steering wheel itself looks nice and is flat-bottomed.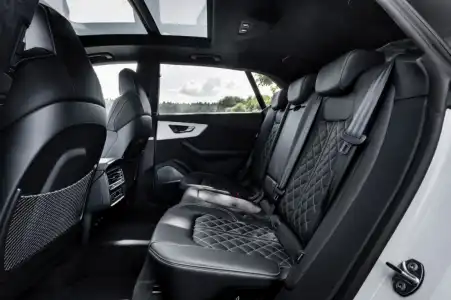 Space & Practicality
The front is spacious, with comfy seats, although sports seats are available as an (expensive) optional extra.
In the back, headroom is decent, even for taller drivers, as the roofline directly above the seats doesn't slope down all that much. There's lots of legroom, too, while the rear seats recline slightly and can even slide forwards and back individually, although the latter is an optional extra.
The boot opens automatically to reveal a capacious cargo space. Although it's 100-litres less than on non-hybrid models, thanks to the boot floor being raised by 3cm to accommodate the batteries, the 505-litres you still get is only a tiny bit smaller than a Range Rover Sport, increasing to 1,625-litres with the rear seats folded away.
A BMW X6, by comparison, has 580-litres increasing to 1,530.
Ownership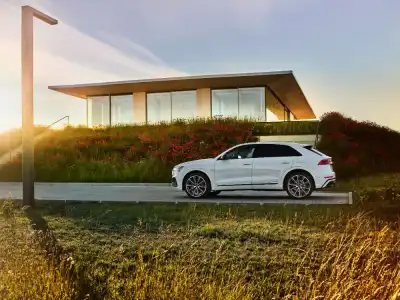 Running Costs
Our 55 TFSI claims fuel economy figures of 100.9mpg, producing just 64g/km CO2, making it attractive as a company car.
The range-topping 60 TFSI, on the other hand – claims 97.4mpg and 66g/km CO2. The fuel economy doesn't take much of a hit for the extra power, but your wallet will, as it's about £12,000 more expensive.
A 7.4kW home charger can deliver an empty-to-full charge in just two-and-a-half hours, giving you a range in all-electric mode of 29-miles (28-miles on the 60 TFSI).
Audi also offers an e-tron charging service which you can subscribe to for an extra fee. This gives you access to thousands of charging points in the UK, as well as many more in mainland Europe.
The Stuttgart-based brand has declined in customer satisfaction surveys in recent years, and the Q8, being an expensive car, is likely to come with high maintenance costs.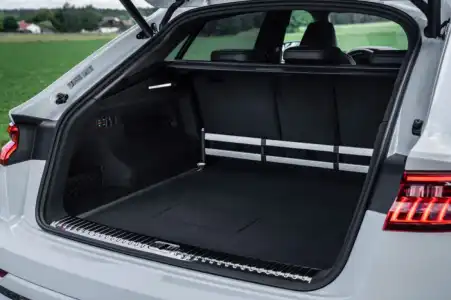 Quality & Reliability
Audi lives off a historical reputation for build quality, although, like its customer satisfaction ratings, this has been brought into question in more recent years when it comes to reliability surveys, too.
The Q8, and indeed, the plug-in hybrids, are still relatively new, so it remains to be seen how well it fairs long-term. However, we'd hope that the overhaul of technology on Audi's cars has seen the automaker take the opportunity to improve.
A three-year, 60,000-mile warranty comes with the car, which is only average, but that should at least give you a few years' peace of mind if any problems do crop up.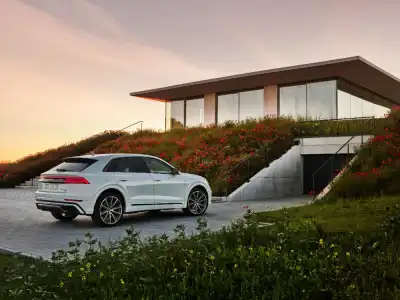 Safety & Security
The Q8 earned a five-star rating from Euro NCAP when tested in 2019, scoring 93% for adult occupants, 87% for children and 73% for safety assists.
There's a lot of safety kit as standard on the Q8, including lane-keep assist, automatic emergency braking, lane departure warning, a reversing camera, and 'Pre-Sense' (which gives collision detection alerts).
Other safety features, including adaptive cruise control, traffic sign recognition, turn assist, and lane departure warning with corrective steering, are available with the optional Tour Pack.
Summary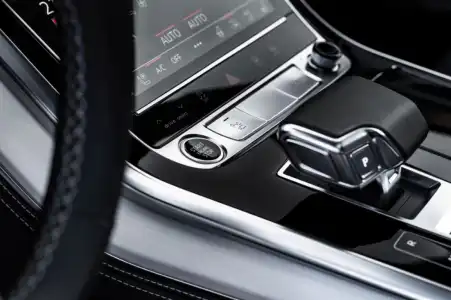 The Q8 has already won plenty of admirers, and we expect the hybrid models will follow suit.
It is monstrously expensive, though, costing considerably more than non-hybrid models. In fact, it's even more than the entry-level plug-in Porsche Cayenne – and significantly more than the equivalent hybrid Range Rover Sport.
The interior is a top place to be, and it drives well, though. As SUVs go, it's about as luxurious as you can get.
But, given it's around 75-grand for an entry-level hybrid, it'd damn well better be.
Speak with our Concierge team to discuss your car buying options
Request a free call back