Pros:
Gorgeous styling and packed with the latest technology

Performance matches the appearance with a perfect soundtrack

Available in Coupe or Spyder body styles
Cons:
Price climbs steeply with options factored in

Expensive running costs

Limited storage space
More On This Car
Need more information?
Request Dealer Contact
Introduction
If you have the money and desire for a supercar then Audi could have the perfect solution with its stunning R8. It's available in Coupe or open-top Spyder styles and there are differing trim levels from the basic (which is anything but basic) Coupe R8 V10 RWD to the V10 quattro, V10 Performance quattro and V10 Performance Carbon Black costing from £157,030.
The R8 Spyder line-up costs from £126,015 to £165,720. So fair to say you will need to dig deep into those savings then. But what you get in return will seem worth every single penny after just a short time behind the wheel.
And now it is on sale with rear-wheel drive as well as quattro all-wheel drive. There was a limited edition Rear Wheel Series R8 a few years back, but the latest version is here to stay and certainly worth exploring.
On The Road
Performance
There's a new entry model to Audi's sports-based R8 line-up but it is anything but low key. The rear-wheel drive (RWD) version of the two-door sports car features the latest evolution of the hand-built, high-revving 5.2-itre naturally-aspirated V10 engine delivering 540PS and 540Nm of torque. It's a two-door sports car that can hit 62mph from a standing start in 3.7 seconds and has a top speed of 201mph.
Mated to a seven-speed S tronic dual-clutch transmission with revised driveline, gearshift performance and launch control, this latest model offers some serious firepower but also features clever cylinder deactivation meaning it shouldn't cost heaven and earth to run.
It may seem strange that a company that has built such a strong reputation for its quattro all-wheel drive has reverted to this RWD version, but it definitely works when put to the test.
That's because if you really want to test your metal, this R8 RDW will deliver the goods. With more rear end balance the car is edgier and lighter than its quattro siblings and more likely to offer a little drift-like slide into corners … if that's what you're looking for.
It powers through the gearbox with steering wheel paddles for added driver engagement, along with Drive modes called Auto, Comfort, Dynamic and Individual that alter the driving dynamics, throttle response, shift points, steering and engine sound, with the Dynamic setting really sharpening up all the reactions.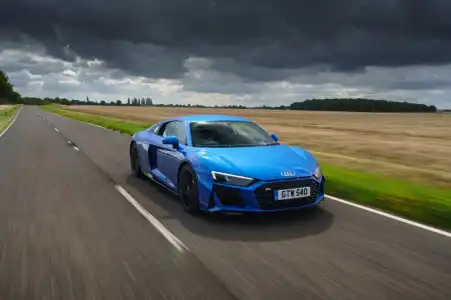 Ride Handling
One of the great factors of the R8 is its sublime ride and handling. Every time I get behind the wheel of this model, I'm pleasantly surprised at its high levels of comfort. And the ride quality is just as pleasing.
Even across poorer road surfaces the perfectly judged suspension irons out the creases without sending shudders through the cabin.
But no mistaking, when you crank up the settings on this car, it delivers the goods. Switch across to Dynamic and the R8 is more like an uncaged wild animal as it fires through the country lanes. It's easy to forget that all the power is being delivered to the rear of the car unlike previous R8 models that were AWD and, in the wet, it can get a little twitchier into bends.
But, if you fancy calming things down a little, simply move into Comfort mode and the world seems a much more sedate place. And it's that change in character and performance that makes the R8 such a fantastic all-rounder. You generally have to choose between performance or comfort, but Audi offers the best of both worlds here and that's a very big plus factor.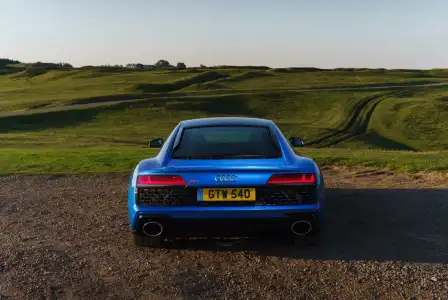 Styling
Simply gorgeous – that's the best way to describe the muscular, streamlined and awesome Audi R8. It's a two-seater, two-door sports supercar that oozes premium quality at every turn.
There is a gloss black styling pack with front spoiler, side sill inserts and rear diffuser inserts in gloss black, along with a gloss black radiator grille with R8 emblem.
Open the door and LEDs project the Audi Sport logo onto the ground as you enter or exit the car and the interior light pack includes engine compartment illumination.
Move inside and there are heated R8 sports seats upholstered in leather with contrast stitching and Alcantara seat, backrest and door inserts. There is an R8 flat-bottomed, three-spoke sports steering wheel, black headlining and eye-catching titanium-finish inlays.
Noise levels within the car can be tempered to your mood. Drive in Comfort mode and everything is beautifully refined, switch into Dynamic mode and everything gains an extra edge including the sound levels.
In The Car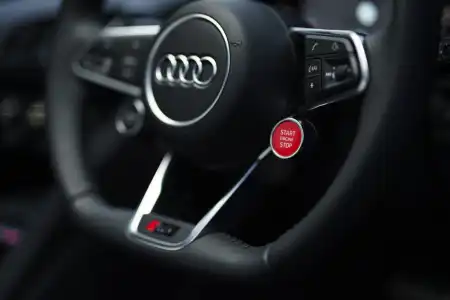 Behind the Wheel
Sitting behind the wheel of the Audi R8 is a perfect way to spend your day. That's because there is just the right amount of seat and steering wheel adjustment to allow you to find the ideal driving position.
Everything from the stainless-steel pedals to the steering wheel and seating all seem to line up perfectly as if it's been made to measure. Then, it's worth taking a minute or two to take in the surroundings because the R8 cockpit is one of the finest in the business oozing quality at every turn.
The compact sports steering wheel has controls to access many of the on-board systems and menus meaning you can keep both hands on the wheel, which is a bonus.
And you can also use these buttons, a rotary controller near the gear lever or voice control to access the navigation system that is integrated into the stunning 12.3-inch Audi Virtual Cockpit behind the steering wheel.
There is a wealth of on-board kit to explore too, including full smartphone connectivity, 3D navigation, DAB radio, DVD player, an internet-based infotainment service with 36 months subscription and lots more besides.
When it comes to driver visibility, it is actually better than you would expect when you see the design of the car. Yes, the rear screen is narrow and there are door pillars that obstruct the over-the-shoulder visibility, but I've been inside certain family cars with large rear headrests and huge B pillars that offer poorer visibility.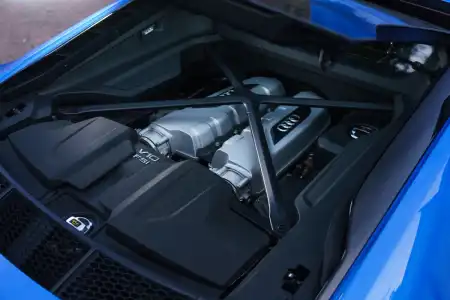 Space & Practicality
The Audi R8 is a mid-engined, two-seat sports car so it's never going to win any awards for space and practicality. That said; the car is deceptively spacious inside the cabin and also, unbelievably comfortable.
There is a storage compartment beneath the bonnet that can hold 112 litres of kit, along with a roomy parcel shelf that can cater for a further 226 litres of luggage. There is a large glovebox, a couple of cup holders and a small-ish cubby box to store items away from sight.
Although you sit quite close to the Tarmac, comfort levels inside the R8 are impressively high and even after a long journey you still exit the car (as glamorously as possible) without any aches or pains. That's because the R8 sports seats seemed to be made to measure and also feature side shaped bolsters for extra support.
The R8 measures 4.4 metres in length, is 1.2 metres high and 1.9 metres wide excluding the mirrors, so it can feel quite a wide car when driving along narrow country lanes and the other issue can be deciding where best to leave the car.
For example, if you should be brave enough to park up in a supermarket, allow at least a bay each side because the doors open exceptionally wide. That said; there is bound to be someone parked close-by when you return – that seems to be the norm!
Ownership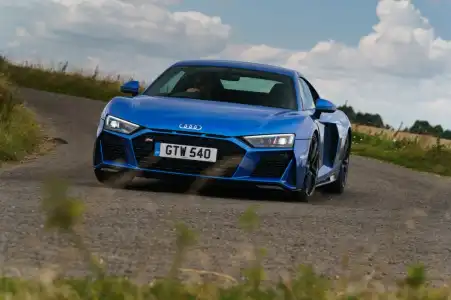 Running Costs
The Audi R8 Coupe V10 RWD costs from £114,435, although our test car featured a few optional extras such as upgraded 19-inch forged aluminium alloy wheels costing £1,000 and a Bang & Olufsen sound system that added an extra £1,895 to the price-tag bringing the total cost to £120,220. That is a hefty price, but not in supercar terms where this model is very competitively listed.
And there is the added bonus that the V10 features clever Cylinder-on Demand technology that switches off one bank of five cylinders when they are not required. This results in improved fuel efficiency and lower carbon emissions.
However, even with that cost-cutting set-up you can only expect to see a combined 22.2mpg with carbon emissions of 289g/km.
And the expense doesn't end there because this CO2 figure would result in a first year Vehicle Excise Duty cost of £2,245 which would be reduced to £155 after 12 months. However, the bills don't end there as all cars (apart from EVs) costing more than £40k have an additional surcharge of £335 for five years beginning 12 months after registration.
The insurance rating for the Audi R8 RWD is yet to be confirmed.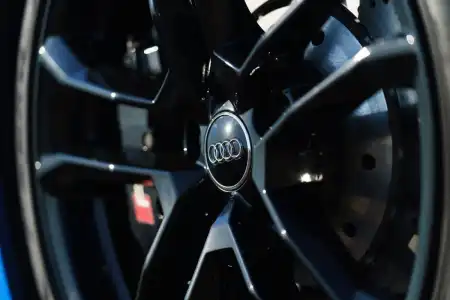 Quality & Reliability
Audi has a good reputation for developing high quality and reliable components for its model line-up to help deliver years of untroubled motoring, and this latest R8 should prove just as impressive.
The hand-built 5.2-litre V10 engine also features in the Lamborghini Huracan and feels like it will run and run no matter how hard it's pushed. And the transmission is slick and perfectly timed, and it also has a good reputation for longevity.
Everything feels like it has been meticulously put together with a certain quality not seen in many other cars. All the switchgear and infotainment systems look and feel upmarket as does the high-end upholstery.
The R8 is supplied with Audi's three year, 60,000-mile warranty.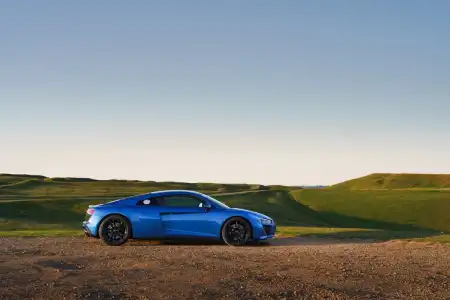 Safety & Security
The Audi R8 has not been tested for a Euro NCAP safety rating and is unlikely to be tested due to low sales volume numbers. But it is packed with safety kit and driver assist systems to help protect occupants and other road users alike.
It features the latest high-strength Audi Space Frame which is ultra-lightweight but very strong.
There is cruise control with a handy speed limiter, a parking system with reversing camera, multi-stage stability control, along with front, side, head and thorax airbags.
All other versions apart from the R8 RWD also gain Audi's renowned Quattro all-wheel drive set up.
The car is fitted with an anti-theft alarm to keep uninvited attention at bay.
More On This Car
Need more information?
Request Dealer Contact