From £63,615 (Carbon Edition from £76,115)
Pros:
Dynamically designed with beautiful streamlining

Exhilarating driving capabilities (0-62mph in 3.9 seconds)

Packed with technology and creature comforts
Cons:
Expensive running costs

Watch the speed – you hit national limits in a couple of seconds

Wherever you go, people want to stop you and chat about the car
More On This Car
Take one for a spin or order a brochure
Request a Audi RS5 brochure
Request a Audi RS5 test drive
Introduction
Since the Audi RS 5 Coupe first arrived on the scene back in 2010, it has been viewed as the coupe-styled car with RS capabilities and now the desirability has grown even more. Out goes the thirsty 4.2-litre 8-cylinder engine and in its place is a perfectly tuned 2.9-litre twin turbocharged petrol unit that develops 450hp and 600Nm of torque. That sort of power would normally be seen in a supercar, but the RS 5 is a two-door coupe with aggressive styling and blistering performance capabilities.
The latest model has also shed some weight, grown in length, boasts a new chassis and suspension set-up, a faster eight-speed gearbox and has some stand-out design cues guaranteed to stop onlookers in their tracks.
On The Road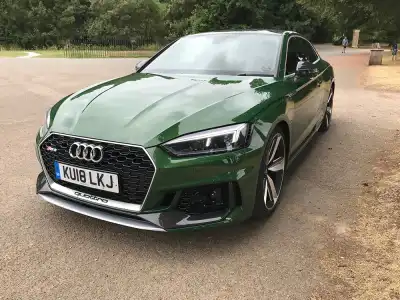 Performance
On the first day of my week-long test drive of the RS 5 I was happily minding my own business at a supermarket car park when a BMW M4 driver pulled up alongside and confidently claimed: "My car's faster!" He was wrong. The M4's 0-62mph sprint time is 4.0 seconds with a Competition Pack - the RS 5 is 3.9 seconds. I corrected him politely and left with a smug look on my face and that rather sums up my experience driving the RS 5. It gains attention wherever it goes, especially in the Sonoma Green shade and the awesome engine and exhaust soundtrack cannot go unnoticed either.
The Carbon Edition model features additional trim such as a carbon roof and engine cover, along with carbon inlays inside the car so it looks as good as it sounds.
The performance capabilities are a thrill-seeker's dream with blisteringly fast acceleration through the eight-speed gearbox with paddle shifts to manually change gear yourself. Driving modes called Comfort, Auto, Dynamic and Individual alter the way the car handles, with Dynamic really sharpening up the reactions.
The exhaust and engine note are perfectly matched to the car especially when driven in Dynamic mode as it pops, crackles and booms along the road. The power at your disposal is instant and you will certainly run out of bravado before the car does! The car has a top speed limited to 155mph but can be increased 174mph as an option.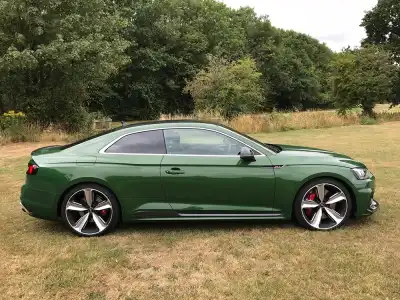 Ride Handling
The reason I have always preferred the RS 5 to its supercar R8 sibling is all down to the ride and handling. The R8 looks and drives fabulously and is as impractical as any premiership footballers car. The RS 5 on the other hand, is more comfortable, practical and even civilized if you want it to be. Yes, it has the hooligan characteristics in Dynamic mode, but switch across to Comfort and it's like a tamed beast as it goes about its business in an almost refined manner.
The test model was sitting on 20-inch wheels, which on many cars, would see it leaping all over the pace but not the RS 5. Cornering at pace is assured and the road-holding is very confident with ample driver feedback from the direct steering. In fact, no matter how enthusiastically you drive the RS 5 it feels safe and composed. Fun - yes, dangerous - no.
It also features Audi's Quattro all-wheel drive set-up which means the grip will be excellent even in wetter driving conditions. The system analyses the car's grip and automatically distributes power between all four wheels to where it's needed most making the RS 5 a great car for all seasons.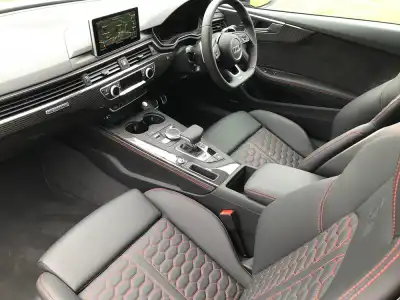 Styling
The RS 5 is a car that stands out in any crowded car park thanks to its distinctive muscular styling, carbon trim, RS sport exhaust system, 20-inch alloys and red brake calipers and that quintessential design ethos is carried through into the cockpit where there's a wealth of technology at your fingertips.
The fine Nappa leather seats feature a honeycomb quilted design with contrast stitching and they are power adjustable too. The seats offer ample lumbar support and are bolstered to keep you snuggly supported. A massage function simply adds to the luxury.
Even when driven in Dynamic driving mode, the RS 5 is perfectly balanced with excellent cornering capabilities. This is partly down to the Dynamic Ride Control and RS Sport Suspension technology in the car which basically reduces body roll and pitch for smoother cornering. This is a £2,000 option.
The cabin is as rowdy and boisterous as you want it to be. If you fancy a calmer journey, switch it into Comfort and barely a sound filters through – I say barely because there is always a gentle humming noise as a reminder of what's beneath the bonnet. But when you want to hear the car in its full glory fire into Dynamic mode and watch the neighbours' curtains twitch. It's got a roar similar to a feeding frenzy in the Serengeti!
In The Car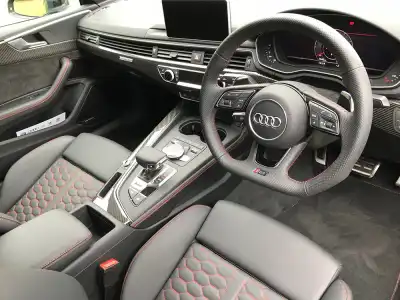 Behind the Wheel
Comfort levels within the RS 5 are excellent considering it's such a high-performance car. There is powered seat and steering wheel adjustment so getting the perfect driving position is easily achievable. There are also memory settings for the driver's seat.
The car is generously equipped with all the latest infotainment technology and it is wonderfully simple to operate. There is an 8.3-inch centrally-mounted display screen with menus accessed via a rotary dial that's found between the front seats.
The RS 5 also comes with Audi's Virtual Cockpit that can be fully customised to display exactly what you want to see, whether it's the speed and rev, counter, maps and music or G meter, torque and power outputs.
There is a head-up display, high-speed 4G internet access, a premium navigation system, full smartphone connectivity via Apple CarPlay or Android Auto and a whole lot more besides.
Our car also featured a Comfort and Sound Pack costing £1,295 extra and this added a Bang & Olufsen 3D sound system with 19 speakers, a rearview camera and an advanced key with electric hands-free boot opening – the lid can be opened by a simple kicking movement below the sensor positioned beneath the rear bumper.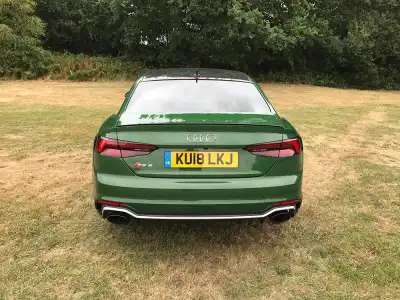 Space & Practicality
If room for all the aunties and uncles along with bundles of storage space are a priority, then the RS 5 may not be the car for you. If, however, your wish list comprises outstanding driving dynamics, awesome handling and enough space for four people with a boot that can accommodate luggage for a weekend away then read on.
That's because the RS 5 can cater for four occupants, albeit with fairly limited rear leg space and the sloping roof design means those of a taller variety may feel a little cramped.
The boot has a decent capacity and can hold 465 litres of luggage, a limit that increases considerably with the split-folding rear seats lowered.
Elsewhere, there are numerous storage compartments and nooks and crannies to hide away your goodies, including a glovebox, door bins, central console box and cup holders.
Ownership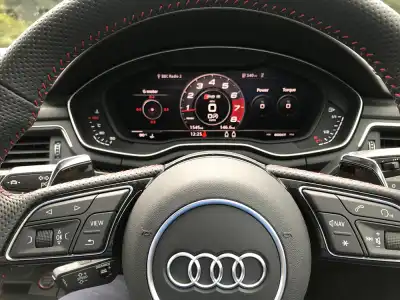 Running Costs
So down to the nitty gritty then – how much does the RS 5 cost? That depends on which model you have. The entry-level RS 5 Coupe costs £63,615 but our Carbon Edition model started out at £76,115 - a price that increased to £81,885 thanks to a number of optional extras.
Running costs are as to be expected in this particular class with the test car officially delivering combined fuel economy of 32.5mpg with carbon emissions of 197g/km. We saw slightly less than the official figure averaging around the 27.0mpg mark, but we didn't exactly hold back on driving style!
The CO2 figure of 197g/km would result in a first-year Vehicle Excise Duty charge of £1,200 reducing to £140 each following year. In addition, cars with a list price above £40,000 pay a £310 supplement for five years. After the five-year period has elapsed, the vehicle will be taxed at the applicable standard rate
The insurance group rating for the car is 47.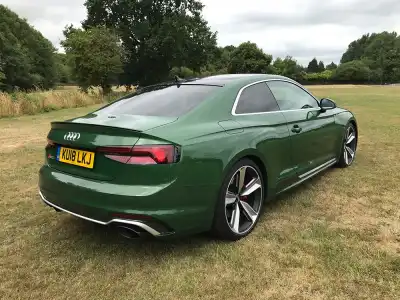 Quality & Reliability
The RS 5 is beautifully crafted with the finest materials inside and out. The carbon elements on the exterior look fantastic but are also hard-wearing and the interior oozes class with exquisite finishing touches.
The fine Nappa leather upholstery looks and feels durable and all the switchgear is made to last. The chunky grab-handle gear stick is another quality touch in a practical, yet elegant cabin.
Although Audi has had a few reliability issues in the past, it's an area that has been improved upon in recent years.
The RS 5 Coupe comes with Audi's three-year, 60,000-mile warranty.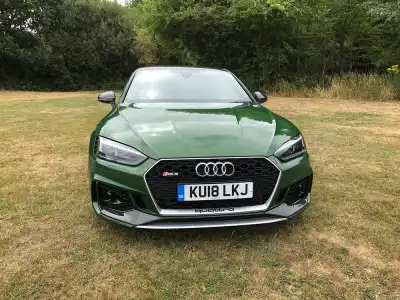 Safety & Security
Although the RS 5 has not been Euro NCAP rated for a safety score, the A5 scored a maximum five stars.
It boasts an array of safety features and driver aids to help protect occupants, pedestrians and prevent accidents from happening in the first place.
One system that's certainly worth mentioning is the Matrix LED headlights that produce a light that is very similar in colour to daylight. They also have sensors and an in-built camera that can detect other vehicles and dip the lights accordingly to avoid dazzling drivers.
The car was fitted with blind spot monitoring and multi-collision brake assist, active lane keep assist and rear cross traffic assist.
Our car also featured a Driver Assistance Pack (Tour) priced at £1,250. This pack introduces adaptive cruise control with stop and go plus traffic jam assist, pre-sense front, camera-based traffic sign recognition, collision avoidance assist, turn assist, active lane assist and predictive efficiency assist which helps to maximise fuel economy.
And the Quattro all-wheel drive system means you will have great grip even in adverse weather conditions.
More On This Car
Take one for a spin or order a brochure
Request a Audi RS5 brochure
Request a Audi RS5 test drive