From £39,950
Pros:
Most powerful five-cylinder engine available in an RS model ever

Practical as a family car

Bit pricey; options will mount it up
Cons:
No Audi Virtual Cockpit display available even as an option

Rear passengers will experience a harsh ride
Buy and save on quality approved and used cars
Introduction
Audi launched their sporty model in a visually disturbing way, their R8 model gave birth to the RS3 Sportback in something that looked like a scene from an Alien film in the Born Restless television commercial. It was quite strange but it did get people talking about the hotly anticipated car.
With rivals such as Mercedes-Benz proving popular with their A45 AMG, can the RS3 do battle with its German nemesis?
On The Road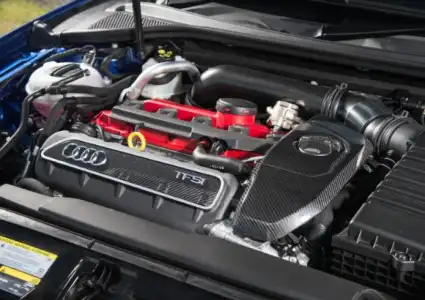 Performance
If you're looking for plenty of performance then you can't go wrong with the RS3 as the 2.5- litre, turbocharged, five-cylinder engine produces a whopping 367 PS with 465 nm of torque, so put your foot down and it'll have you pushed back in your seat like a space shot. So the lad in his Astra thinking he was going to beat me at the lights...your car was miles away in my rear view mirror as soon as it had turned to green. Throttle response is immediate as it kicks the car to a 0 - 62 mph time of 4.3 seconds, quicker than the Mercedes-Benz A45 AMG, it is also electronically limited to 155mph, but it can be delimited to 174mph - not that you'll be doing that….
The seven-speed S tronic transmission has been improved to offer quicker, seamless shifts either in automatic or manual mode and also has paddle shifts if you really fancy the full racy experience.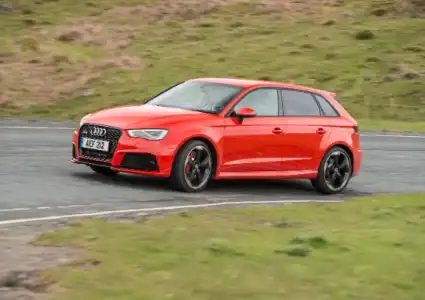 Ride Handling
It's a sporty car so don't expect a nice soft ride, it seems fine in the front but rear passengers will complain as it does feel very uncomfortable in the back.
There are high levels of grip thanks to the quattro all-wheel drive system and if you add the optional Dynamic package plus it includes a magnetic ride damper system to improve the harsh ride from the British roads. For the first time on a car like this there is the option for carbon front brake discs, a must if you really want to push the car to that 174mph and then stop it quickly.
Steering is heavy but feedback is good, although it can at times lack excitement in the handling stakes as it can feel a little numb, especially when you want to feel engaged with the car through the twisty bits.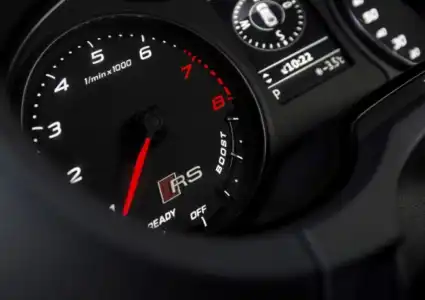 Styling
The engine is noisy, but who cares as it's the best part when you start it up, the deep burble is sure to make people turn heads when you switch it on at the petrol station and the popping and banging as you downshift is heaven to your ears...if you like that sort of thing.
Cabin noise can be a bit obtrusive sometimes, the as-standard 19-inch wheels don't help with this, but it's a sporty car so it wouldn't be any other way and would look like a lego car with anything smaller.
In The Car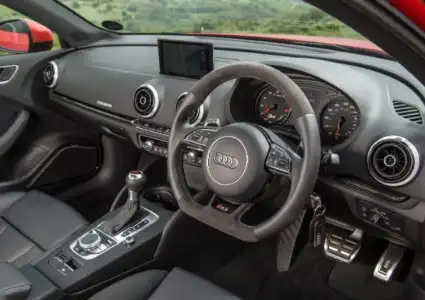 Behind the Wheel
When you get behind the wheel you expect to have a shiny start button to press, which you come to expect when you jump in any sporty car, so its slightly disappointing in-a-first-world-problem-kinda-way to have a key. Even the Audi A4 saloon has a start button...
Once you have it running the centre console does look the business, the MMI touch is really easy to use to set navigation, media and car settings all on the electrically retractable screen. There is also a driver's display that can be operated by steering wheel controls, so everything is at your finger tips.
The downside is Audi's Virtual Cockpit display isn't available on the RS3, seems surprising as it has the option on there to record lap times - ideal for this type of car for those that want to experience its on-track prowess.
The sports seats are comfortable and buyers can choose the optional RS bucket seats which have been redesigned to be lighter and far more racy than the standard ones.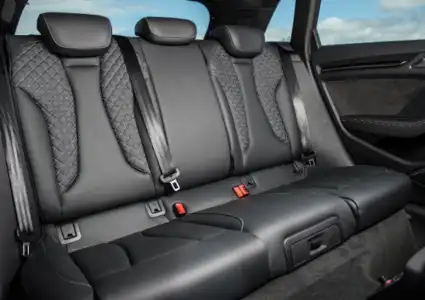 Space & Practicality
One of the plus points on the RS3 is the space, as a sportback it's slightly larger than the standard A3 and there is enough room for five people with rear passengers getting adequate leg and headroom. It is also child friendly and easy to get a baby seat in and out of the back with ease.
The boot is practical too with 280-litres available, this is smaller than the BMW M135i but we still managed to fill it with a pushchair, two cases and a couple of bags. Rear seats fold down easily if you need to fill it even more increasing it to 1,120-litres, so the RS3 has the practicality to match the sporty looks.
Ownership
Running Costs
The Audi RS3 is priced from £39,950 which is high considering the BMW M135i is over £7,000 cheaper. Once you add options and it starts to get ridiculous, our test car rose to a staggering £51,185.
Running costs won't be low either, the RS3 manages around the low thirty mark in terms of MPG if you drive it on eggshells, which you won't and with it emitting 189g/km it will fall into VED band J so will cost £265 annually.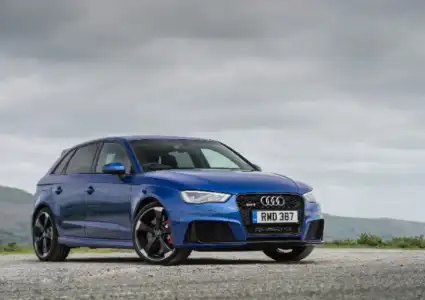 Quality & Reliability
Audi quality is always top spec, the Fine Nappa leather trim is of a very high quality, the alcantara trim on the steering wheel and on the door inserts add a sportiness to the interior, the real carbon fibre trim and stainless steel pedals all add to the premium feel of the RS3.
There doesn't seem much that Audi owners complain about, service costs can be high but overall reliability seems quite good with the A3 taking 32nd place in the 2014 JD Power Survey, but owner satisfaction seems to fall short when brands such as Mercedes-Benz and Volkswagen are more popular.
Safety & Security
The Audi RS3 comes with airbags, a tyre pressure indicator, a first aid kit niftily hidden under the rear seats and if you have children in the back then electrically operated child locks come on the car.
The Audi Parking System Plus comes as standard on the RS3 and although not rated yet in the Euro NCAP tests the A3 scored five stars in the EuroNCAP tests in 2012 scoring 95% for adult occupants and 87% for children.
Find out our latest offers for all used Audi models.
Buy and save on quality approved and used cars