Pros:
Superb 2.0-litre 310PS petrol engine that powers the car from 0-62mph in 4.6 seconds

Excellent handling and driving dynamics

All the on-board techno treats imaginable
Cons:
Expensive, especially when optional extras are added

Ride can feel firm at times

Competing against strong opposition from Mercedes and BMW
More On This Car
Take one for a spin or order a brochure
Request a Audi A3 brochure
Request a Audi A3 test drive
Introduction
Audi took the S3 hatchback and stretched it, adding more doors and improved practicality along the way. The result is the S3 Sportback a very fast and capable performer on the road, but with enough space for all the family to enjoy the fun. The car also has more room for luggage making it ideal for breaks in the country – preferably with lots of twisting lanes and hairpin bends to negotiate.
The car is priced from £37,020 but customers can choose from a whole array of optional extras to spec-up their cars. There is also a Black edition that costs from £38,570.
On The Road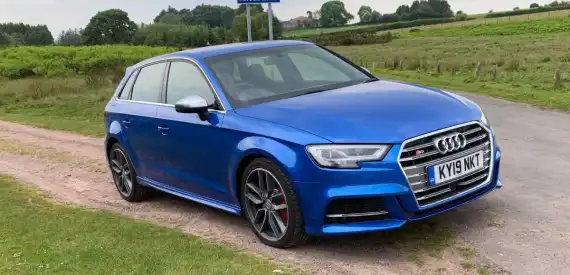 Performance
The Audi S3 Sportback is powered by a 2.0-litre, 310PS four-cylinder turbo petrol engine delivering a whopping 400Nm of torque. This translates into performance stats of 0-62mph in just 4.6 seconds and a top speed that is limited to 155mph. This powertrain is matched to a quick-firing seven-speed S tronic automatic dual clutch transmission complete with paddle shifts.
And of course, the S3 Sportback is fitted with Audi's quattro all-wheel-drive system which means you feel perfectly planted no matter how eagerly bends and corners are attacked. The flat-bottomed steering wheel embossed with an 'S' is very precise and there is constant driver feedback which is most reassuring through chicane-like bends.
The acceleration is blisteringly quick, but the car remains perfectly controlled at the same time. There are different driving modes called Efficiency, Comfort, Auto, Dynamic and Individual that alter the way the car responds and reacts with Dynamic really cranking up the volume and dynamics.
At times, it's easy to forget that you are driving a family car – it really feels and handles like a sports coupe or hot hatch. Yet everything can be calmed down when necessary. Just switch across to Comfort and normality is restored.
The S3 Sportback is a car that will effortlessly cruise at motorway speeds or power through country lanes, but still be responsible enough to collect the kids from school on the way home.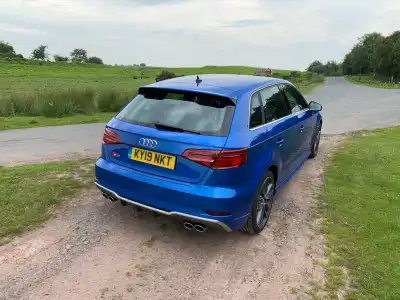 Ride Handling
The S3 Sportback is a pure delight to put through its paces. The power is constant and the gear changes are perfectly timed – faster in Dynamic mode for more rapid bursts of acceleration. The steering wheel mounted paddles offer further control over the gear changing too.
While the idea of leaving the car in Dynamic mode may seem appealing initially, you soon realise it's worth exploring some other system set-ups while you still have teeth. It's also a lot louder in Dynamic mode so expect lots of growling, along with crackling engine and exhaust notes as an accompaniment.
The car has performance sports suspension and our model also featured Audi Magnetic Ride (£1,395 option) which is an adaptive dampers system that continually adapts the function of the shock absorbers to the driver's style and the road conditions. Despite this clever set-up the ride can be a lot more juddery in Dynamic mode where you can expect to feel the full force of any minor pothole or uneven road surface. Drive the car in any other mode and it is a very effective system.
It is worth remembering though that this is a high-performance car delivering 310PS of thrills along the way so all-out comfort is not always the number one priority.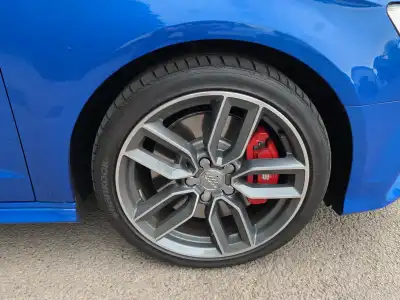 Styling
The Audi S3 Sportback is a beautifully-styled car with lots of eye-catching design cues. For starters, it has an athletic yet muscular silhouette with sleek curvaceous streamlining. There is a distinctive grille housing the Audi rings, smart LED light clusters with sweeping rear indicators, chrome trim and five-spoke 18-inch alloys. Red brake calipers with an 'S' printed on them (a £325 option on the test car) complete the look.
Move inside and the interior is equally impressive with soft-touch surfaces and the finest Napa leather upholstery. The body-hugging sports seats have an 'S' embossed into the leather, and there are sports pedals, along with the flat-bottomed multi-function steering wheel that are less than subtle hints that this is no ordinary A3 model.
When it comes to cabin refinement, you can virtually choose how loud or quiet you want a journey to be. Once again this is controlled via the Drive Select modes – stay in Comfort and it is very relaxed and refined. Switch across the Dynamic and the ride, comfort and noise levels are all accentuated.
It's also worth exploring the Individual setting as you can select this option and play mix and match with your preferred profile choosing your favourite throttle reactions, steering input, gear shift points etc.
In The Car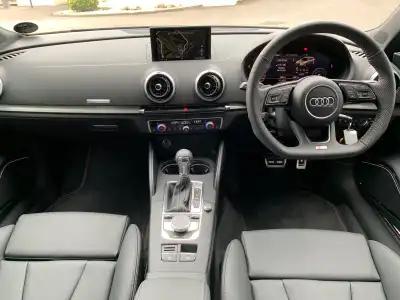 Behind the Wheel
Getting a comfortable driving position is a simple process with ample manual adjustment to the seat and steering wheel. From there all the controls, dials and readouts are well placed for ease of use.
There is quality at every turn without being too garish. For example, there is a pitch-perfect Bang & Olufsen sound system, an easy to programme navigation system, full smartphone connectivity via Apple CarPlay or Android Auto, dual-zone climate control, heated seats, a wireless mobile phone charger and a smart colour infotainment screen that rises from the dashboard when the car is started.
Navigating the systems is easy via the MMI rotary dial and there are buttons for quick access to the likes of the radio, navigation, media and telephone functions. The instrument readout can be personalised to offer the exact information you need, although I would suggest keeping the current speed as the most prominent figure with such blistering acceleration and power at your disposal.
I also liked the way the climate control is adjusted via practical dials and buttons and there is a volume control for the sound system. It's all very efficient and quite simple which is exactly what you need when driving a high-performance car.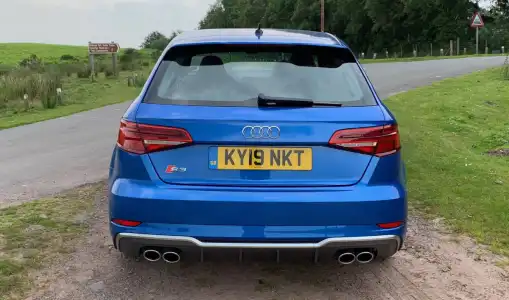 Space & Practicality
Ownership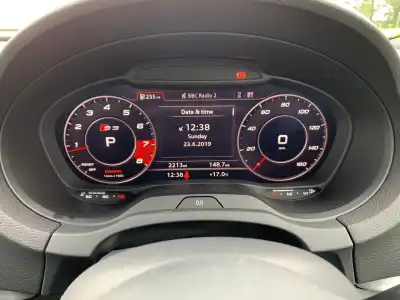 Running Costs
The test car was priced at £35,775, but as is the way with premium manufacturers, a number of optional extras saw the final cost rise to £42,430. Although £7k of extras may not sound that much, it is the cost of a new Dacia Sandero!
The extras on our car included adaptive cruise control, those red brake calipers, a comfort and sound pack, a technology pack, the Audi Magnetic Ride along with parking sensors.
According to official figures, the test car could deliver combined fuel economy of 33.6-34.9mpg under the stricter WLTP guidelines with carbon emissions of 158g/km. That C02 figure would result in a first-year Vehicle Excise Duty charge of £530 dropping down to £145 after the first year.
However, as from April this year, an additional £320 fee applies to cars costing more than £40,000 for the first five years of standard rate payments. It means it is well worth weighing up those optional extras.
The insurance group rating for the Audi S3 Sportback is 40.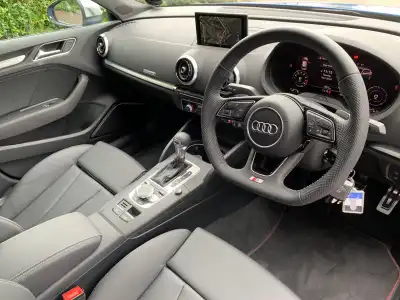 Quality & Reliability
Audi has a solid reputation when it comes to reliability. The upholstery is crafted from the finest Nappa leather and features neat white contrast stitching. It looks beautiful but also feels like it has been made to last.
The switchgear is also nicely styled yet feels sturdy in its design. There are no flashy gimmicks on this car that could go wrong and mechanically, the tried and tested 2.0-litre engine, should run and run.
Audi secured a JD Power award for dependability recently, but one area existing customers often feel the brand could improve upon is servicing and repair costs.
The car comes with Audi's three year, 60,000-mile warranty.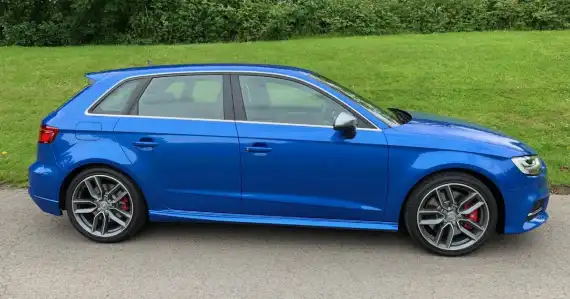 Safety & Security
The Audi S3 Sportback is packed with safety features and driver assistance systems that helped it secure the maximum five stars when it was tested for its Euro NCAP safety rating.
It comes with electronic stability control, traction control, an anti-lock brake system with electronic brakeforce distribution, multi-collision braking, tyre pressure monitoring and a full suite of airbags.
There is active lane-keep assist, automatic brake assist, emergency assist and adaptive cruise control which was a £475 optional extra on the car.
An active bonnet helps to protect pedestrians in a low-speed accident and there are Isofix fixtures to secure a child seat.
The car has Audi's acclaimed Quattro all-wheel-drive system to keep you firmly planted no matter how drastic the weather or driving conditions are.
A Thatcham Category One alarm and immobiliser is fitted to help protect the vehicle from any uninvited attention.
More On This Car
Take one for a spin or order a brochure
Request a Audi A3 brochure
Request a Audi A3 test drive