Pros:
Ferocious acceleration

Much cheaper than rivals

Superb interior
Cons:
Not especially good looking

Poor fuel economy

High road tax
Speak with our Concierge team to discuss your car buying options
Request a free call back
Introduction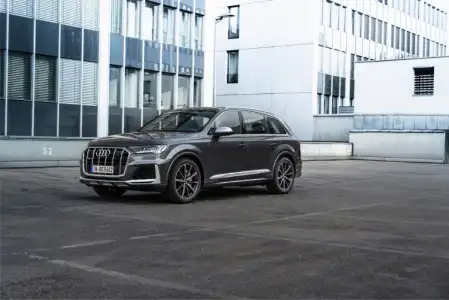 Despite diesels getting a bad name in the last couple of years, it still seems odd in a fuel economy-driven world that a car manufacturer would dump a diesel engine for a petrol one.
But that's what Audi has done with the new SQ7. Out goes the 435PS diesel, and in comes the brand new 507PS twin-turbo V8 petrol.
In all honesty, though, performance cars have always been about petrol, so fans of the super-fast offerings from German family car manufacturers won't be shedding too many tears.
Audi may have felt it needed to do something given the competition, with BMW launching the X7 M50i since the SQ7 first rolled off the production line, not to mention every luxury car maker – namely Jaguar, Lamborghini, Aston Martin, Bentley and Rolls Royce – launching its SUVs. Let's not forget Porsche, either, who has more experience in this game than most, not to mention Land Rover.
The SQ7 is available in three trims. The entry-level, which we're driving, is called SQ7. Next, there's the Black Edition (which, as the name suggests, makes almost everything on the car black) and finally, Vorsprung, which adds in a head-up display, heated front seats, laser main beams and a Bang & Olufsen stereo system.
Performance-wise, though, all are identical, so we're testing the standard SQ7.
On The Road
Performance
Audi's new behemoth is expected to impress on the road, but the main concern will be the extent to which its 2.2-tonne weight holds it back.
Encouraging first impressions are given as you push the starter button, with the V8 making its presence known immediately before it sits there ominously burbling away.
Any remaining fears dwindle as soon as you push the accelerator, as it pounces into life. But, of course, if you're in stop-start traffic, you'll probably want to be a little careful not to rear-end whatever's in front of you.
Outside traffic jams, though, it's ferocious, with a big V8 roar and an impressive 4.1-second 0-62mph time to match. This is quicker than a Range Rover Sport SVR and even an Aston Martin DBX. The SQ7 eventually tops out at a limited 155mph.
The eight-speed automatic changes quickly, and the overall performance in a straight line is awe-inspiring for a car so big.
As stunning as the power is, the vehicle is perfectly capable of being civilised, too. There are several driving modes, and the suspension system can be adjusted at the push of a button to help set the car up for your driving experience of choice.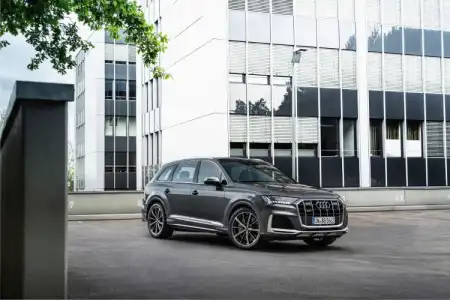 Ride Handling
The ride comfort is impressive, given the SQ7 comes with 21-inch wheels, although you get 22-inch rims if you opt for the Black or Vorsprung editions.
The weight is far more noticeable around corners, and there is a fair bit of lean. The old SQ7 had a feature called active roll stabilisation, which has been removed from the new one. We're confused as to why, as its primary purpose was specifically to limit the body roll, and it seems odd to not include it, given the SQ7 is the one Audi likely to need it the most.
Nevertheless, the performance can be toned down and when in comfort mode, it can be a relaxing motorway cruiser, while the air suspension smooths out potholes and bumps in the road.
Rear-wheel steering is also standard, which helps with the turning circle at low speeds and cornering agility at higher speeds. Mind you; take the word 'agility' with a pinch of salt. Audi's done an excellent job, but this is a big lump with a high centre of gravity, so there's a limit to what even the best German engineering can do to combat the forces of nature.
Styling
At the front, you get Audi's now trademark colossal grille. There are big air intakes on either side at the bottom, but, in all honesty, it doesn't look as aggressive as its performance suggests.
Matrix LED lights are included as standard, which can automatically blank bits out to avoid dazzling oncoming vehicles.
The lower air intakes curve round, so they're visible side-on. You'll get silver mirrors, as is traditional with performance Audis, while the styling of the doors has been made to look sportier.
Around the back, you'll find a diffuser at the bottom and quad tailpipes sitting either side, with a modest roof spoiler overhanging the rear window. There's also a different coloured line along the entire width of the boot lid, which breaks up the main body colour.
The original Q7 looked a bit bulbous, but the car still seems pretty rounded from most angles despite Audi opting for more aggressive jagged lines in recent years.
In The Car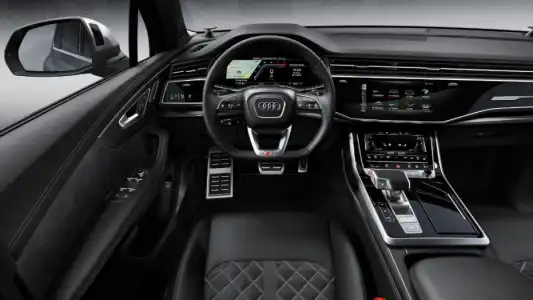 Behind the Wheel
The interior is much like the regular Q7 – but that's not a bad thing. Nowadays, Audi has pretty much the best cabin you can get.
One screen is not enough for Audi nowadays – many of them, including the SQ7, now come with three. The central infotainment screen sits above another touchscreen from which the air conditioning system is controlled.
The third screen comes in the form of a digital driver's display, which replaces the traditional analogue dials behind the steering wheel.
The sports seats, which are standard in all SQ7s, are very comfortable, while you get aluminium kick plates on the doors, as well as aluminium pedals.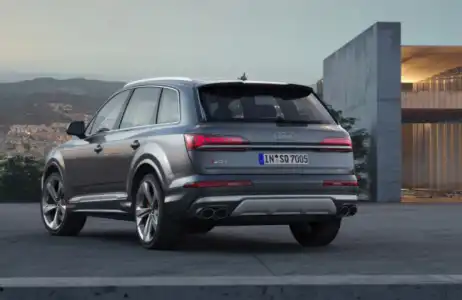 Space & Practicality
The SQ7 has a decent amount of space inside, especially in the front.
The middle row, too, is perfectly suitable for adults. The seats recline and can slide forwards and backwards individually. The rear chairs are a bit of a squeeze, though, and you'll find more room in the back of a BMW X7 or a Land Rover Discovery.
You get 295-litres of space in the boot with all seven seats up. This expands to 705-litres with the rear seats down and to 1,890-litres if you also fold the middle seats away.
That's pretty good, though; with all seven seats in place, you'll be getting 356-litres on a Volvo XC90. Volvo doesn't have an equivalent mega-powered version, though.
Ownership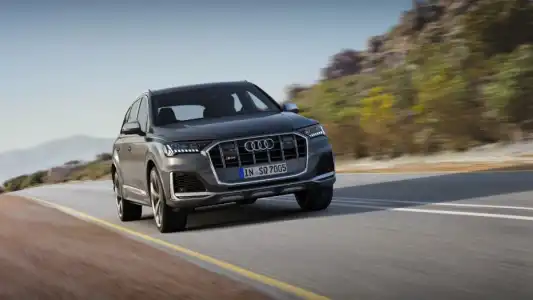 Running Costs
The SQ7 shuts off four of its eight cylinders when they're not needed, saving on fuel. But when we say 'saving', we're not really sure you're saving very much.
Admittedly, if you can afford an SQ7, then you're unlikely to be too put off by the cost – or indeed the regularity – of refuelling it. But the model manages just 23.3mpg – and if you're driving this as a performance car, which you will (that's sort of the point), then you'll be lucky to hit 20 in the real world.
Of course, low mpg figures tend to correlate to high CO2 figures. So, unsurprisingly, the SQ7 produces 276g/km of CO2.
That's comfortably in the top bracket for road tax. That means £2,245 for the first year. Then £490 for each of the next five years. Then you'll finally be paying £155 a year like everyone else, by which time the next version of the SQ7 won't be all that far away.
As a result, this isn't likely to be very high up the list for company car owners.
Then again, like the fuel economy, if you can afford one of these, maybe you won't care.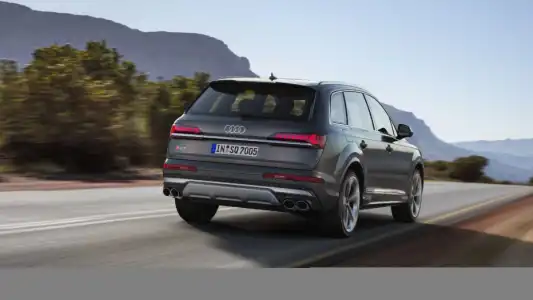 Quality & Reliability
As with all German car manufacturers, Audi lives off a historical reputation for reliability, but more recent surveys have questioned whether this is still really the case.
Audi has been slipping down the order in recent years – even on customer satisfaction surveys – although the old Q7 proved to be a reasonably reliable car, with no pattern of significant malfunctions.
A standard three-year, 60,000-mile warranty is included with the vehicle, which should offer some peace of mind.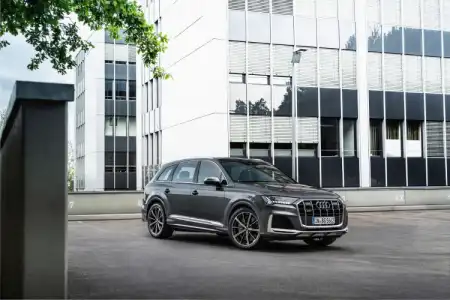 Safety & Security
Euro NCAP tested the basic Q7 in 2019, and, perhaps not unexpectedly, it earned a five-star safety rating.
It scored 92% for adult occupants, 86% for children and 72% for safety assists.
You get Pre-Sense, which detects traffic in front of you, a 360-degree camera, traffic-sign recognition and lane departure warning. At the same time, the optional Tour Pack offers adaptive cruise control, collision avoidance, turn assist and lane departure warning with emergency assist.
Summary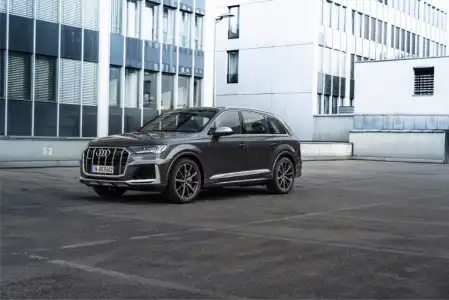 The SQ7 is a very pleasant surprise. It's remarkably quick for such a big car, and it packs in a superb interior.
And, while the £77,000 price tag sounds expensive, you need to put it in context, as the comparison is stunning. A BMW X7 M50i costs £18,000 more, while you'll be needing an extra £25,000 for a Range Rover Sport SVR. If you pick the Mercedes-AMG GLS 63, you'll need to find an additional £50,000, so these figures are worth bearing in mind even if you intend to lease one.
Therefore, in context, the SQ7 is excellent value for money.
There are downsides, though. Its looks aren't a lot to write home about, so you're better off driving it than gazing at it. But, when you drive the car, you'll be calling at every petrol station on every journey you make. And you'll need to make many of those trips. Why? Because you'll want to avoid being at home, as the taxman will be sending men in black suits round to pick you up by the ankles and shake every last penny out of your pockets to collect all that road tax.
On the other hand, if you're mad enough to want a giant seven-seater 4x4 that gets from 0 to 62mph in 4.1-seconds, you might be the type of person who considers all the above an exciting adventure.
Speak with our Concierge team to discuss your car buying options
Request a free call back