Pros:
Superior engine performance and sound

High-quality, pleasing interior

Reasonably practical for its size
Cons:
Adaptive suspension costs extra

Rivals have sharper handling

Rivals have sharper handling
More On This Car
Need more information?
Request More Information
Introduction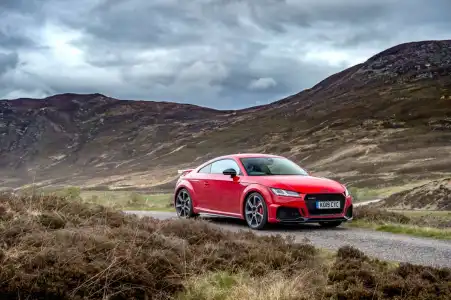 If the natural sportiness of an Audi TT isn't enough for you, then the RS version should help make up for it.
The original ultra-fast edition of the German manufacturer's most popular sports car was long-awaited, coming out 11 years after the standard TT first hit the road.
It didn't disappoint. But how does the latest model stack up, given it's got competition from the Porsche 718 Cayman S, the Alpine A110 and the BMW M2? The Toyota GR Supra is also a rival – and possibly one you may not have considered.
Many manufacturers don't bother with trim levels for their superfast versions. These are already top-of-the-range versions, so having an 'entry level' would seem pointless. Not so Audi, though, which offers three trims for the RS.
The nameless 'basic' model features 19-inch alloys, RS sports suspension and brake system, four driving modes, plus LED headlights and taillights. It also boasts RS body styling, electrically adjustable folding and heated door mirrors, heated super sports front seats with Nappa leather and four-way electric lumbar support. Plus, you get a leather interior, stainless steel pedals, an Alcantara gear lever, leather and Alcantara steering wheel, a 12.3-inch digital instrument and infotainment display (with Apple CarPlay/Android Auto) and a DAB radio.
The mid-range Sport Edition adds 20-inch alloys, an RS sports exhaust system, a black styling pack and carbon inlays.
The flagship Vorsprung grade adds Audi Magnetic Ride (which provides adaptive suspension), matrix LED headlights, electrically adjustable front seats, a Bang & Olufsen sound system, and a range of driver assistance systems.
All variants are propelled by the same 2.5-litre turbocharged petrol, which produces 400PS with the help of five cylinders. It's a quattro, too (which, of course, is Audi speak for four-wheel drive).
We're testing the coupe version, although there is a convertible – the Roadster – for those who like to do a lot of hair waving.

On The Road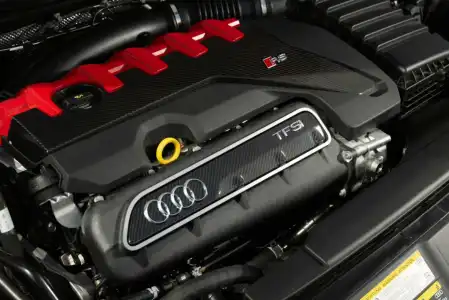 Performance
Let's cut to the chase: nought to 62mph is dealt with in 3.7-seconds, quicker than the Cayman S, M2 CS, A110 and GR Supra.
It's knocking on the door of supercar territory in engine performance, with an electronically limited top speed of 155mph. However, you can pay a shade over £1,500 for Audi to remove the limit, which will let you hit 174mph instead.
The acceleration feels as fierce as the 0-62 time suggests. Meanwhile, the engine sounds nice with a reasonably deep burble, even while idling on the driveway.
The seven-speed DSG gearbox shifts smoothly, often popping at the exhaust, especially when changing down. It's a great way to annoy your neighbours upon your return.
For rivals, it's a case of 'good but not good enough' for acceleration. But the Audi's engine note is in a different league.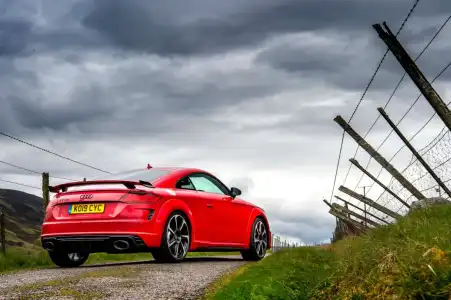 Ride Handling
The quattro system provides heaps of grip, helped by the car automatically shifting the power forwards and backwards, depending on where it's needed.
Nevertheless, what it gains in performance, it loses in the corners. It still handles excellently and is fun to drive on twisty backroads as you try to take it to its limits. But even with what Audi calls 'progressive steering', which increases precision at higher speeds, its rivals feel nimbler when a quick change of direction is required.
A lot of this is because of the sheer grip provided by the four-wheel-drive system. Its rear-wheel-drive rivals are marginally easier to place in the bends than the TT RS.
There are four driving modes – Comfort, Auto, Dynamic, and Individual. Dynamic provides the best overall driving experience. But all the settings do what they say on the tin, with the latter allowing you to set the car up based on your preferences.
As you'd expect, the ride is on the firm side, but it's not unduly uncomfortable, even on larger 20-inch wheels. The adaptive 'Audi Magnetic Ride' is a helpful addition, too.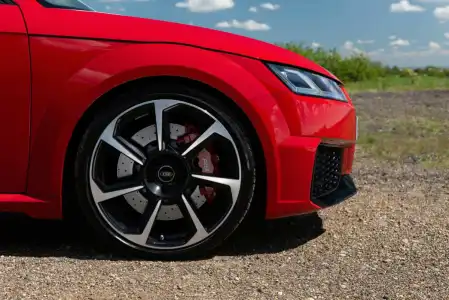 Styling
The Audi TT has always had a specific shape. And despite being in its third incarnation, it has retained its good looks throughout its near 25-year lifespan.
It needs little explaining then. But the RS version adds a rear wing spoiler at the back along with two wide exhaust pipes and a diffuser. Meanwhile, the front is more aggressive, with straighter lines and edges, larger air intakes, a splitter and a meatier front lip.
The side skirts are bigger, the wheel arches are more pronounced, and black door mirrors complete the look.

In The Car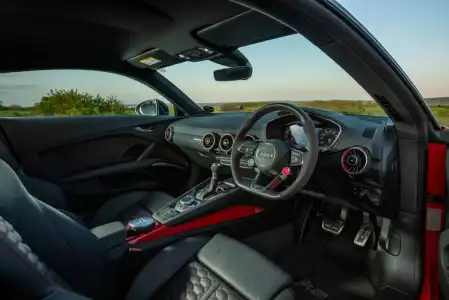 Behind the Wheel
Audi is responsible for some of the nicest interiors on the market, and the TT RS doesn't dissatisfy.
The flat-bottomed sports steering wheel is thick to hold and looks racy. And while it may look a bit simplistic with no infotainment screen, the cabin nevertheless retains an inviting aesthetic, with round jet engine-like air vents and plenty of silver garnish.
The Virtual Cockpit is inviting, sporty-looking and functionally informative without being distracting. That's despite it also taking on the dual role of being the main infotainment display - but it's easy to get used to, helped by the dial on the centre console.
The materials used give an air of quality, even with the plastics.
Visibility isn't bad considering it's a sports car. However, you don't feel as low to the ground as you expect, given what you're driving.

Space & Practicality
Sports cars aren't built to be roomy, and the TT RS is no exception. Nevertheless, you don't feel claustrophobic, and it's not hard to find a comfortable driving position, even if you're tall.
Rear seat passengers may disagree, though. There are two seats in the back, and they're only suitable for small children.
There's a decent amount of storage space inside, considering the car's more diminutive stature. You get well-sized door bins, a cupholder and a generous glove compartment.
The Roadster version is only a two-seater, so that's worth bearing in mind if you do need to take a couple of kids with you.

Ownership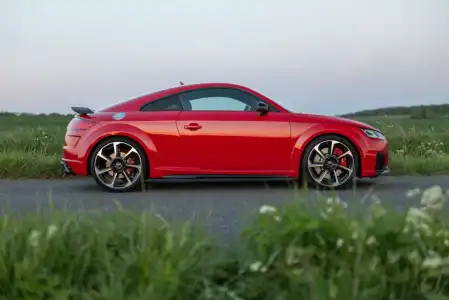 Running Costs
Nobody buys or leases a performance car to save money in this department, but the Audi's fuel consumption figures aren't alarming, at around 30.5mpg.
Emissions measure in at 181g/km of CO2, which, again, is reasonable considering the clout at your disposal.
Nevertheless, in an era where hybrids are managing hundreds of miles to the gallon and emissions are measured by the microgram, it isn't viewed favourably by the taxman for your annual road tax. And you'll get even fewer financial favours if you want to use the TT RS as a company car.
Servicing plans are available, but they're not cheap. You can easily expect to be paying over £350 for a full service.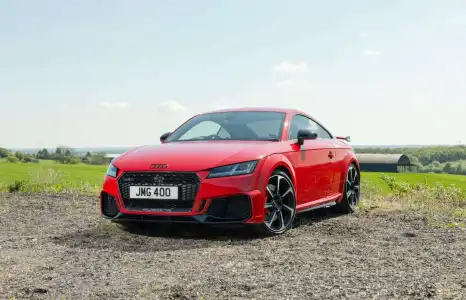 Quality & Reliability
Audi's build quality seems as good as ever in terms of its materials. But German car reliability is almost becoming a thing of the past, with the Far Eastern brands surging ahead.
Repairs won't come cheap, so you'll want to hang on to your three-year warranty paper to be on the safe side. It's unlimited for the first two years, while the third year is limited to 60,000 miles.
You can upgrade to a four-year (75,000-mile) or five-year (90,000-mile) warranty if you prefer.

Safety & Security
The Audi TT hasn't been crash-tested by Euro NCAP since 2015, so its rating has expired.
It was graded as four stars last time, scoring 81 per cent for adult occupants, 68 per cent for children and 64 per cent for safety assists. These are all relatively low scores compared with most cars assessed today.
Nevertheless, you get lane-keep assist as standard, cruise control, hill-hold assist, automatic high-beam assist, and electronic stabilisation control.
Audi side assist, which includes blind-spot monitoring, is included with traffic sign recognition, a tyre pressure monitoring system, and a rear-view camera on the Vorsprung trim. But they're all optional extras on the other grades.

Summary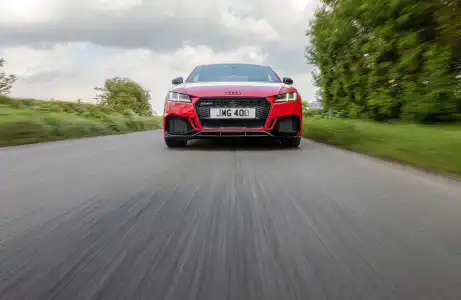 The TT RS is an excellent choice for those who want the thrills of a supercar but don't have a big enough bank balance for an Audi R8, a Lamborghini or a Ferrari.
It's exciting to drive and has lightning pace, while a typically Audi interior means there's plenty to keep you satisfied when stuck in a queue, unable to enjoy the performance.
Even when stationary, the engine note is by far the most pleasing compared with its competitors. Meanwhile, its boot will accommodate a half-decent shopping trip and (in the coupe) a couple of kids in the back.
Its handling isn't quite as keen as its challengers. The quattro four-wheel-drive system adds grip, but this compromises its agility somewhat. However, it's still superior to most cars you could drive, not to mention lots of fun.
The TT RS isn't the best option if you're the sort of person who tries unyieldingly to set the quickest possible lap time around a twisty track.
But for those who prefer drag-racing in a straight line, you'll struggle to find anything quicker without spending a lot more.

More On This Car
Need more information?
Request More Information