Pros:
Dynamic handling with powerful engine and smooth gearbox

Dynamic handling with powerful engine and smooth gearbox

Beautifully styled with lots of on-board technology
Cons:
Rear visibility is not great due to narrow back window

Interior seems quite cluttered

Limited headroom in the back
Buy and save on quality approved and used cars
Introduction
BMW's stylish 440i Gran Coupe has proved a popular choice the world over. The 4 series first broke ground back in June 2013 and has gone on to sell more than 400,000 units. The biggest single market is not surprisingly the US, but Great Britain and Germany are next in line.
The four-door Gran Coupe accounts for 50 per cent of 4 Series sales, while the Coupe and Convertible make up 25 per cent each.
In 2017, all three models were substantially refreshed with new design cues inside and out, plus some stunning colour options added to the mix.
As with most BMW models, even when it's narrowed down to the Gran Coupe body style, there's still a wide selection of trim, engine and transmission options, along with rear- or four-wheel-drive.
On The Road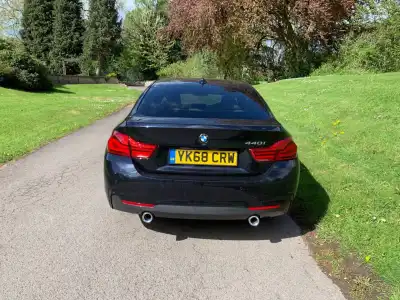 Performance
With a choice of fuel types, transmissions and spec levels to consider, it seemed easier to go for the range topping 440i M Sport Gran Coupe for our test drive. The 440i has a 3.0-litre 326hp petrol engine delivering 450Nm of torque. This results in a 0-62mph sprint time of just 5.1 seconds and top speed of 155mph.
BMW made its intentions clear when it developed the 4 Series Gran Coupe - it wanted a car that boasts thrilling sporting character, combined with precision handling for all-round driving perfection. And in fairness, they have pretty much achieved that goal.
The eight-speed automatic gearbox is beautifully timed for rapid fire gear changes and the rear-wheel-drive car grips the road like glue no matter how eagerly corners and bends are approached.
The body control is impressive and the 440i feels in its element clocking up high motorway mileage or blitzing the long country lanes with its perfectly weighted steering.
The surge of pace when overtaking is effortless and seems endless while there are drive modes called Eco Pro, Comfort, Sport and Sport+ that help maximise fuel efficiency or performance levels accordingly. The steering wheel-mounted paddles offer extra driver control when the mood takes you.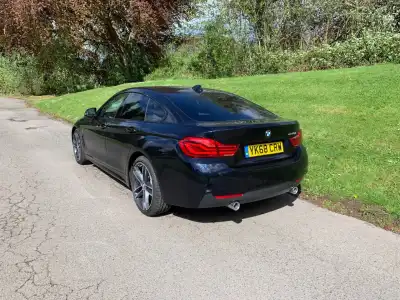 Ride Handling
BMW engineers have enhanced the latest vehicle's dynamic handling capabilities by revising the suspension set-up without compromising the car's ride comfort. There is now stiffer suspension featuring more advanced damping technology along with an upgraded steering system. It all sounds very technical, but the upshot of these advancements is reduced body roll, greater straight-line stability and precision steering.
The test car also featured Adaptive M Sport Suspension whereby highly sophisticated sensors constantly monitor driving conditions such as the speed, corner angles and road conditions thus allowing the driver to choose, via different modes, whether to drive with the highest comfort levels available or with the handling of a sports car. This system was part of a Dynamic Package costing £620 that also added Variable Sport Steering.
The latest 4 Series Gran Coupe also boasts a lower centre of gravity courtesy of a wider track, the revised suspension and improved traction control capabilities. These are all key factors when it comes to ride and handling.
Despite all the technical wizardry to improve driving dynamics, the 440i Gran Coupe is very comfortable, as are the optional sports seats that do an excellent job of supporting occupants as you explore all the Sport mode setting has to offer.
Styling
When BMW introduced its 4 Series range, sceptics believed it would be just a glorified, re-badged 3 Series. How wrong they were. The 4 Series Coupe that replaced the 3 Series Coupe was far sportier in its design, boasted enhanced driving dynamics and superior equipment levels.
And the latest 4 Series Gran Coupe's sporting DNA is unmistakeable too. It has a wide stance with short overhangs, stretched styling, a sloping roof and contoured flanks, along with the traditional BMW kidney grille, sweeping light clusters, 19-inch alloys and blue brake callipers.
The new interior features a number of upgraded features such as improved materials and a high gloss surround to the instrument panel. It has an upmarket feel to it without looking garish or over the top.
The seats on the test car were made from ivory white Dakota leather that looked amazing, but probably wouldn't be the wisest colour choice over time.
The newly advanced suspension technology does an excellent job of smoothing out the rough road surfaces, but you will still feel the occasional hard jolt or thud when you hit an unexpected ridge. The cabin is well protected against any outside noises such as road surface, wind or engine.
In The Car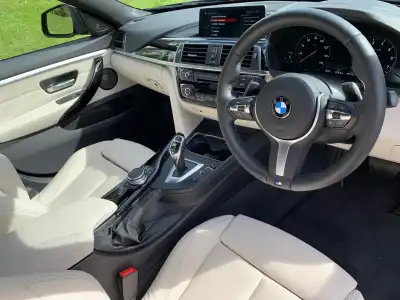 Behind the Wheel
Finding a comfortable driving position takes a matter of seconds in the 440i Grand Coupe thanks to the power adjustable seats and full adjustment to the steering wheel. And there are memory buttons to store your favourite settings.
You do sit fairly low down in the car and the driver has a great view ahead and sideways, but the rear window is quite narrow due to the sporting design of the car. The over-the-shoulder vision is also not that great because of the wide door pillars.
The cockpit is very driver-orientated as is the BMW way, and there's a wealth of on-board technology at hand. Features include BMW's intuitive iDrive infotainment system which features a dial that's easy to control on the move. There's a smart colour touchscreen, sat nav, DAB radio, Bluetooth and full smartphone connectivity via apple CarPlay and Android Auto.
A new user interface on the latest model offers tiles to access various system across three pages. This makes it easy to switch from navigation to music or vehicles settings etc.
There are separate control panels for the climate control which I like as you don't need to navigate an over-complicated menu to adjust the temperature. The seats and steering wheel can be heated to fend off the winter chill and the driver and passenger seats have full lumbar support for an extra £265.
The instrumentation is clear and precise and the readouts can be personalised according to taste. They also adjust as you switch through the modes with the Eco setting showing more data regarding energy levels and taking on a blue colour scheme, Comfort offers a more classic display and the Sport and Sport+ modes have a red theme and offer more in the way of performance data with engine revs and the likes.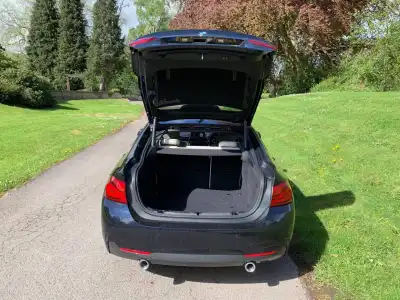 Space & Practicality
The BMW 440i Gran Coupe offers far more space and practicality than the Coupe model. For starters it gets four doors so there's easier access and also decent space for back seat passengers. The sports styling of the car does mean rear legroom is not fantastic but it is okay so long as the front seats are not pushed back too far. In addition, any middle seat occupant would have to straddle a large central tunnel which isn't ideal.
The boot is impressively scaled and has a capacity of 480 litres – a limit that can be increased to 1,300 litres with the 60:40 split-folding rear seats dropped flat. The boot lip is quite high so it's not easy to load really heavy or awkwardly-shaped items, but there's ample space for a couple of sets of golf clubs along with the trolleys.
Elsewhere, storage options include a lockable glovebox, covered front cup holders, nets in the seat backs, door bins, rear cupholders in the central armrest, a small compartment by the driver's right knee and a place to secure a phone in a central cubby that, unfortunately, was too small for my iPhone XR!
Ownership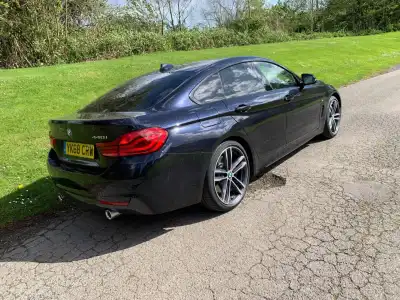 Running Costs
Our 440i Gran Coupe in M Sport trim was priced at £46,090, but as is the way with the premium manufacturers, there are a whole host of optional extras and packs that have quite an impact on the price. Our car included an Advanced Parking Pack, Driver Comfort Pack, Dynamic Package, M Sport Plus Package, a steering wheel heater, lumbar support, Apple CarPlay preparation, Online entertainment, a digital cockpit, Piano Black trim and Microsoft Office 365. With all these options factored in, the price-tag had reached £51,910.
The 4 Series Gran Coupe line-up starts from £34,635, so there are more reasonably priced versions of the car, but our test model certainly looked the business and the longer I spent in the car, the more the optional extras made sense – especially those connected with luxury or performance.
When it comes to running costs, the petrol driven 440i can deliver combined fuel economy of 33.6-34.4mpg (WLTP) with carbon emissions of 165g/km (NEDC). This would result in a first year Vehicle Excise Duty charge of £530 dropping to £145 the following year. However, from April 2109, the extra charge for buying a car costing more than £40k rose from £310 to £320 per year for the first five years.
The car sits in insurance group 38.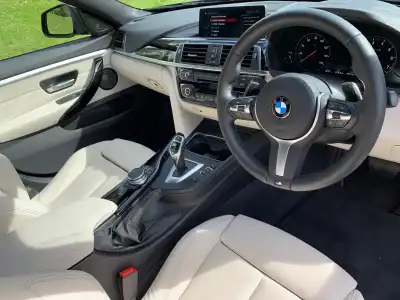 Quality & Reliability
BMW has a well-respected reputation for developing cars that are reliable and that enjoy a lengthy life and the 440i Gran Coupe is no exception to that rule.
It's dynamic styling with robust features looks tough enough to endure thousands of hard miles and the interior is designed with longevity as well as practicality in mind.
There is a nice combination of high-quality and luxurious materials plus practical hard-wearing surfaces. Although the piano black trim and touchscreen may be prone to fingerprints they are easily wiped away with a micro-fibre cloth.
The neatly-styled leather seats offer plenty of support and also look and feel like they will survive the test of time, although the light-coloured White Dakota leather may not be the wisest choice over time. All the switchgear appears sturdy in its construction too.
The BMW 440i comes with a three-year, unlimited mileage warranty.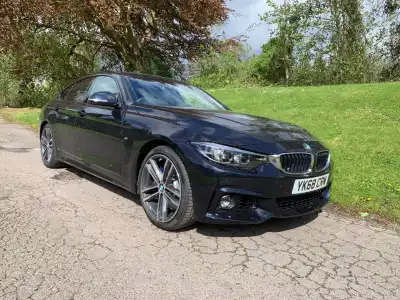 Safety & Security
BMW has an enviable reputation for packing its cars with all the latest safety kit and driver assistance systems to protect occupants, pedestrians and help prevent accidents occurring in the first instance.
Features on the 440i Gran Coupe include dynamic stability control, traction control, a full suite of airbags, Isofix child seat anchors, cruise control, lane departure warning and a Park Assist system that is part of the Advanced Parking Package costing £545. This will help locate a suitable parking space and then steer the car into the space while you follow the on-screen instructions and select the gears, while accelerating and braking.
And, as one would expect, the car is protected by an excellent alarm system to keep intruders at bay.
Buy and save on quality approved and used cars