From £38,075
Pros:
Takes estate-car practicality to a whole new level

Blistering performance and handling capabilities

State-of-the-art key that remotely starts the engine and moves the car with you on the outside
Cons:
The 2.0-litre model could be just as suitable and cheaper

No seven-seat option

Watch your speedo, it's deceptively fast for an estate car
More On This Car
Take one for a spin or order a brochure
Request a BMW 5 Series brochure
Request a BMW 5 Series test drive
Introduction
Not many companies offer estate cars in their line-ups any more. Well, they do, but they come with fancy titles now such as tourers, touring and sportswagon to name just a few.
BMW opted for the 'touring' label and the latest BMW 5 Series Touring model is packed with cutting edge technology. It's a versatile all-rounder that ticks all the boxes when it comes to family practicality, but it also offers outstanding handling capabilities along the way.
It looks the business too with adaptive LED headlights, a panoramic glass sunroof, roof rails and smart alloys. The interior oozes premium styling and is packed with all the essential infotainment equipment along with the likes of Ivory White Dakota leather upholstery to give the car an upmarket and premium feel.
And for anyone who prefers to veer away from estate car designs, the 5 Series is also available in a sleek saloon body style.
On The Road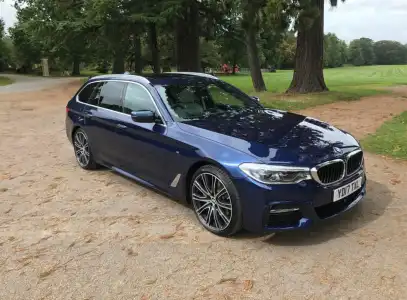 Performance
We tested the 5 Series estate powered by the same 3.0-litre 265bhp diesel engine that drives the saloon car and it's quite the powerhouse. Performance figures rarely lie and this car can complete the 0-62mph dash in a rapid 5.6 seconds before maxing out at an electrically-limited top speed of 155mph.
Our test car was in high-end M Sport spec too which gives the vehicle the visual edge over its rivals thanks to more aggressive body kit, such as deeper and wider front and side air intakes, deeper bumpers and larger alloys.
There is also M Sport suspension which helps the car corner better with extra grip and without any hint of body roll into tight bends.
Yet it really is the manner in which the 530d handles that makes it stand out from the crowd. Whilst boasting blisteringly fast sprint times, the car feels exceptionally composed as it accelerates through the eight-speed automatic gearbox with a constant supply of power on tap at all times.
But keep a watchful eye on your speed because this is a car that reaches national speed limits in the blink of an eye. The head-up display proved of great assistance when monitoring speed.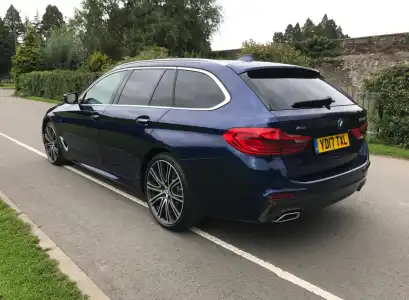 Ride Handling
Tourers or estate cars are designed to be practical with vast volumes of storage space, but they also need to provide the optimum levels of comfort for the business driver who regularly clocks up the high motorway mileage. The BMW 530d Touring does just that. Whilst all the speedster's wishes will be granted, the car is as smooth as silk across the Tarmac.
Despite its lengthy dimensions measuring just over 4.6 metres from bumper to bumper, the 530d is beautifully agile and easy to manoeuvre. Having driven the saloon on another occasion, I would say the Touring version is just as balanced and composed – it just adds the extra storage space for the fleet market.
For added assistance at night time the test car featured a Visibility Package which adds high beam assist which automatically dips and selects high beam according to traffic and lighting, along with headlight wash and adaptive LED headlights that are directed according to the driver's steering input.
These additional features which, along with other add-ons, saw the price of the test car rise from £50,555 to £64,585, are always worth mentioning as they make a world of difference if you plan on completing lots on night driving.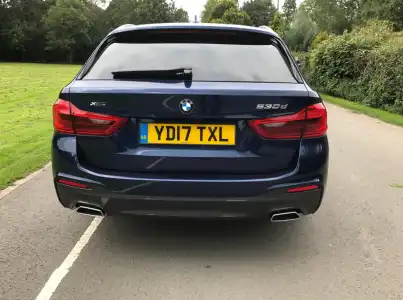 Styling
The interior of the BMW 530d oozes elegant sophistication and premium styling. The Ivory White Dakota leather upholstery looks amazing and there are soft touch surfaces and beautifully crafted inlays to complete the look.
BMW has ensured there is a wealth of on-board technology to explore, including all infotainment and connectivity set-ups, along with online services, sat nav, music and other systems that are easily accessed via BMW's traditional iDrive dial. There is a 10.2-inch colour touchscreen and a smart digital instrumentation system.
The car also featured Deezer which allows you to download any albums in a matter of seconds to keep you amused on long journeys. It is fast too and within minutes, I had a selection of my favourites ready to play as I set off on my test drive.
Within the car, occupants are treated to near-silent conditions thanks to the vehicle's excellent insulation system and the adaptable suspension system makes the roughest of road surfaces appear smooth.
In The Car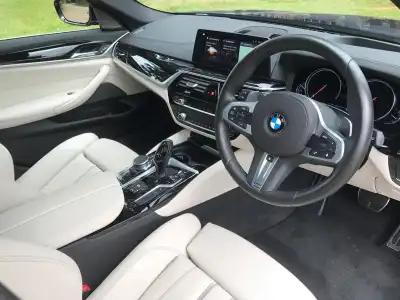 Behind the Wheel
With ample seat and steering wheel adjustment, it's quick and easy to find the perfect driving position. But this car has another trick in its box in the shape of its key. Unlike most car keys that simply lock and unlock a vehicle and sometimes open the boot, the BMW 530d has a proximity key which means if you are standing close to the car, I emphasise 'standing' then you can start the engine and actually move the car forwards or backwards.
This might sound like a gimmick, but is the perfect solution if garage space is tight and even if you get blocked in at a car park. But, a word of warning – if you lose the key, a replacement could set you back something in the region of £350.
Behind the wheel it feels like the car has been specifically designed to suit your requirements with all controls and instrumentation perfectly positioned for usability. One feature that takes a little getting used to but is certainly worth persevering with is the Gesture Control. By moving your fingers accordingly, you can adjust the volume of music, change radio stations and even answer or dismiss calls.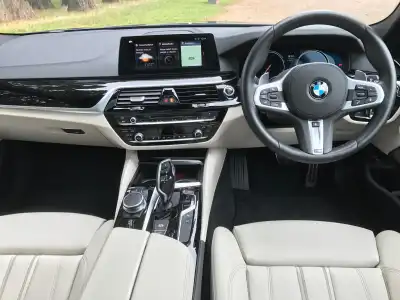 Space & Practicality
Tourers or, as we used to call them, estate cars need to be exceptionally practical especially in a day and age when buyers are determined to get their hands on SUVs. And the 530d certainly offers the complete all-round package. The boot capacity ranges from 570 litres to a whopping 1,700 litres with the 40:20:40 split-folding rear seats dropped flat, which can be achieved at the press of a button.
The tailgate can be opened automatically which can be most handy when approaching the car laden down with boxes or shopping bags.
And elsewhere, there are numerous convenient storage options scattered throughout the car, including door pockets, practical cup holders that will safely house a takeaway coffee, a generously-sized glovebox and deep central bin.
Access to the back seats is made simple thanks to the wide opening doors and a trio of adults can sit comfortably with enough leg, head and elbow room to stretch out.
Large windows and the panoramic sunroof allow plenty of light to flood into the cabin which is another plus factor.
Ownership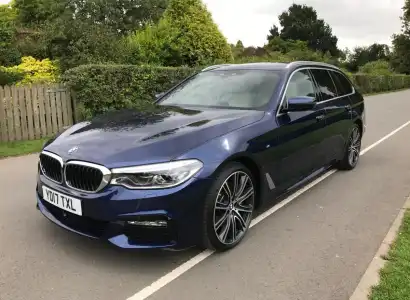 Running Costs
The test car carried a price-tag of £50,555, but like most vehicles in the premium executive sector, it's easy to see a hefty cost increase with optional extras added.
In the case of the test car, a Visibility Package, Technology Package, Comfort Package, M Sport Plus Package, along with a number of other extras saw the price climb to £64,585. But it's worth mentioning that this was the range-topping, all-singing, all-dancing version and there are plenty of alternatives to suit cheaper budgets with prices for the Touring model starting from less than £40k.
Despite the car's outstanding performance capabilities it can, according to official figures, deliver combined fuel economy of 51.4mpg with carbon emissions of 144g/km.
That would result in a Vehicle Excise Duty cost of £200 for the first year which is reduced to £140 after that.
The insurance group rating for the car is 41.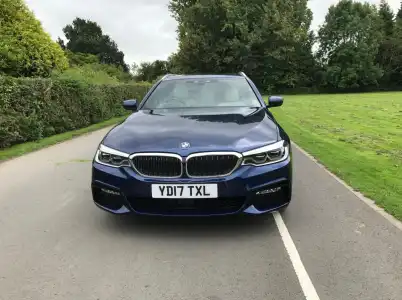 Quality & Reliability
The BMW 530d comes with a three year/unlimited-mileage warranty and the Bavarian company has an excellent reputation for reliability.
Despite clocking up almost 400 miles in the test car there were no signs of any creaks or annoying whistles and rattles – the cabin was beautifully refined.
The doors closed with a reassuring thud and it felt sturdy and well put together without feeling like a tank.
The switchgear looked like it will last the test of time and the surfaces could easily be wiped clean in the event of a spill.
I think from a personal preference that the Ivory White Dakota wouldn't be the wisest of moves. Whilst it looks fabulous, I think it could begin to age faster than other features within the car. Maybe a more practical shade would be more suitable to the business driver.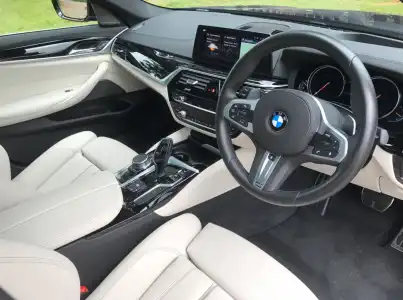 Safety & Security
The BMW 530d secured the maximum five stars when Euro NCAP tested it and it boasts a whole host of innovative features to protect passenger and pedestrians alike, along with driver aids to help prevent accidents from happening in the first place.
Driver assistance systems include collision warning and pedestrian warning with a city braking function. There is active cruise control which helps keep a safe distance from the vehicle in front, steering and lane control assist which keeps the car between the white lines and plenty more besides.
And the optional Visibility Package adds excellent lighting features which is a huge benefit if driving down country lanes in the dark. They lit up the road perfectly and the beams of light moved according to my steering input. The high beam flicked on and off as other road users approached and passed and it was a smooth process. I have driven cars where the main beam takes an age to reactivate but that certainly wasn't the case with the BMW's system.
More On This Car
Take one for a spin or order a brochure
Request a BMW 5 Series brochure
Request a BMW 5 Series test drive