Pros:
Immense levels of comfort

One of the best interiors in its class

Hybrid powertrain available
Cons:
Not cheap

Expensive options
More On This Car
Take one for a spin or order a brochure
Request a BMW 7 Series brochure
Request a BMW 7 Series test drive
Introduction
On The Road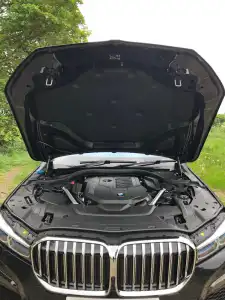 Performance
If you're going to buy yourself a new BMW 7-series, you won't be short of options when it comes to performance. The new 7 gets 6, 8 and even 12-cylinder engines to choose from with power coming from either petrol, diesel or hybrid units.
The headlining unit is the '760Li' which gets BMW's full-fat, full-sized 6.6-litre V12 that is one of the largest engines you can find in any production car. It offers unrivalled smoothness and around 580bhp, good enough to send the heavy long-wheelbase 7 to 62mph in under 4-seconds. It is a remarkable engine, but you can virtually double the starting price if it's the one you want. 4.4-litre V8 petrol units may be a good alternative – still smooth, still powerful and slightly better in terms of price and efficiency, and available in the short-wheelbase models.
In the hybrid powertrain, a 6-cylinder petrol engine combines with an electric motor for an all-electric range of over 30-miles, while still providing close to 400 horsepower and sub-100g/km of average CO2 emissions. It'll be the one you want if you need to beat inner-city emissions charges in the near future.
Lastly, there are the diesel engines – all three are straight-six units and offer that balance of efficiency and power. All can push the 7-series to 62mph in under 7-seconds. Longer distance drivers may well earmark this one as the engine of choice. Whichever engine you do fancy though, it'll be an 8-speed automatic tuned for the engine of your choice that swaps the cogs for you.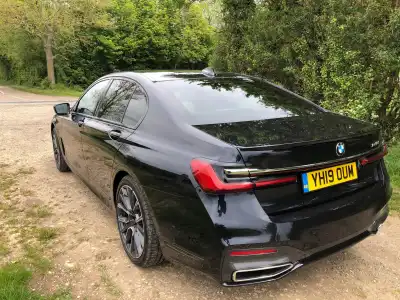 Ride Handling
Well, as expected, this is a large car, and so it feels big when you drive it, but it doesn't feel clumsy in any way. The steering gives the same sense of confidence as it does in all BMW models, and the body feels gentle and controlled in corners. The fact is though; it doesn't particularly matter how well this thing handles as it's all about the comfort and refinement. Adaptive air suspension is present across the range, bringing a sedate and relaxing sense of control that you appreciate when you're driving on UK roads.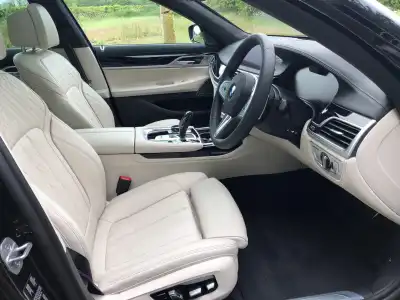 Styling
Of course, that suspension helps play a significant role in the refinement of the new 7-series. It is delightful, feeling like an overqualified candidate in the way it ferries you around from A to B in absolute comfort. It simply won't allow you to have a bad journey. Regardless of the engine you choose, your ride will be as quiet as possible thanks to some excellent insulation and laminated 5mm thick glass. If you're sitting in the spacious rear seats, you even have the option of using one of the two 10-inch full-HD displays and a Blu-ray player. From there, you can access entertainment, navigation and even online functions of the 7-series and keep yourself entertained and up to date on those long drives across the country.
The high levels of space found in the long-wheelbase version and the swathes of leather on the supportive seating make this a truly exceptional vehicle to drive or be driven around in. It's a hugely relaxing experience – and we particularly like the atmosphere that the ambient lighting gives when the sun goes down.
In The Car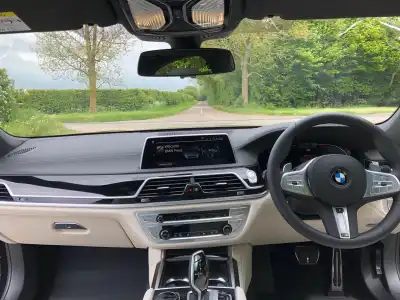 Behind the Wheel
Class is the word here; the new 7-series is rich in class, with an excellent fit and finish behind the wheel. Indeed, everything you touch and look at feels top drawer. When you're feeling a bit stressed or tired, getting into the driver's seat and closing the door feels like entering a high-end hotel bedroom - it's quiet, withdrawn, and beautifully equipped.
On the other side of the steering wheel, you'll find digital dials, adding to that sense of advanced technology that this car possesses. A large central console doubles as a substantial armrest and helps you get into an excellent position for long distances. BMW's famous 'iDrive' system is also present, one of the most straightforward and easiest-to-operate infotainment systems found on the market.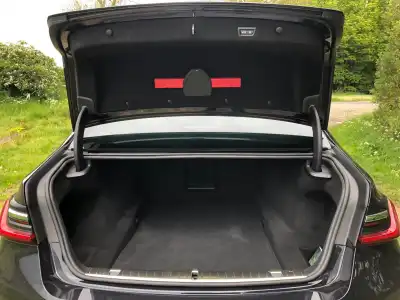 Space & Practicality
Space is not going to be a problem with the new 7-series, but if you want to maximise your room, then the long-wheelbase model is the one to go for. This allows passengers in the back to potentially stretch out their legs entirely with the front-passenger seat moved out of the way. Space for legs, knees and heads is good regardless, though, and it's unlikely anyone will find this car too short on room unless they're a 7-foot-tall basketball player.
In terms of boot space, there's 515-litres worth for you to stash suitcases and sets of golf clubs into. It's not the largest load area, but it's going to be enough for 9 out of every ten
Ownership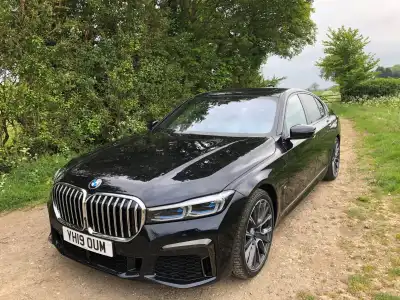 Running Costs
Many of the customers for the BMW 7-series won't be overly worried about running costs. This is a very high-end machine that attracts a specific clientele. At around £139,000 to buy, the 282g/km of CO2 emissions pushed out by the 760Li, and its 6.6-litre V12 is by far the worst in terms of expense. And, if you see more than 20mpg from this colossal engine, you're doing well. As a giant 12-cylinder unit, this will undoubtedly cost you more to maintain, but if you're buying one, you probably won't even care.
Diesel is where you'll want to go if you are at all worried about running costs. Oil-burners have a great background in BMW family cars, and in the 7-series you should be able to score 35 to 40mpg rather easily. At its worst, diesel power will put 149g/km of CO2 back out into the atmosphere, so it's perhaps not the best choice for business customers – that instead will be the hybrid.
The fuel-efficiency for this engine hasn't yet been put to the test, but the CO2 emissions have been quoted as being 52g/km average. What's more, the 30-miles or so that you have of pure-electric range will make it an attractive choice to anybody living within an urban environment, particularly as city governments clampdown on air pollution by handing out fines to anyone who needs to drive there.
As with any car of this size and technology, parts, tyres and servicing are going to be expensive and regular, as well as entirely necessary, to keep it running and cared for. Commit to it, and it should reward you over time.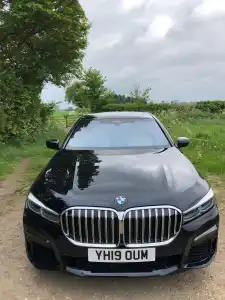 Quality & Reliability
There are no question marks raised over the quality of the BMW 7-series. As this is a flagship car, a showcase of what the company offers in terms of engineering as well as customer experience, you should expect top-notch levels of service, quality and reliability.
Any motor of this standing will require a lot of care over time, but many of the people buying it will switch to a new model upon release, and there should be no need to worry over the reliability of this car over the first three to five years of its life. In fact, the 7-series features an unlimited mileage warranty for the first three years.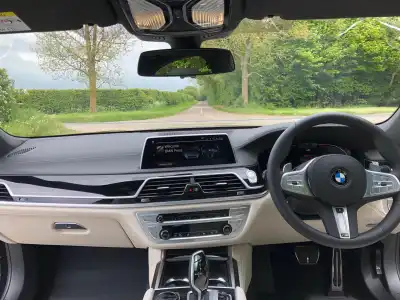 Safety & Security
The 7-series is packed full of technology, with sensors and cameras around the car helping to ensure you and the occupants always stay safe. There's a high number of airbags, too, to help protect you in the event of a collision. There's also a full complement of electronic stability aids that assist car control on the road - and in extreme conditions and during emergency manoeuvres. Furthermore, useful features, such as Active Cruise Control and a heads-up display, always make driving safer and are options undoubtedly worth having.
More On This Car
Take one for a spin or order a brochure
Request a BMW 7 Series brochure
Request a BMW 7 Series test drive