Pros:
You can finally say you own an 8-series again

High quality throughout

Exceptional engines
Cons:
Unconvincing exterior design

Not cheap
More On This Car
Take one for a spin or order a brochure
Request a BMW 8 Series brochure
Request a BMW 8 Series test drive
Introduction
When the original BMW 8-series showed up, it made a real impact with its stunning wedge-shape design. It looked like no other BMW product of the time and has been a profoundly popular car ever since. This 8-series is a little different though, being more of a successor and a rebranding to the BMW 6-series than something bright, drastic and new. Should that put you off? Absolutely not, this is a highly luxurious and powerful machine that'll give you a great sense of desire, regardless of BMW's business strategies.
On The Road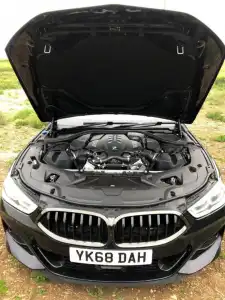 Performance
From launch, there is a choice of two engines available for the new 8-series convertible – a 3.0-litre turbocharged straight-six diesel engine with around 320PS, and a beefy 4.4-litre twin-turbo V8 petrol with 530PS. Both engines give a top speed of 155mph, but there's a 1.3-second difference between them in the 0-62mph sprint, with 3.9-seconds scored for the petrol V8 and 5.2-seconds for the diesel.
Regardless of your choice of engine, you'll be given an 8-speed automatic and 'XDrive' all-wheel drive to go with your power unit.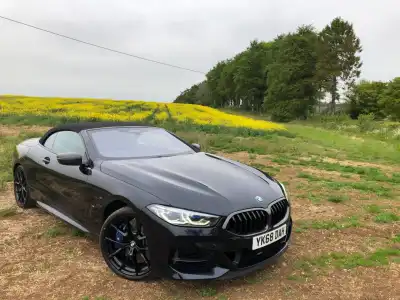 Ride Handling
You know precisely what you're in for with a BMW. It's one of those car brands you could get into blindfolded, drive – please don't do this, by the way – and know from the feel that it was one of the Bavarian boys.
BMW will tell you that the new 8-series convertible has sportscar performance, but this isn't really the case. It has sportscar speed, for sure, but in the corners, this heavy drop-top isn't something you feel confident chucking about. It's better to think of it instead as something more like a Grand Tourer - comfortable, composed, blisteringly quick and very well appointed. Anyone expecting bags of steering feel, nimbleness and involvement will simply be disappointed. This is much better taken on a long cruise across several hours of quality roads.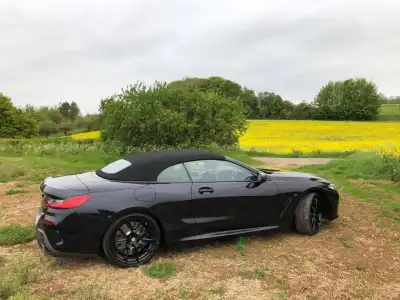 Styling
As with all the current range of BMWs, the new 8-series convertible does sophistication beautifully, providing you with a hugely comfortable driving experience. Despite the roof being a soft one, it is exceptionally well insulated. And driving with the roof up doesn't spoil the overall experience as it might in some older soft top luxury machines. That roof is fast too, opening and closing in just 15-seconds via the touch of a button, and it can operate at speeds up to 31mph. This is useful for when it inevitably starts raining suddenly as you're driving through town. With the roof down, BMW has done an excellent job of limiting the amount of breeze you're subjected too, with a useful wind deflector installed to help airflow.
As for the rest of the driving experience, it's typically BMW, with excellent levels of insulation, noise and comfort as well as a GT-style driving sensation. This, again, adds further evidence that this isn't a sports car. It feels too cushy, as opposed to the sharper and more direct feelings you'll get in a true sports car. Not that we mind; this is still a quality driving experience that is highly enjoyable.
In The Car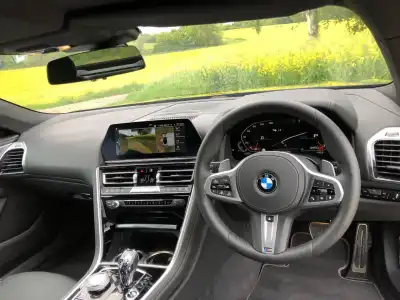 Behind the Wheel
The new 8-series has a cracking cockpit design, feeling driver-focused but still rich in quality. There isn't as much space as you'd think – more on that shortly – but the seating is hugely comfy and supportive. The controls are all logically arranged, too, meaning you feel right at home as soon as you enter this car.
With the driving position, BMW has clearly gone for something a little more laid back. You sit low like in a sports car, but there's almost a reclining feel to the way you sit. Of course, there's plenty of electrical adjustment in both the seating and steering wheel for people of varying sizes to find something that suits them.
A digital display replaces what would usually be dials in most cars and BMW's 'iDrive' infotainment system returns, complete with a large touchscreen, voice control and the renowned swivel wheel next to the gear selector in the central console – both now available in crystal.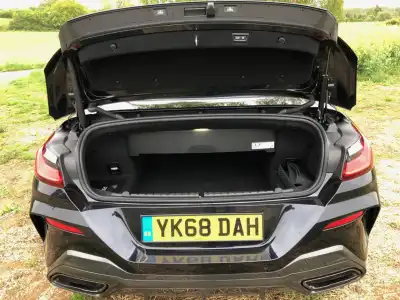 Space & Practicality
For a large convertible, this is a spacious car. Many motors with a soft top don't feature much room due to the nature of them being a convertible, but the 8-series does a good job, all things considered. Of course, there's a 'but' coming here.
While it's claimed that the 8-series will seat four occupants, only the most optimistic of people would even attempt it. With any regular-sized adults in the front seats, the rear seats are only suitable for small people – not because of the headroom or width, but because of the leg room. There simply isn't any.
As for the boot, well there's 350-litres of space available, which is pretty good for a car of this class. If you do need to carry an extra bag or two, this is where the rear seats do become useful, as you can pop them in there and put the wind-deflector over the top of them. That wind deflector is a manually fitted device that can be removed altogether with ease if need be, and it doesn't seem like the best of solutions, but it works, nonetheless.
Ownership
Running Costs
Well, the chances are that if you're buying a car in this category, you won't be too bothered about the running costs, as you'd be able to cover them with the loose change in your pocket. For the curious though, we'll get a little into it.
Now, obviously, the '850i' petrol V8 is going to be the engine grabbing the headlines here, with its excellent soundtrack and impressive power. But it'll also take the negative headlines, too. 229g/km of CO2 is let loose into the atmosphere, and if you can score any better than 25mpg while driving it, we think you'll deserve an award. However, it wasn't long ago that big V8 engines like this would push out double the amount of CO2 listed here and 20mpg+ was considered impossible. Think about it, 500+ horsepower and potentially 25mpg? That's not that bad! Keep in mind that this engine will require more upkeep and money when it comes to servicing time.
If petrol is what you want, but you don't like the idea of a V8, you're stuck for the time being, though BMW is said to be planning on introducing a smaller straight-six petrol engine in the future. The only other alternative, for now, is the '840d' diesel, a straight-six unit that should be just about capable of 40mpg on a run and releases 161g/km of CO2 emissions.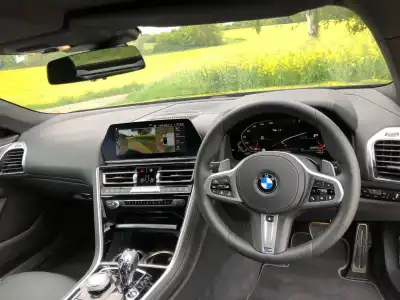 Quality & Reliability
As expected from a car getting on for six-figures (or, definitely six-figures with the 850i) the quality, fit and finish is exactly what you'd expect. This car oozes class and looks and feels every bit the price that you pay. Beautiful rich leather appears in the cabin – sorry, vegans, there's no animal-free option for now – and the metals and plastics come together to feel genuinely luxurious and special. There's even the option of having a crystal gear selector and iDrive navigation wheel, something rarely seen in a car - and a welcome touch for those looking for an extra little piece of class in their 8-series interior.
Much of the focus of buyers will be on the quality of the roof and the insulation it provides. We'll keep this simple – they've nothing to worry about.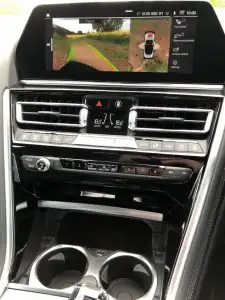 Safety & Security
As it isn't a family car, you're probably not thinking too much about safety and security. As with all convertibles, we'd recommend putting the roof back up when you're leaving it parked up somewhere – just to prevent the artistic seagulls decorating your interior, if anything. This can be done by holding a button on the key, meaning it's a quick and straightforward job.
There's a great deal of technology and equipment fitted to the 8-series convertible, with cameras and sensors for various safety systems found in many areas of the car. There's also a head-up display, which helps keep your eyes firmly on the road at all times. In the very rare event of a vehicle roll-over, a roll-bar will deploy to protect the heads of the occupants when a collision of this nature is detected. Though we can't give you any ratings at the current time, you shouldn't be in any doubt as to the safety of this vehicle.
More On This Car
Take one for a spin or order a brochure
Request a BMW 8 Series brochure
Request a BMW 8 Series test drive