Pros:
Beautiful styling and performance to match

Impressive driving range between charges

Bundles of space inside for all the family
Cons:
Prices start from £50k before any extras are added

Lack of physical buttons and controls

Ride is a little firm
Secure your test drive today
Request a BMW Ix1 test drive
Introduction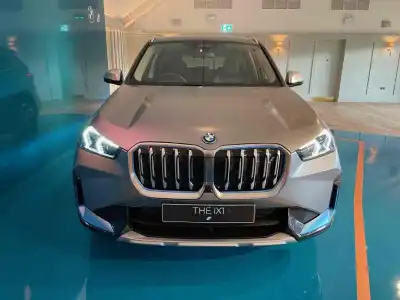 If you're finding the BMW naming process a little confusing (like many of us), it just takes a little working out. Any models beginning with an 'i' are electrified, an 'X' means it's an SUV, 'xDrive' means 4WD and from then on, it's back to the standard numbers that relate to the size of the car.
So, with that all cleared up, the iX1 xDrive is BMW's smallest electrified SUV with all-wheel drive and we were offered the chance to drive one of the latest prototype cars.
It is very much based on the stunning all-new third-generation X1 model with similar styling and impressive practicality levels. But this car is an EV and has a driving range of 259-270 miles between charges under WLTP testing. And with electric motors on the front and rear axles, it offers four wheel drive to cope with more adverse driving conditions.
At launch there are xLine and M Sport trims on sale, both of which will set you back in excess of £50k and that's before any optional extras are introduced. This may seem steep, but it's competitively priced to take on rivals such as the Mercedes EQA and Audi Q4 e-tron.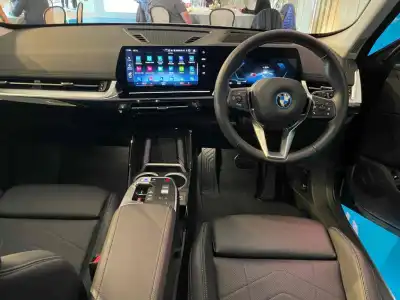 The BMW iX1 is a five-door SUV that looks very similar to its X1 sibling and that's not a bad thing. Thankfully, the days when EVs needed to stand out from mainstream cars like a sore thumb seem to be behind us, but there are a few design cues that differentiate the iX1 from the ICE models.
For example, take a closer look and the huge kidney grille is closed off (as there is no engine to cool) and there is some subtle 'i' badging and blue trimmings. Other design cues include narrow LED light clusters, flush door handles, muscular shoulder lines and a long roofline. The xLine cars have 18-inch alloys, while the M Sport versions get larger 19-inch alloys.
Both trims boast interiors that are pure class and feature BMW's very latest Operating System 8. A beautiful 10.25-inch information display screen merges seamlessly into a 10.7-inch control display behind a continuous glass panel that is curved subtly towards the driver for convenience.
Expect to see the finest upholstery, all the technology we demand such as a high-end sound system, powered and heated seats, full smartphone connectivity and lots more besides.
While the traditional BMW rotary controller used to navigate the on-board systems has been ditched, the new personal assistant is very intuitive and can help with all manner of functions, such as making a phone call, adjusting the temperature or plotting a navigation route.
And the cloud-based BMW Maps navigation system is also very clever. As soon as a destination has been entered, a charging-optimised route will be calculated if the vehicle's current range is not sufficient to reach the final point.
On The Road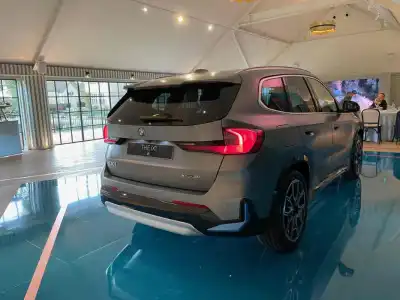 Handling & Performance
We had a test drive in a left-hand drive BMW iX1 prototype model and it certainly lived up to all the hype. It is powered by a 64.7kWh high-voltage battery positioned flat within the vehicle's underbody. There is an electric motor on the front axle and a further one at the rear for all-wheel drive, and the drive units deliver a combined output of 313hp (including a temporary boost feature) and 494Nm of torque.
The driver can select from five regenerative braking levels using the touchscreen, which can be a tad hit and miss on the move. But single pedal driving, introduced via the B setting on the gear lever, is a great benefit in busy traffic with lots of stop and start driving.
Select the tempting, 'Boost' option and it gives the car all its got for 10 seconds which is great fun when faced with the open road. That brings the 0-62mph sprint time down to just 5.7 seconds with a top speed of 112mph – that's hot hatch performance territory not family SUV surely?
Our late prototype model was rapid out the blocks, beautifully poised round tight bends and, despite being heavier than its ICE counterparts, delivered a powerful and punchy performance.
The ride is a tad firm, but refinement levels are supreme with barely a sound filtering into the cabin and just a little road rumble noise from the chunky tyres.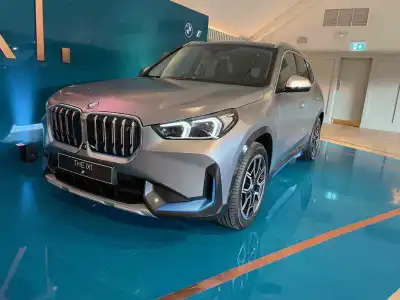 Space & Practicality
The BMW iX1 is a five-door SUV that's big on space and big on practicality. Stretching 4,500mm in length, 1,845mm across and 1,642mm high there is bundles of room for a trio of back seat passengers to stretch out.
The battery pack is stored beneath the floor so there is no compromise on passenger space. However, the boot is slightly more compact with a 490-litre capacity, which is 50 litres less than the standard X1.
But this space is lost beneath the boot floor so is not that noticeable. And there are numerous handy storage options scattered throughout the cabin, including a practically-sized glovebox, seat back nets, door pockets with room for a water bottle, a charging pad, a cubby beneath the armrest with added space below, plus front and rear cup holders.
The rear doors open nice a wide offering easy access to anyone with any mobility issues and there are Isofix anchor points to the outer rear seats to fit child seats.
The iX1 can also be used for towing with a limit of 1.2 tonnes which is less than the two-tonnes offered on non-EV versions.
When it comes to charging, the iX1's battery can be boosted from 10 to 80 per cent in 29 minutes via a fast charger or the range increased by 75 miles in just 10 minutes. If using an 11kW charger, it takes six-and-a-half hours to fully recharge - all the necessary cables are included as standard.
Ownership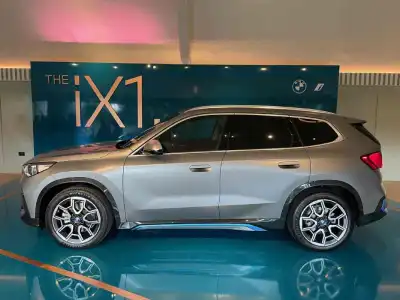 Running Costs
The BMW iX1 is currently on offer in just xDrive30 format and costs £52,255 (before any options are factored in) for the xLine grade or £54,960 for M Sport trim.
Despite the Government recently announcing changes to the incentives offered to EV drivers, owners can still reap plenty of financial rewards for a while yet.
For example, all EVs are currently exempt from road tax or Vehicle Excise Duty to give it its official title. The cars can also be driven through Congestion Charge and low emission zones without facing any added costs. And the zero carbon emissions along with impressive driving range would result in a Benefit in Kind rating of just two per cent for business drivers.
However, in his Autumn statement, Chancellor Jeremy Hunt had some bad news that will have a major impact on EV owners. From 2025, they will have to pay road tax. It will be in the lowest category so £10 for the first year and then increased to £165 after 12 months. And owners of models such as the BMW iX1 that cost more than £40k will also need to pay the luxury car supplement of £355 from years two until six.
Factor in the soaring electricity prices and it seems EV owners are being hit from every angle right now.
The BMW iX1 xLine model sits in insurance group 37 while the M Sport is rated as group 38.
Verdict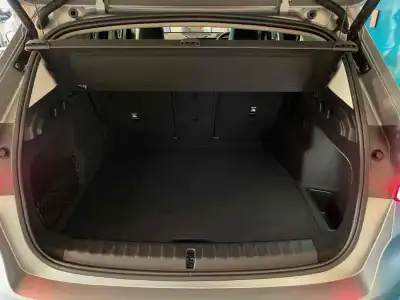 The iX1 completes the all-new BMW X1 line-up which until now featured two petrol engine options, two diesel and two plug-in hybrid models.
By adding full electrification to the mix, this car will make a lot of sense to business drivers who, for now, will reap plenty of financial rewards. It is also ideal for any active family who doesn't want to compromise on style, performance or practicality, but is looking to make the move to cleaner, greener motoring.
Secure your test drive today
Request a BMW Ix1 test drive